"A little is enough, a tiny bit to cheer, a simple existence" sang the Fado legend Amelia Rodrigues about Caldo Verde in Casa Portuguès.
I had my first cup of Caldo Verde (literally "Green Soup" ), a Portuguese Kale Soup, in the beautiful walled village of Obidos on my first trip to Portugal with my wife Marilyn to pick up Chicharro de Viamonte and his sister Corvina, the first two Portuguese Podengos to be imported to the U.S.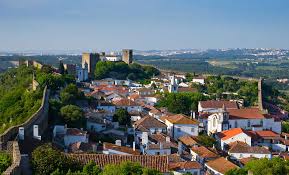 That would begin our great adventure as Podengo breeders and my love affair with this soup.  With just a few simple ingredients -- kale, chourico (chorizo), potatoes, onion, garlic, olive oil, water and salt--- kale is transformed into a food of the gods. Each ingredient in the final soup is distinct, but in harmony with the others.  It is a bit heavy for summer, but perfect for fall and winter.
One of the tricks to make it is to use only the tender part of the kale leaf and to chop it fine.  Here's how:
Start with a bunch of kale: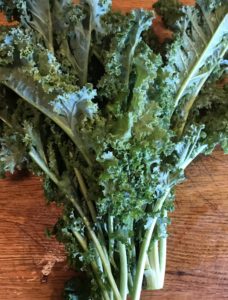 You need to cut the tender leaves (on right) away from the hard ribs (on left).  Discard the ribs.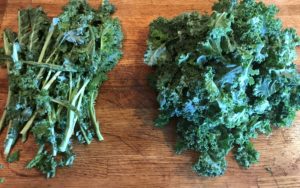 To cut the kale, stack a few leaves, roll them up and cut thin slices off the end of the roll (which is to chiffonade).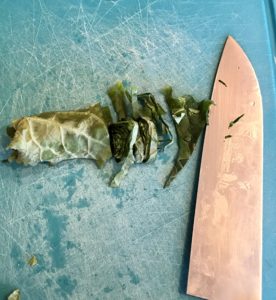 This is a critical step.  You need very thinly sliced kale for it to be tender in the soup.  Below is the sliced kale ready to go into a hot broth of potatoes, garlic, onions and baked, sliced chourico for a quick three minute simmer.  It is essential not to overcook the kale.  You want it a vibrantly dark green with a little bit of crunch.
To make the broth, start by roasting 1/2 pound of chourico in a 375F oven for 25 minutes till firm (prick it a few times with a fork before roasting):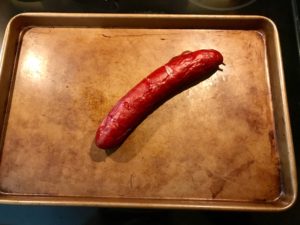 Let the roasted chourico rest a bit, then cut it into slices: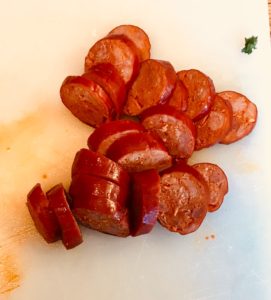 While the chourico is cooking and resting, sauté a chopped large yellow onion in 1/4 cup olive oil for 8 minutes: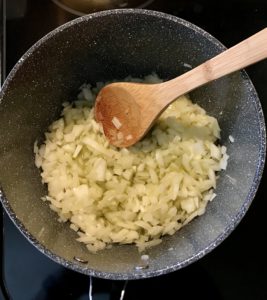 Add 1 lb of peeled and sliced potatoes and 2 cloves of peeled and pressed garlic and sauté for 5 minutes: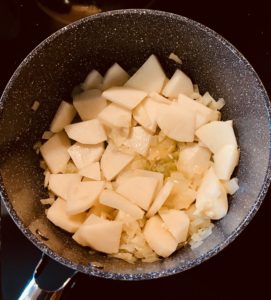 Then add 6 cups of water and 2 tsp salt, bring to a boil, then reduce heat to low, cover and simmer for 30 minutes: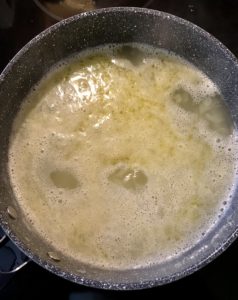 Then use a potato masher to break up the potatoes (you want little pieces of potato, not a puree):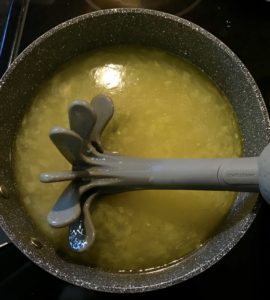 Add the chourico slices, raise heat to medium and cook for 5 minutes till heated through: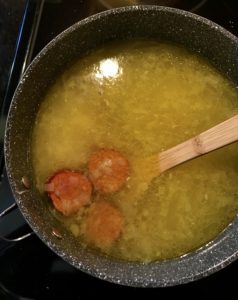 Add kale, stir well and simmer for just 3 minutes: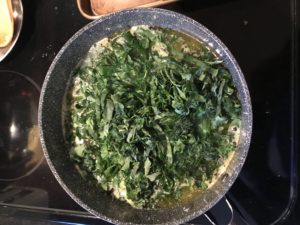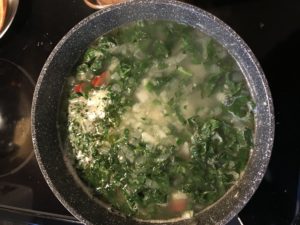 Taste, and season with salt and pepper if necessary.  Immediately ladle soup into bowls, drizzle with a little olive oil and enjoy!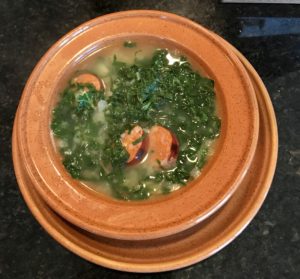 NOTE:  The recipe pictured above and described below calls for 3/4 lb of kale.  The size and weight of heads of kale vary, so weigh what you have and adjust the other ingredients, especially the water, accordingly.  The Dwarf Siberian Kale I get in my weekly CSA from Trifecta Ecosystems weighs in at about 1/2 lb, so I only use 4 cups of water.
Caldo Verde
Serves Four
INGREDIENTS
1/2 pound fresh chourico sausage (same as chorizo sausage in a skin, not the loose kind)
1/4 cup olive oil, plus 4 tsp to garnish
Large yellow onion, chopped
3 potatoes, about 1 pound, peeled and cut into 1/4 inch slices
2 cloves garlic, peeled and pressed
6 cups water
2 tsp salt, plus salt to taste
3/4 pound kale, tough center rib removed and the tender leaves very finely sliced (see above)
Fresh ground pepper to taste
DIRECTIONS
Preheat oven to 375F.  Prick chourico with a fork and place on a baking sheet. Bake until firm, about 25 minutes. Remove from oven, let cool slightly, then slice 1/4 inch thick, and set aside.
In a large pot over medium heat, warm the 1/4 cup olive oil.  Add onion and saute until tender, about 8 minutes.  Add the potatoes and garlic and saute for a few minutes, stirring often.  Add the water and the 2 tsp salt, bring to boil, cover, reduce heat to low, and simmer until potatoes are very soft, about 20 minutes.
Mash the potatoes to a puree with a fork or a potato masher.
Add sausage and cook over low heat for 5 minutes longer to heat through.  Add kale, stir well, and simmer, uncovered, for 3 minutes.  Do not overcook.  The greens should stay a vibrant dark green and slightly crunchy.  Taste and season with salt and pepper.
Ladle soup into four bowls and drizzle each with one tsp of olive oil and serve at once.