This soup was inspired by one like it that I had recently at Liv's Oyster Bar.  You first make a vegetable stock, then roast a broken up head of cauliflower with some curry powder.  Then you put the roasted cauliflower in a pot, add some toasted fresh ground cumin and coriander, some white pepper, then just cover with the stock, simmer for a few minutes, puree with an immersion blender, pour into bowls and garnish as desired.  I garnished with fried capers and their frying olive oil, creme fraiche and arugula micro greens.  Liv's throws in a couple smoked mussels.  I tried that, but prefer without.
This was my first outing in making a vegetable stock.  I used the recipe in Food Lab, which calls for simmering in water and gelatin:  carrots, celery, Granny Smith apples, mushrooms, parsley, fennel seed, coriander seed, black peppercorns and salt.
Here is a picture of a sheet of roasted cauliflower and a batch of simmering stock: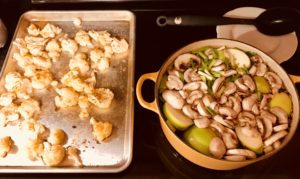 And here is the finished soup: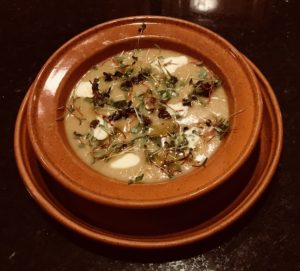 I think that roasting the cauliflower first before sauteing in the stock gives the soup a richer flavor.  I've done two batches of this soup now and learned from my mistakes in the first one, where I added too much vegetable stock to the roasted cauliflower.  Rather than just roast the cauliflower with some curry powder, in my second attempt, I also toasted some cumin and coriander seeds and ground them with some white peppercorns and added some of the ground mix to the soup as the cauliflower was simmering in the vegetable stock.  This brightened and spiced up the soup nicely.
The key garnish was the fried capers...almost black and crisp, intense little bits of salty flavor.  The creme fraiche is a nice contrast, as are the micro greens, if you have them.  If not, then very finely snipped chives work well too.