This is a final farewell weekend to summer and farmers markets, as I cook up the last of my locally grown produce.  I plan to make celeriac-potato pancakes, and to take a final run at the Grail, my quest to reprise a Parisian Curried Pumpkin Mussel Soup, this time using a mix of sugar pumpkin, acorn squash and butternut squash and some added turmeric to try to get the color just right.  Here I use two beautiful, locally-produced eggplants to make Chermoula Eggplant from the Jerusalem cookbook.  This Chermoula Eggplant recipe is my favorite way to eat eggplant, and one of the dishes that I've cooked most often from Jerusalem.
Chermoula is a North African paste of 2 crushed garlic cloves, 2 tsp cumin, 2 tsp ground coriander, 1 tsp chile flakes, 1 tsp paprika, 2 T finely chopped preserved lemon peel, 1/2 cup olive oil and 1/2 tsp salt that is brushed over halved, deeply scored eggplant, which is baked for an hour in a 400F oven until the eggplant is soft: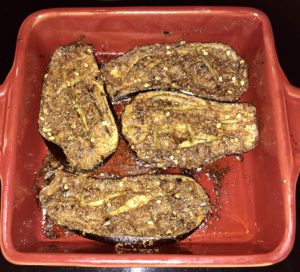 These are then topped with a sweet and salty bulgur salad and drizzled with cold yogurt and a little more olive oil: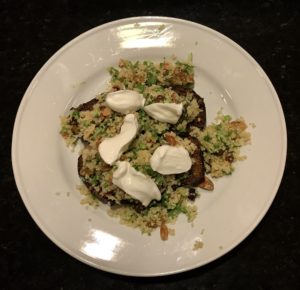 To make the bulgur salad, you add 2/3 cup of boiling water to a cup of fine bulgur.  Then add 1/3 cup golden raisins that have been softened in hot water and 1/4 cup of olive oil, 1/3 oz chopped cilantro, 1/3 oz chopped mint, 1/3 cup quartered pitted green olives, 1/3 cup toasted sliced almonds, 3 chopped green onions, 1 1/2 T freshly squeezed lemon juice, and salt to taste.
This is a classic Ottolenghi vegetarian masterpiece of textures and flavors, good to the last scrape: