I visited my daughter Liz in London for 10 days in August.  Knowing of my newfound passion for cooking and cooking schools, she signed us up for a class at the Divertimenti Cookery School featuring Japanese Peruvian cuisine with chef Fabricio Cano, the stylist for this cookbook: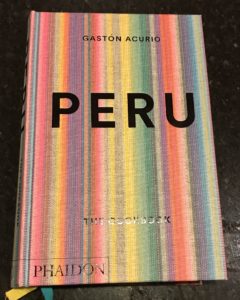 The role of the stylist in a cookbook is to supervise the graphic designer and the photographer, and to test all of the featured chef's recipes to make sure they work.   Boy, if I could do it all over, that's a career I wish I had pursued.  One can dream.
Peru has a large ethnic Japanese population, and there are many Japanese versions of Peruvian dishes, and vice versa.  I loved the class.  Fabricio Cano was great.  We made and drank a Chilano Classico de Pisco, and cooked and ate five dishes:  Ceviche Nikkei, Tiradito Nikkei, Chicken Yakitori, Pork Gyoza with Soy and Chilli Dipping Sauce, and Peruvian Terriyaki Beef with Stir Fry Vegetables.  I have since reprised three of the dishes: the Ceviche Nikkei, the Tiradito Nikkei and the Chicken Yakitori.
Ceviche Nikkei
Here is the ceviche as we made it in class: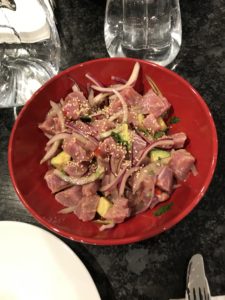 And here is my version: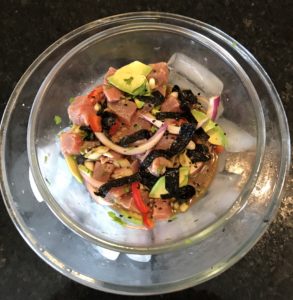 Here are the ingredients: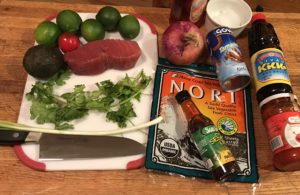 You need to start with really good sushi-grade ahi (yellow fin) tuna.  Fortunately, I have a good source at Saybrook Fish.  They get a shipment every Friday, and if it doesn't meet their exacting standards, they send it back.  It sells out by Saturday night.  The recipe calls for 1.5 lbs of tuna.  You cut the tuna into cubes and mix it with a sliced red chile, 1 T of chopped cilantro and 2 chopped scallions.  In a different bowl, you mix together 1 T of yuzu juice, the juice from 15 limes (!), 1 tsp rocoto paste, 1 tsp honey, 1 T soy sauce, 2 tsp sesame oil and 1 T unsweetened tamarind juice.  You pour this over the tuna and add 1/4 of a thinly sliced red onion, which has been mellowed by a soak in cold water.  The recipe calls for mixing ice cubes with this, and then serving garnished with sliced nori and sliced avocado. That's how we did it in the class, but when I made it, I put the ceviche in a bowl, and then put that bowl in a larger bowl of ice.  This keeps the ice cubes from diluting the sauce.  I have also discovered that the best way to slice a sheet of nori is with a scissors.  I actually think my version was better than the one in the class, though both were awesomely good.
Making these dishes involved some creative sourcing.  I found these Peruvian rocoto and aji panca pastes in a Latino market in New London: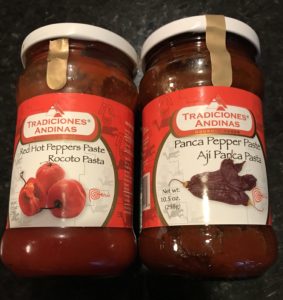 I bought the yuzu juice online, and found that Stop and Shop regularly carries key limes, which are the closest thing we have to Peruvian limes: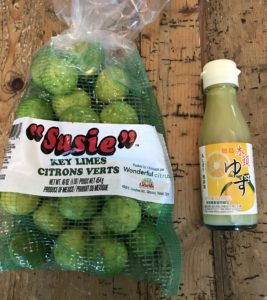 Tiradito Nikkei
Here is the tiradito as we made it in the class: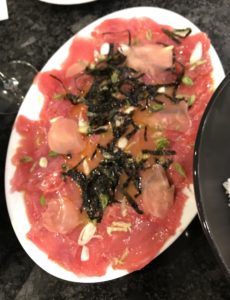 And here is the version I made at home: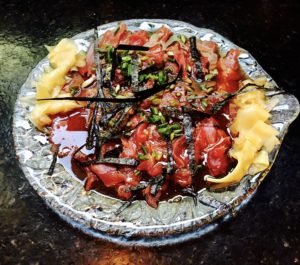 You start with 1 lb of sushi-grade ahi tuna, which you slice very thinly, like you would lox or gravlax.  I have a long thin filet knife specifically for that purpose, as I make a lot of gravlax.  You place the tuna slices on a plater and season with salt and white pepper.  In a bowl, you mix together the juice of 10 limes, 1 tsp yazu juice, 1 tsp honey, 1 T soy sauce, 1 tsp rocoto paste, and 1 T unsweetened tamarind juice.  You then pour this over the tuna slices and serve with 2 T of pickled ginger and 3 chopped scallions, with 2 tsp of sesame oil drizzled on top and garnished with 1 sheet of sliced nori.  My presentation was a different take than the one in the class, but the two dishes tasted the same.  Really good. [BTW, you can see that the sauces for the ceviche and the tiradito were pretty similar, so I wouldn't serve them at the same meal.]
Chicken Yakitori
This is the Yakitori as we made it in the class, which was sauteed rather than grilled: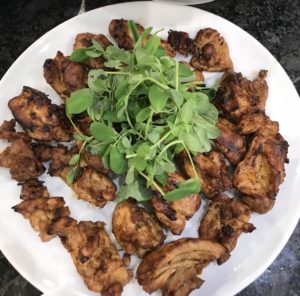 And this is how I grilled it, and then plated it at home (with some mango/avocado/corn salsa I learned to make at the Fig School);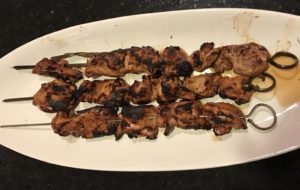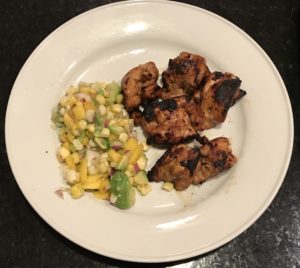 For the  Yakitori, you first make a marinade of 7 oz of aji panca paste, 3.5 oz of garlic paste, 1/2 tsp grated ginger, 1/2 tsp black pepper, 1 T cumin, 1 T oregano, 1/2 T brown sugar, 3 oz salt, 1/2 cup rice wine vinegar, 1 cup soy sauce, 1/2 cup mirin and 2 1/2 cups oil.  You cut 3.5 lbs of chicken thighs into large pieces and put in the marinade for 3 hours.  Then skewer the meat and cook on a barbecue grill.  Because I had the time to marinate the chicken for 3 hours and was able to grill it on the barbecue, my Yakitori was actually much better than what we made in the class, though both were great.