I do. Mine is made by a group of small family farmers from the mountains on the island of Crete and is marketed under the brand Kreta Reserve. It is a very high quality extra virgin olive oil made from the Koroneiki olive, using a process that preserves the polyphenols and produces a wonderful olive oil that has great character for salads, but is mellow enough to use for cooking. It is the one oil I use for everything. I was introduced to it by a nutritionist, and I consider it a health food. I consume almost a liter of it every month. Myself.
This 5-liter box of Kreta Reserve EVOO arrived in the mail on Friday.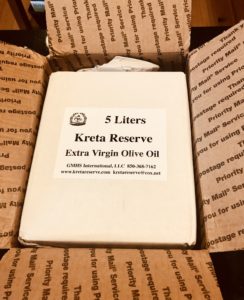 It is from olives that were harvested and processed in November. The oil rests in tanks to settle out the natural sediments before the oil is packaged for sale. Kreta Reserve stops selling the previous year's harvest once they have packaged the current year. The small amount they have left over from the previous year goes to a group of chefs who like its greater mellowness for cooking.
So, I am buying 5 liters of Kreta Reserve EVOO today from the November 2017 harvest. This box will last me till November at the rate I use olive oil. Then, I will buy another box, also from the 2017 harvest, that will take me through April 2019.  The new oil from the 2018 harvest will be packaged in February-March 2019, so that's what i'll be buying next April. You probably don't know when the olive oil you are using was harvested or packaged, and how long it might have been sitting before you bought it. Kreta Reserve olive oil is rich in antioxidants so it would take much more than a few years before it would turn rancid. I wouldn't know, as I just used the last drop of oil from the November 2016 harvest.
This is how I store my olive oil, on the top shelf of my pantry, which is very convenient to dispense the oil. The box fully protects the oil from light: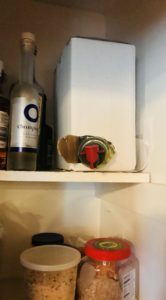 The olive oil is in a high oxygen barrier plastic bag inside the box, so the oil is not exposed to air until I dispense it from the spout at the bottom a pint at a time into a cruet. The absence of light and air in bag-in-box packaging keeps the oil very fresh. Kreta Reserve bag-in-box bags are made by Smurfit Kappa in Canada from virgin materials of known origin that are totally food safe. The bag and the box may be fully recycled.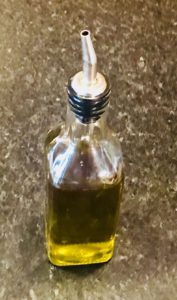 Each April and November I look forward to my phone call to Tony Sansone at Kreta Reserve to order another 5-liter box. Tony is one of the growers and is also responsible for marketing. He divides his time between Crete and Florida. He discovered the olives and his fellow olive growers of Crete when they were posted together in the Mediterranean at a NATO military headquarters. He has a passion for the product that is infectious. He loves to talk about the fine points of the current harvest. We could do all this online, I suppose, but it is fun for both of us to talk twice a year. He puts a voice and a face on the source of my olive oil, and these conversations give him a direct sense of his customers and their appreciation of his product. It is part of the reason I like buying produce from the Old Saybrook Farmers Market. I know the farmers and their farms and share their love for the food they produce. I just wish I could have this same relationship with every element of food I buy.
I pay $110 for a 5-liter box of Kreta Reserve EVOO, plus $7.50 for shipping, less a $10 repeat customer discount, or $107.50 net, or $21.50 a liter, a fair price for an EVOO of this exceptional quality and freshness. Please check out Kreta Reserve at www.kretareserve.com. Watch the slide show. Try the product. You'll never go back to anything else.