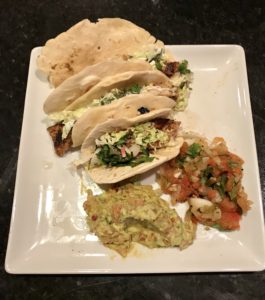 Rumor has it that during colonial times some indentured servants in New England would insist on a clause in their contracts limiting the amount of Shad they could be fed during the spring Shad run. I think that may have been because no one thought of making Shad Tacos with Pickled Ramps.
This is a West Coast (Baja) twist on the two key ingredients of this moment of spring in Connecticut: Shad, which is running up the Connecticut River to spawn; and Ramps, wild leeks that are reaching their peak of maturity in the Connecticut woods.  For more on Shad and Ramps, see my separate blogs on those ( The Taste of Spring: CT River Shad and Ramps! ).
I took a Mexican food cooking class on Cinco de Mayo through Weekend Kitchen in Essex at the home of Nancy Kirkiles-Smith, the owner. Nancy arranges classes at her home for small groups with a guest chef, who in this case was Jennifer Magrey. The menu included Albondigas (Meatball) Soup, Fish Tacos with Homemade Tortillas, Smokey Bacon Chipotle Guacamole, Fire Roasted Salsa, and Raspberry Margaritas. I will attempt to reprise the Albondigas Soup another day. Yesterday I made all the rest.  I will reflect some on the class itself, which I really enjoyed, when I make the Albondigas Soup.
Mise En Place
Here are the assembled ingredients for the guacamole, salsa, tortillas and the tacos:

From left to right, there are the guacamole ingredients, including bacon, avocados, tomato, garlic, shallots, lemon, lime, chipotle pepper, cumin, sea salt, fresh ground black pepper and scallions; the ingredients for the salsa, including tomatoes, onions, poblano peppers, jalepeño peppers, garlic, limes, cilantro, hot sauce, sea salt and fresh ground pepper; the ingredients for the tortillas, including flour, baking soda and sea salt (plus bacon fat I would render from the bacon, and water); and the ingredients for the tacos, including Shad, sour cream, cilantro, Napa cabbage, jalapeño, limes, olive oil, chili powder, oregano, cumin, sea salt, cider vinegar, honey and ramps (and water).
And here are the ingredients for the Raspberry Margarita: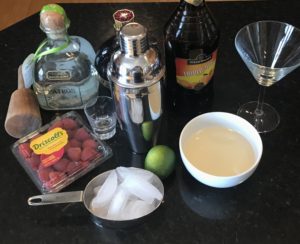 These include Silver Tequila, Chambord, Triple Sec, limes (needed three, not the one lime shown), a sugar & water simple syrup, and ice.
Laying out all of the ingredients like this before starting to cook is called Mise En Place in the cooking world, which is French for "Put In Place" or "Everything In Place." This is a good practice to follow to avoid discovering you are missing a key ingredient in the middle of cooking. Chef Jenn has Mise En Place tattooed on the inside of her forearm, so I am pretty sure she never forgets to do it. I have been doing Mise En Place for all of my blog dishes because I like to arrange a "still life" photo of all of the ingredients before I start cooking. This is because I love the beauty of food in all its forms, before, during and after cooking. But, it has also saved me from the grief of missing ingredients. So cool to now have a fancy name for it.
Step-By-Step
The interdependent timing of the various dishes and their elements was tricky enough with just me doing all the prep [NOTE: this would be a fun meal to have with friends who help with the cooking] that I decided I needed to write out a prep plan:
Mise en place
Make simple syrup and allow to cool
Fry bacon, save rendered fat for tortillas and allow to cool
Make margarita (makes the prep more enjoyable)
Clean and chop ramps (or red onion), put in pickle, and allow to sit for at least 30 minutes
Put Shad in marinade and allow to sit for at least 15 minutes
Make tortilla dough and rest for at least 15 minutes
Shred Napa cabbage and chop cilantro to get these out of the way, and because things are going to hectic later
Grill tomatoes, peppers and onions and make salsa
Make guacamole
Make cilantro crema for tacos
Press and roll out tortillas
Grill Shad
Griddle tortillas
Make and plate fish tacos, guacamole and salsa
The first step was to make a simple syrup of equal parts sugar and water, binging to a boil, then simmering for 3 minutes until the sugar fully dissolves. I did this first because it needed it to cool before I could use it in the margarita, and I wanted to have a margarita while I was cooking (for the class the margaritas were ready and waiting when we arrived–this would also be a good idea to do in advance for a party).
Next I fried the bacon for the guacamole, which also produced the rendered fat (in the jar in the picture below) that I needed to make the tortillas. The bacon needs to be extra crisp. The fat needs to cool, but not solidify, before you add it to the flour and baking soda to make the tortillas.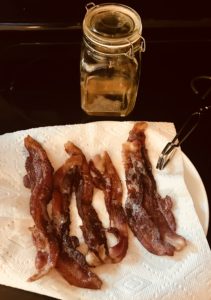 The full recipe from the class for the guacamole calls for six slices of crisp bacon, chopped up and added to four avocados. I made half a recipe with three slices of bacon and two avocados. If you are paying attention, you will notice that there are six slices of bacon in the picture above.  I thought I needed to cook all six pieces to make sure I had enough rendered fat for the tortilla dough, as I had used up on other dishes recently the supply of bacon fat I keep in the fridge.  Plus, I could snack on the other pieces while I was cooking. I'll come back to the rest of the process for making the guacamole later, as I am doing this step-by-step in the order I did it yesterday.
Knowing that I had a bit of cooking ahead of me, my next step was to make a Raspberry Margarita: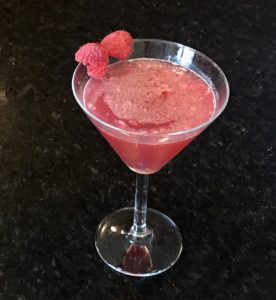 To make one very large margarita, or two smaller ones: Muddle three raspberries in the bottom of a shaker, add 2 oz of Silver Tequila, 1 oz of Chambord, 1 oz of Triple Sec, 1 oz lime juice (which took 3 limes), 2 oz simple syrup and ice, then shake and shake until your arm is tired, strain into a margarita glass and garnish with a couple of raspberries.
Next up, I pickled the ramps for the fish tacos, as they needed to sit in their simple pickle of cider vinegar, jalepeño, honey and sea salt for at least 30 minutes. In the class, we used thinly sliced red onion, but since I happened to have some ramps (wild leeks), I used them instead. This brought the element of the onion pickle to a whole other level. Here are the ramps rinsed and trimmed: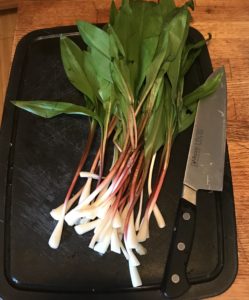 And sliced: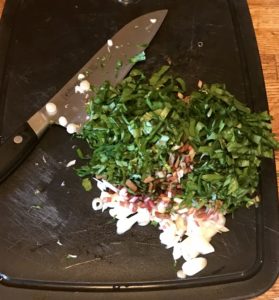 And here is the pickle of ½ cup cider vinegar, ½ cup hot water, 1 T honey, ½ half minced jalapeño, ¼ tsp salt and a few grinds of black pepper: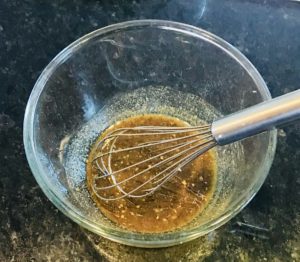 And here are the sliced ramps in the pickle: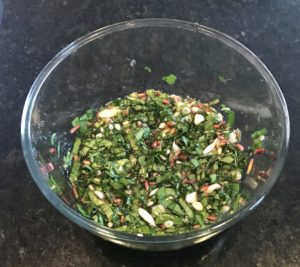 This is a lot more pickled ramps than I needed for the three fish tacos that I made for myself yesterday, so I will have pickled ramps for other dishes, as they will keep in the pickle for at least a week of so. A good way to extend the ramp season.
Next I marinated the Shad in a sauce of ¼ cup olive oil, juice of 2 limes, 1 T cumin, 1 tsp chili powder, 1 tsp oregano, ½ minced jalapeño pepper, and sea salt and fresh ground pepper: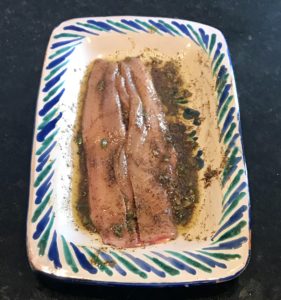 In the class, we used cod. I wanted to do another Shad and ramp combination while I still could, and had a hunch that Shad would be better than cod in fish tacos. Turned out I was right. You might also try them with Black Fish or Red Snapper.  Cod is too bland, even with this spicy marinade. The marinade was more than I needed for this ½ pound Shad fillet. It would be enough for the 2 lbs of fish called for in the recipe in the class, but that turned out to be less fish than we needed for the 24 tortillas we made.  If I was doing the full recipe of everything, I would double the amount of marinade and double the fish to 4 lbs.
Next I made the tortilla dough so that it could rest for a while before I pressed it, rolled it out and griddled it. In the full recipe, you mix 8 cups of flour with 2 T of baking soda and 1 T of salt, then add 6 T of fat and mix with your hands. In the class, we used lard, which is the rendered fat from any part of a pig. I used bacon fat. You could use vegetable oil (but it wouldn't taste as good). Don't use olive oil. You then add 3 cups of warm water and knead on a floured surface for 2-4 minutes, then form into a ball, cover with a towel and an inverted bowl and rest for at least 15 minutes. This is enough dough to make 24 tortillas. Since I was just making this for myself, I made a ¼ recipe and even then only made three of the eight tortillas I could have made with the dough. (I made 4 more tonight…the dough kept fine for a day.  Just had to buy another 1/2 lb Shad fillet to make them, having leftovers of everything else.) Will come back to the rest of the tortilla process with pictures later.
Next, I shredded some Napa cabbage for the tacos and chopped one whole bunch of cilantro that I would need for the salsa and a cilantro crema.
Then I made the salsa. This involves grilling 4 lbs of Roma tomatoes, 2 large sweet onions, 2 poblano chilies and 2 jalapeño peppers. The chilies and peppers are grilled whole. The onions are quartered and the Roma tomatoes are halved and seeded. For some inexplicable reason, I made the full recipe of salsa. Here all the veggies ready to grill: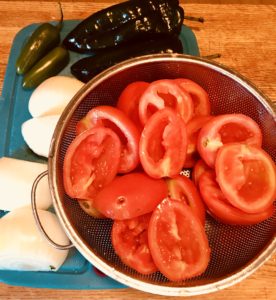 And grilling: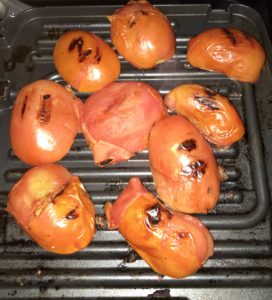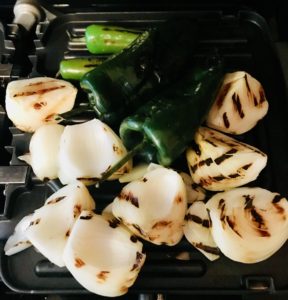 I used my Panini grill to do this because I need to get a new charcoal grill. They would have cooked faster, taken on a better char and had a better taste on a charcoal grill. Next time.
Once the chilies and peppers are charred and soft, you put them in a bowl, tent with foil and let sit for 10 minutes, then peel off the skin. While the chilies and peppers are sitting, you fry six large garlic cloves in a little olive oil.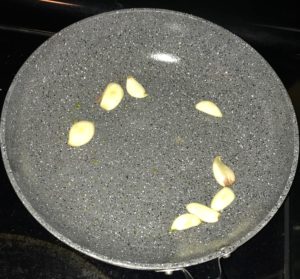 Then chop the tomatoes, onion, chilies, peppers and garlic and mix with 1 cup chopped cilantro, the juice of 2 limes, 1 T cumin, a couple dashes of hot sauce, and salt and pepper to taste. Here is the finished Fire Roasted Salsa: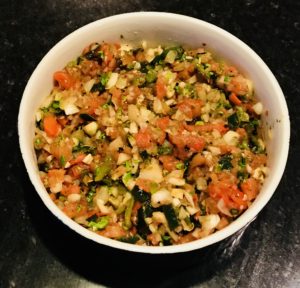 Then I made my half-recipe of the guacamole, mashing together 3 strips of chopped, crisp bacon, 2 avocados, the juice of 1/2 lemon and the juice of 1.2 lime, 1/2 of a seeded, chopped Roma tomato, 1 T chopped shallot (the class recipe called for one small onion for whole recipe, but I happened to have some shallots on hand so used one instead), 1 tsp chopped chipotle chili in adobo, 1/2 tsp cumin, and sea salt and fresh ground black pepper to taste. It is then topped with one minced scallion, which I forgot to do.
I then made a cilantro crema for the tacos, blizting together in a food processor ¼ cup cilantro, ½ cup sour cream, 1/2 tsp salt and the juice of 1 lime.  If it's too thick, thin with some heavy cream.
Then I divided the rested tortilla dough into 8 equal pieces, rolled each into a small ball and flatted into a round shape in my tortilla press: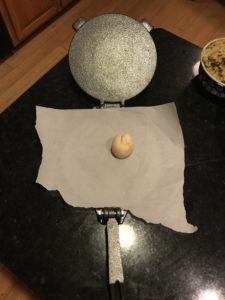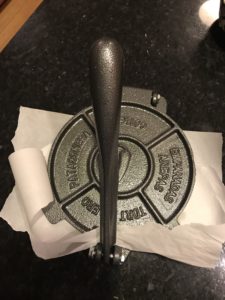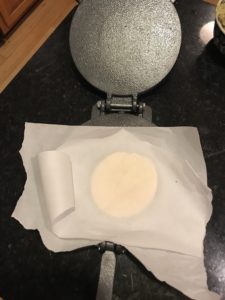 I then rolled this out with a rolling pin to make a thinner tortilla.
Then I grilled the marinated Shad, skin side down for 4 min, then flipped and cooked it flesh side down for 3 minutes. Shad is a thin fish, so you don't need a lot of cooking time.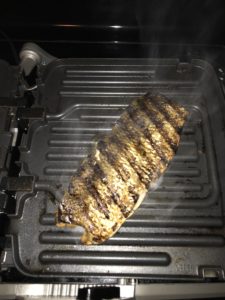 What you are looking at is the skin side of the Shad after it was flipped. I think the Shad came out better on the Panini grill than it would have on a charcoal grill, where it could dry out. I just lifted the white meat from the fillet once it was cooked to use for the tacos, leaving the dark meat and the skin.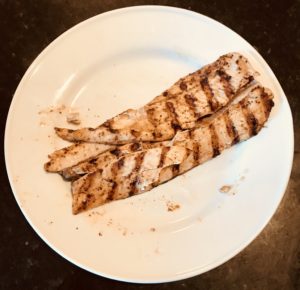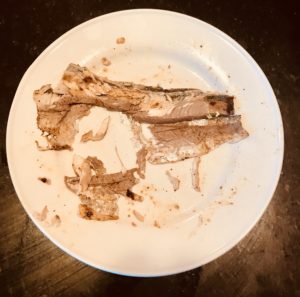 While the shad was cooking, I cooked the tortillas on a hot dry griddle for 20 seconds a side. It is more important that the tortillas be thin than that they be perfect circles, as they will be folded over to make the tacos.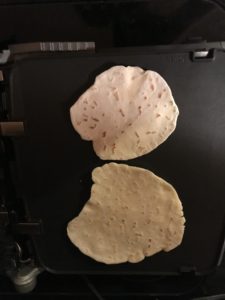 Everything now being ready, I made the tacos by putting some of the Shad on each tortilla: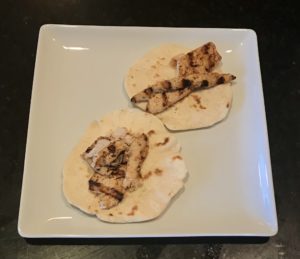 Topping with some of the shredded Napa cabbage: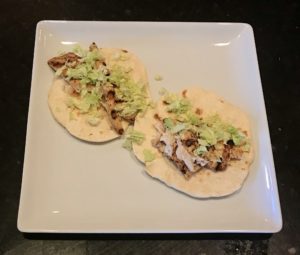 And the pickled ramps: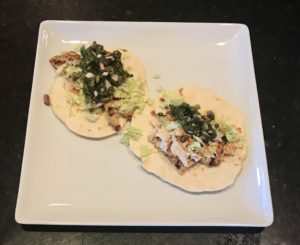 And a little crema: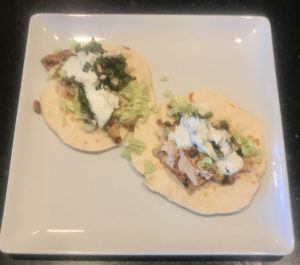 Folded over the tortillas and plated with a big spoonful of the guacamole and the salsa: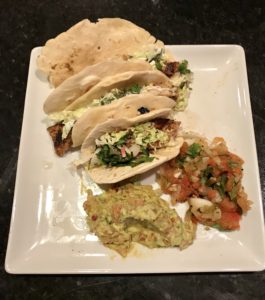 Really, really good!  I could eat them every day.