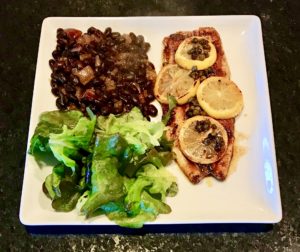 The very first Shad of the season hit Saybrook Fish today, so I bought a fillet, dusted it with paprika and a pinch of salt, sautéed it in a little bacon fat, then deglazed the skillet with a little white wine and lemon juice and made a sauce with butter, capers and lemon slices and poured it over the Shad fillet. Had with some dressed Trifecta greens and some black beans. See recipes below.  Absolutely scrumptious, a taste you can only have from early April to late May during the annual Shad run up the Connecticut River. This is the distinct taste of spring in Connecticut, which stands alongside a distinct smell, a distinct sound and a distinct color.
The Smell, Sound, Color and Taste of Spring in Connecticut
In my Mapleloosa blogs, I suggested that the smell of spring in Connecticut is the combination of the slightly maple-y steam from maple sap as it is boiled into syrup and the wood smoke from the evaporator.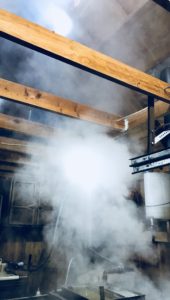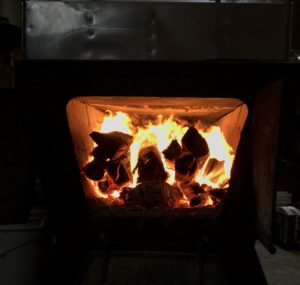 There is also a sound of spring in Connecticut: the sound of peepers in a vernal pool. See this link:
And there is a color to spring in Connecticut, which is the yellow of Willow buds, Forsythia and Daffodils.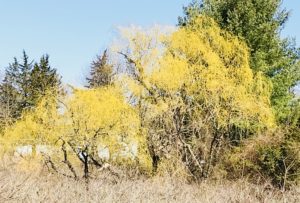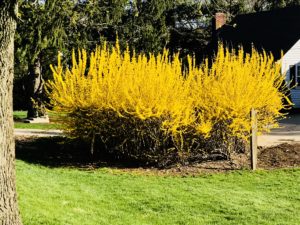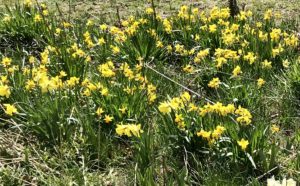 The sound of peepers has still not yet reached the cacophonous crescendo of Frog Happy Hour, and some of the yellows of early spring are still to reach their peak, but the Shad have arrived. So put away the snow shovel.  At long last, spring is here!
More About Shad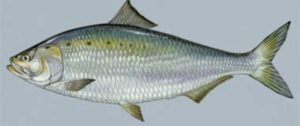 The Latin scientific name for Shad is Alosa sapidissima.  Alosa means "herring" and sapidissima means "most delicious."  So Shad, Alosa sapidissima, is "the most delicious herring."  That's all you really need to know about it.  Now, you may think of herring as those little chunks of fish in wine sauce, but herring is served throughout the Baltic as a whole fillet, usually sautéed in butter. I've had it in Sweden a couple of times and it is very good there. But that would be one of their varieties of herring.  Shad is ours, literally, as Shad is the Connecticut State Fish.  And while Shad run up all of the rivers of the Northeast to spawn, from the Delaware to the rivers of Newfoundland, it is widely believed (at least in Connecticut) that the Connecticut River Shad is the best. So, Connecticut River Shad is the very best of the most delicious type of herring.  Hard to beat that!  Go to your local fish store and get some. If you don't live near me in Old Saybrook, you may have to wait a bit, as the folks who own Saybrook Fish source their Shad from a fisherman who works the mouth of the Connecticut River, and therefore will net some of the Shad as they are milling around the mouth waiting for the water temperature to rise and the turbidity to clear before they start their run up the river.  Unlike salmon, Shad do not die after spawning.  The run up the river to spawn does wear them out though, and changes the character of the flesh, making it softer in a bad way.  Later in the season, some of these might be netted along with the last of the in-bound Shad.  Saybrook Fish will only accept the firmer fleshed Shad that are caught on the way in, versus those that may be netted on the way out.  Can't recommend Saybrook Fish highly enough.
Boned Shad
When you buy Shad, you will be buying a boned fillet, as Shad is a very boney fish and not worth trying to bone on your own.  It is the hardest fish there is to bone.  Each fillet has over 300 bones!  Legend has it that an unhappy porcupine wanted to become another animal and was granted its wish by being turned inside out and becoming the Shad. If that doesn't dissuade you from trying to bone Shad yourself, this video will:
Recipe for Sautéed Shad Fillet
Serves Two
INGREDIENTS:
2 Shad fillets (1/3 – 1/2 lb each)
1 tsp paprika
1/2 tsp sea salt
1 tsp bacon fat
1/4 cup white wine
Juice from 1/2 lemon
4 lemon slices
1 T butter
2 tsp capers
DIRECTIONS:
Sprinkle flesh side of Shad fillets with paprika and salt.  Melt bacon fat over medium high heat in a skillet large enough to cook the two fillets.  Sauté the fillets, skin side down for 2-3 minutes, flip, and sauté flesh side down for 2-3 minutes, then remove fillets to serving plates.  Be careful not to over cook as the fillets are thin.  Add white wine and scrape to degalze skillet, quickly reducing by half, then add lemon juice, lemon slices, butter and capers and stir to combine into a sauce, then pour over the fillets.
Recipe for Black Beans
Serves Two
[NOTE: This is a quick recipe for black beans when I don't want to go to the bother of making them from dried beans or making my own sofrito.]
INGREDIENTS:
1/2 red onion, chopped
2 tsp bacon fat
2 gloves garlic, pressed
2 T sofrito cooking base (I use Goya)
1 can black beans (I use Goya)
DIRECTIONS:
Melt bacon fat over medium heat in skillet, then add onions and cook for 5 minutes.  Add garlic and cook for 1 minute.  Add sofrito base and cook for another minute.  Add beans with their liquid, cook on medium heat for 2 minutes, then reduce heat to low and simmer for 10 minutes.  [Make the beans first and let them simmer while you sauté the Shad.]
Recipe for a Simple Salad
Because of all of the other flavors in this meal, I went simple with the salad, just dressing some soaked and spun fresh lettuce greens from my Trifecta Ecosystems CSA with extra virgin olive oil, sea salt and fresh ground pepper.
Variations
Here is the Shad with the lemon slices as a garnish rather than in the sauce.  I think this makes for a better presentation, particularly as I had some Trifecta Bull's Blood beet micro greens that I could use with the lemon slices: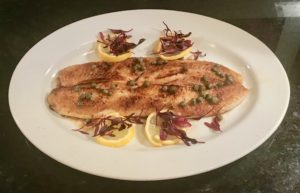 I had some extra Cajun spice blend from making the Green Gumbo, so I used some of it to make a Blackened Shad Salad with Dressed Trifecta Greens: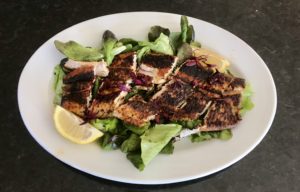 Here I made Shad with a sauce of crumbled bacon, caramelized red onion and balsamic vinegar: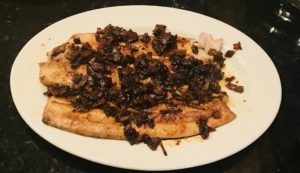 And here I had Shad for breakfast with fried Yukon Gold potatoes and sliced onions: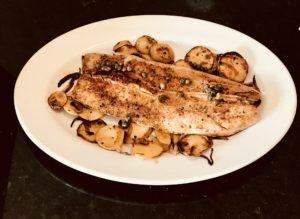 My friend Tony Sansone, who makes what is probably the best extra virgin olive oil in the world with a group of olive growers in Crete under the Kreta Reserve brand, gave me a breading recipe which he uses to gently sauté vegetables, fish and meat in his olive oil.  I used it with a super fresh fillet of Shad, first dipping the fillet in a wash of egg and a little buttermilk, then pressing into it a mix of 1/2 cup bread crumbs (fresh made at Walt's), 1/4 cup Romano cheese, 1/4 cup Parmesan cheese, 1 tsp garlic powder, 1/4 tsp fresh ground black pepper and 1 T chopped fresh Italian parsley.  Sautéed in Kreta Reserve EVOO for 4 minutes on each side over moderate heat.  Garnished with lemon wedges to squeeze over.  Scrumptious!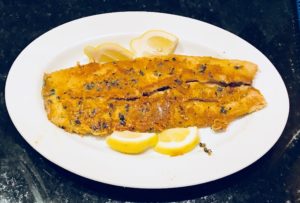 I made the Timbale of Gravlax with Smoked Shad Mousse pictured below from a recipe I learned at Fig Cooking School (for more details on the recipe, see my October 16, 2017 blog "Fig School I"). Walt's is smoking Shad now in their smokehouse out back, and I used a fillet of it for the mousse. I made the Gravlax, which I used as the wrapper for the mousse, from organically farmed Norwegian salmon that Saybrook Fish gets flown in each week. You make this by layering strips of Gravlax in an oiled rankin, then spoon in a mousse of smoked Shad, butter, cream, lemon juice and grated fresh horseradish. Fold the ends of the Gravlax strips over the mousse, wrap in plastic and refrigerate for an hour. Take off the plastic wrap, loosen the edges and then invert the rankin on a plate with a sharp rap and lift off the rankin. Voilà!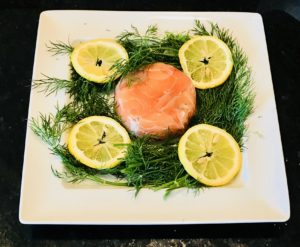 Here's some I made last spring for a party, where I accompanied the Timbales with a sweet cucumber salad.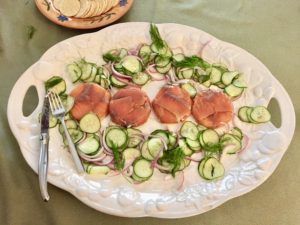 Also made Shad with ramps, the wild leeks that grow in the Connecticut woods in late spring.  See Ramps!  and Shad Tacos with Pickled Ramps.