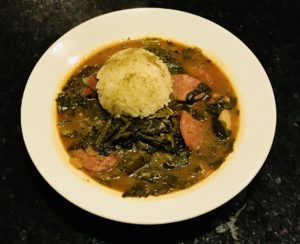 In the email yesterday announcing this week's CSA, Trifecta Ecosystems included a link to a recipe for Green Gumbo (also known as Gumbo Z'Herbes), and challenged the CSA community to make it and send pictures.  So I did, knowing that I was starting off with several advantages:  1) Walt's Market in Old Saybrook has a smokehouse out back, where among other delicacies, they smoke their own spicy version of Andouille sausage, which is used in this recipe; 2) Walt's also sells a very meaty ham hock, which is also called for in the recipe; 3) I happened to have a cup of rendered bacon fat in the fridge, which was one of the options for making the roux in the recipe; 4) I had almost all of the spices needed for the Cajun Spice Blend called for in the recipe…just had to buy some celery seed, which Walt's happened to stock; and most important 5) I had some Trifecta greens left over from last week's CSA, which along with some of the greens from this week's CSA were enough for the 3 lbs/14 cups called for in the recipe.
Here's the link to the Green Gumbo recipe at Simple Recipes:
https://www.simplyrecipes.com/recipes/green_gumbo/?utm_source=Weekly+Harvest+Members&utm_campaign=8a9addd4ad-EMAIL_CAMPAIGN_2018_02_05&utm_medium=email&utm_term=0_baf65f69ba-8a9addd4ad-56924173&mc_cid=8a9addd4ad&mc_eid=8440ea5a36
I pretty much followed this recipe, choosing to go with the lard option (bacon fat in my case) instead of peanut oil, and doubling the amount of the home made Cajun Spice Blend from 1 T to 2 T.  I also topped the finished gumbo with a scoop of white rice, cooked using the Puerto Rican method that I have described in other blogs and which is pasted in at the bottom of this blog.
Here are the ingredients you will need to make it:
1 cup peanut oil, lard or other vegetable oil (I used bacon fat)
1 cup flour
2 cups chopped onion
1 cup chopped green bell pepper
1 cup chopped celery
4 cloves garlic (recipe did not specify, but I sliced them)
2 bay leaves
1 T Cajun seasoning, using recipe below (I increased to 2 T)
1 ham hock
10 cups water
3 pounds assorted greens (e.g., kale, collards, mustard greens, turnip greens, spinach, chard, parsley, dandelion greens, beet greens), chopped (about 14 cups)
Sea salt
1 pound smoked andouille sausage
Filé powder to taste (filé is ground sassafras leaves)
Cajun Spice Blend
1 tsp black pepper
1 tsp cayenne
1 tsp celery seeds
1 tsp dried thyme
2 tsp dried oregano
1 T garlic powder
2 T sweet paprika
Yes, you read that right…3 lbs or 14 cups of assorted greens.  This is Green Gumbo after all. This is what that looks like, whole and chopped: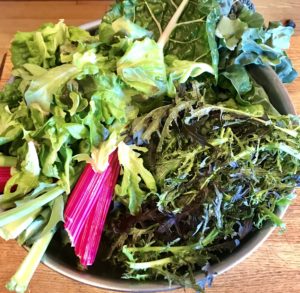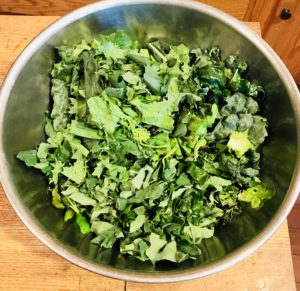 The mix above includes kale, chard, mustard greens, arugula and several kinds of lettuce.  I used most of the stems of the kale and the chard, except the thick parts at the bottom.  You could use other greens as well, such as spinach or beet greens.
Making the Roux
The most time consuming element of this recipe (in terms of active time) is making the roux, which is a mix of 1 cup of fat and 1 cup of flour, slowly cooked over medium-low heat until it becomes a dark chocolate color.  This takes nearly an hour of constant stirring, but is worth the effort because you can't have a good gumbo without a good roux.  The darker the roux the better, but be careful at the end not to burn it.  The recipe suggests using either peanut oil or lard, which is the rendered fat from any part of a pig.  I used bacon fat.  I save the fat that is rendered whenever I cook bacon, adding it to a jar I keep in the fridge for that purpose.  [You should get in the habit of doing this, as bacon fat is essential for cooking a good sofrito, the mix of veggies that is the base of Mexican, Puerto Rican and Cuban dishes, and I have discovered it is also the perfect fat for sautéing Shad and Shad Roe.]
You start making the roux by first melting the bacon fat (or heating the peanut oil) and then adding the flour, and then stirring and stirring over medium-low heat.  Here is the roux about 3/4ths of the way through this process: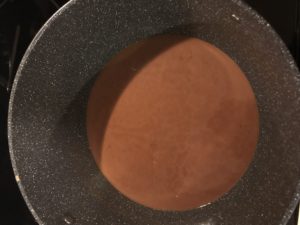 It helps to sip a beer or two to pass the time while you are stirring the roux.  I bought this brand to get me in the mood for gumbo: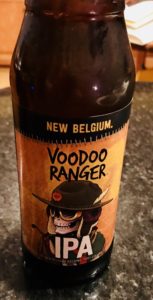 Making the Cajun "Sofrito"
Once the roux is a deep chocolate color, you add 2 cups of chopped onion, 1cup chopped green bell pepper and 1 cup of chopped celery.  Cook over medium heat till softened, then add 4 cloves of garlic (sliced) and cook another 2 minutes.  I call this mix of onion, green pepper, celery and garlic a Cajun "sofrito" as opposed to the Puerto Rican sofrito of onion, green pepper, tomato and garlic.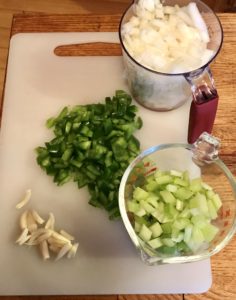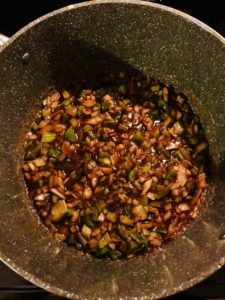 Simmering the Gumbo
Then you slowly add 10 cups of simmering water, plus 1 ham hock, 2 bay leaves, the 3 lbs (14 cups) of chopped assorted greens, and 1-2 T of a homemade Cajun Spice Blend. The original recipe calls for 1 T of the spice blend, but I used 2 T as I like my gumbo spicy.  The spice blend consists of 1 tsp black pepper, 1 tsp cayenne, 1 tsp celery seeds,1 tsp dried thyme, 2 tsp dried oregano, 1 T garlic powder, and 2 T sweet paprika.  [NOTE: These quantities will produce much more of it than the 1-2 T you will need for the recipe. Fun to think up other things to cook with it.]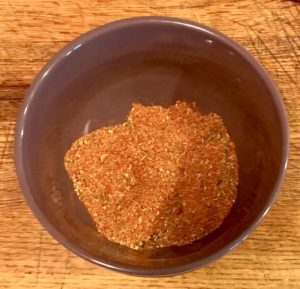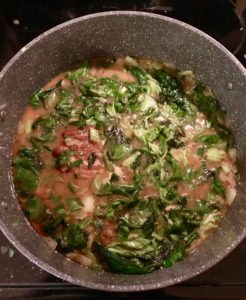 After adding the water, ham hock, bay leaves and the 1-2 T of the spice blend to the roux-veggie mix, taste it and add sea salt as necessary, bearing in mind that the ham hock will release some salt as it cooks.  Simmer for 1 hour and 15 minutes.
Adding the Andouille Sausage
After the gumbo has finished its 1 hour and 15 minute simmer, remove the bay leaves, remove the meat from the ham hock and cut into bite size pieces, discard the bone and return meat to pot, add 1 lb of sliced smoked Andouille sausage, and simmer for 15 minutes.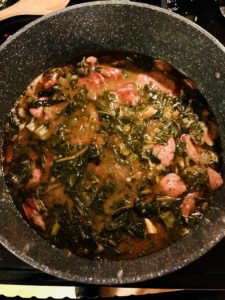 Serving the Gumbo
Ladle some of the gumbo into a bowl, top with a scoop of white rice, and then sprinkle the rice and the gumbo with some filé powder (ground sassafras leaves).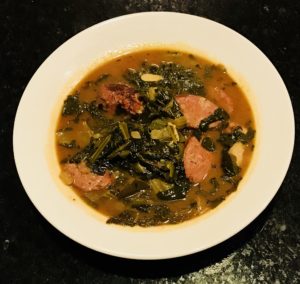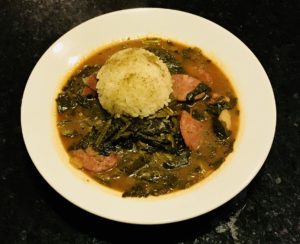 This is stupendously good (see "Update" after the white rice recipe).
Making the Rice
If you start making the white rice after the gumbo has simmered for 1 hour, it will be ready at the same time as the gumbo is done.  I made the white rice with the recipe in Puerto Rican Cookery that I have been using for 40 years.  In my view, Puerto Ricans make the best rice in the world.  It is not that insipid American fluffy stuff, nor is it sticky like Asian rice.  Each kernel of rice is distinct, with a nice bite to it.  You need to use a medium grain rice.  I use the one sold by Goya.  The proportions are 2 cups of rice to 3 cups of water.  You bring the water, 4 T olive oil and 2 tsp of sea salt to a boil.  While this is happening, you put the rice in a strainer and rinse thoroughly with cold running water.  Drain well and add to the boiling water.  Boil it till the water disappears from view down little holes in the rice, like this: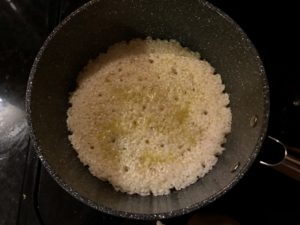 Then you turn it once with a fork from bottom to top, cover, cook on low heat for 10 min, turn again once with a fork from bottom to top, cover, and cook on low heat for another 10 min.
Update
This Green Gumbo is amazingly good.  After having it for dinner on Monday, I had it for both lunch and dinner on Tuesday, and again for dinner on Wednesday.  I have been thinking about why it is so good, and I think it's because of the multiple layers of flavor.  Layer one is the rich flavor of bacon fat and flour cooked slowly for an hour.  Next is the layer of the Cajun sofrito cooked in the roux.  Then on top of that is the flavor of the ham hock, the assorted greens, the bay leaves and the Cajun spice blend as they simmer with the roux and the sofrito for an hour or so.  Then this is livened up by a layer of smoky, spicy andouille sausage.  And finally it is all brought together by the funk of the filé powder, and the white rice as foil and sponge.