Below is Darina Allen of Balllymaloe Cookery School receiving the week's comb honey from local beekeeper Naile Coffey.  Almost every field in Ireland has an old Gaelic name.  Ballymaloe means "Land of Sweet Honey."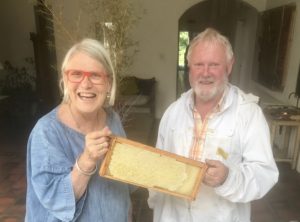 The Ballymaloe Cookery School
If you are a farm-to-table enthusiast like me, or farm-to-fork as they say in Ireland, then the Ballymaloe Cookery School in Shanagarry, County Cork, Ireland, is as close as it gets to heaven on earth. When Darina Allen founded the school 40 years ago with her brother Rory O'Connell, they started what would become a vibrant farm-to-fork movement in Ireland and Europe, analogous to what Alice Waters did in America around the same time with her restaurant Chez Parnisse in California, which launched our farm-to-table movement in the U.S.
The essence of this movement is to find the freshest, tastiest, most-healthful, least-processed ingredients you can, and then not screw them up. This primarily means sourcing from local farmers, fishermen and artisan producers in season, and cooking them in a straight forward way that shows off the ingredients. Ireland is particularly fertile ground for this because of the high quality of its farm products, from milk, cream, butter, buttermilk, yogurt, cheese and eggs to coarse ground whole wheat flours to grass-fed beef and lamb to the diversity of fish and shellfish in its coastal waters to the excellent organic fruit and vegetables from its many small organic farms. These gifts of land and sea come from Ireland's geology and location: Limestone covers most of Ireland; add a lot of rain and you get great grass, which produces great sheep, cows and cattle, which produce great milk and cheese, lamb and beef. As an island in the nutrient-rich cold waters of the North Atlantic, it has an abundance of fish and shellfish to match the bounty from the land.
The Five-Day "Intensive Introductory" Course
I spent Monday to Friday of last week at the Ballymaloe Cookery School, taking what they call their Intensive Introductory Course. My classmates came from all over the world and were mostly cook hobbyists like me. The course combined demonstrations by Darina, Rory and Darina's daughter-in-law Rachel in the afternoons, followed by hands-on cooking the next morning of our choice of two of the dishes presented in the demo, with the help of one tutor chef for every 6 students. On Monday, we had demos in both the morning and the afternoon. It was also possible, if you got up early, to help Maria the dairy manager with the milking of the cows, as I did on Tuesday, or to watch Tim, Darina's husband, bake the daily bread, as I did on Wednesday morning. Ballymaloe is a 100-acre organic farm as well as a cooking school, and much of what we cooked came from the Ballymaloe farm, with the rest coming from other local farmers, fishermen and artisan food makers. Ballymaloe also has beautiful gardens, which I explored on Monday.  Ballymaloe House, a farm-to-table restaurant started by Darina's mother-in-law Myrtle Allen in the 1960's, is about 3 kilometers away. It is arguably Ireland's best restaurant. I ate there on Thursday night.
Below I give a day-by-day impressionistic summary of my time at Ballymaloe, mostly in pictures. As I reprise various dishes at home over the coming weeks, I will give the recipes with my typical step-by-step photos of the cooking process.  In this blog, you'll just see the finished dishes.
For a few days before and after the course at Ballymaloe, I also spent some time walking some of the Wild Atlantic Way, the tourism brand name for the west coast of Ireland.  I ate each night at a farm-to-table restaurant, where some of the chefs were probably graduates of Ballymaloe's 12-week certificate course. I show some of that after my summary of my week at the school.
Day 1
The cottage where I stayed during the course: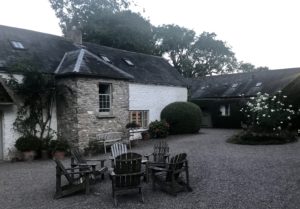 The set up of the demo kitchen with a large mirror above the chef and close-up monitors on either side: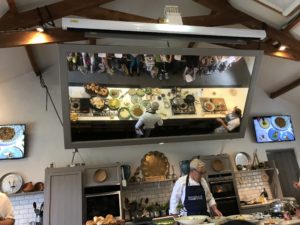 Below are photos of some of the dishes cooked at the Monday demos by Darina and Rory, which included a brown soda bread; a basic vegetable soup; an onion and thyme leaf soup; vegetable stock; chicken stock; a smoky bacon, fried mushroom and chive tart; a heirloom tomato salad; a summer garden salad; almond meringue with summer berries and rosewater cream; spearmint lemonade and flavored syrups; fettuccini with zucchini, marjoram and black olives; tapenade; black-eyed bean stew with mushrooms; plain boiled rice with coriander yogurt; poppadums; how to fillet a round fish; pan-grilled mackerel with parsley butter, sorrel yogurt or green gooseberry sauce; butterflied mackerel with paprika and garlic; classic French omelette; tomato and chilli fondue with fresh coriander; new potatoes with mint; and sweet white scones.
Some of the desserts: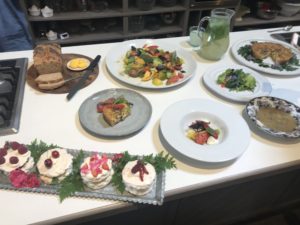 The mackrerel and the sauces for it: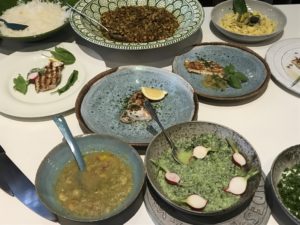 After the demos, I took a tour of the gardens and greenhouses: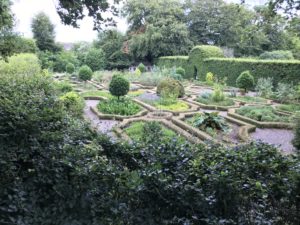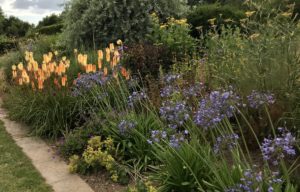 Day 2
I got up early to help Maria milk the cows: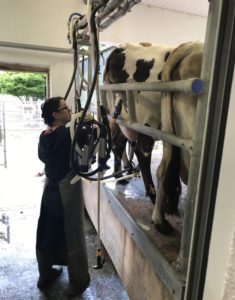 I put the miking machine on that cow.  Really,
They served us this incredible breakfast each morning, that included porridge, muesli, various compotes, fresh baked breads with butter, jams and comb honey, and an assortment of farmhouse cheeses.
Meusli: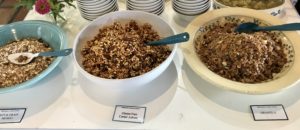 Compotes: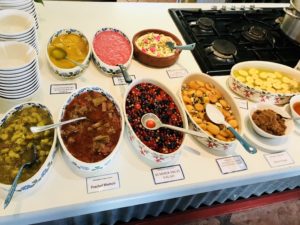 Sourdough bread and comb honey: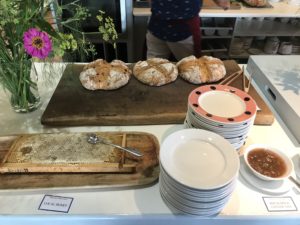 Ballymaloe Jams:

Farmhouse cheeses, the one on the lower right from Ballymaloe: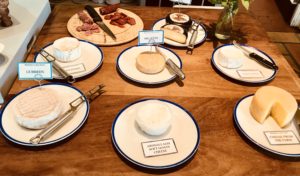 For the morning practicals, they separated us into three teaching kitchens, where we were paired with another student at our own cooking station, every three pair sharing a chef tutor.  Here is a photo of the kitchen where I did my hands-on work: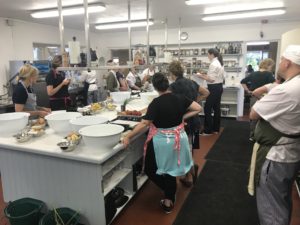 I think of myself as a cook rather than a baker, so I decided to try to bake whenever I could.  At the Tuesday practical, I chose to cook the brown soda bread and the smoky bacon, mushroom and chive tart.  I was particularly keen to learn how to make a flaky pastry crust.
Here is the brown soda bread from the demo on Monday: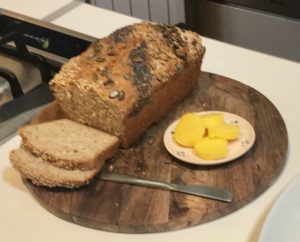 And here is my version of it: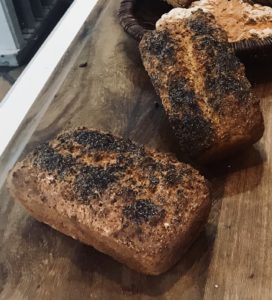 Here is the tart from the Monday demo: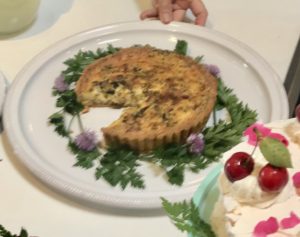 And here is my version of it: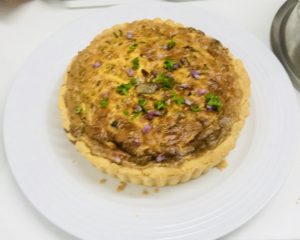 Mission accomplished.
We ate the food we cooked in the morning for lunch, which was followed by a demo by Rachel: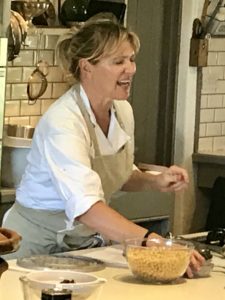 Here are some of the dishes from Rachel's demo on Tuesday afternoon, which included: white soda bread; white soda bread pizza (Connecticut folks reading this will just have to ignore that one); tomato fondue; mushroom a la crème; baby gem with caesar dressing; how to joint a chicken; how to prepare a chicken paillarde; grilled chicken breast with tomato and basil sauce; roux; steak with blue cheese butter; rustic roast potato wedges, glazed carrot with chervil, cumin or coriander; how to cook a green vegetable, French beans; cauliflower cheese; a summer green salad with Ballymaloe French dressing; and Bakewell Tart.
Chicken dishes: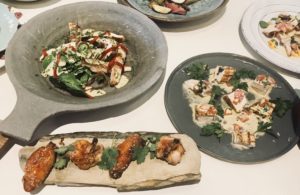 Cauliflower cheese: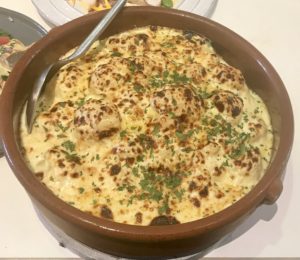 Baby gem lettuce with Caesar dressing: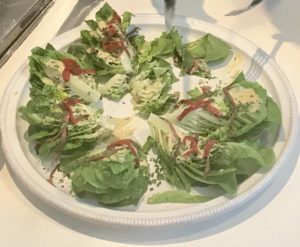 Bakewell Tart: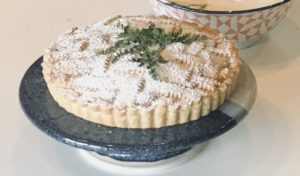 Day 3
I got up early to watch Darina's husband Tim bake the daily bread.  The sourdough is made from a wild yeast starter than has been going for about 15 years.  The bread is just awesome.
Tim made the bakery from a shipping container: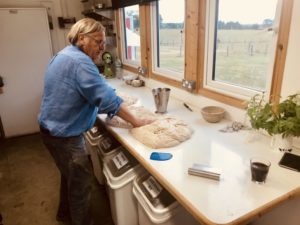 Baguettes: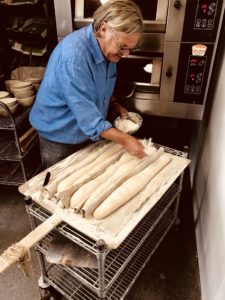 Sourdough: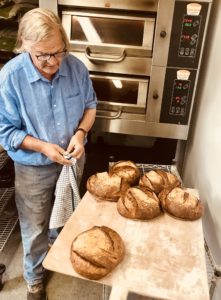 Some of the morning bread:

In the morning practical, I decided to make the cauliflower cheese, because it involved making three sauces:  a basic roux, then a Béchamel, and then a Mornay.  All of these are sauces I can use to make other dishes.  My second choice was the chicken paillard, starting by jointing a whole chicken.  I've boned chicken before, but wanted some more practice.  I think I will buy a boning knife.  I also helped my cooking partner Nikki with her gem lettuce with Caesar dressing.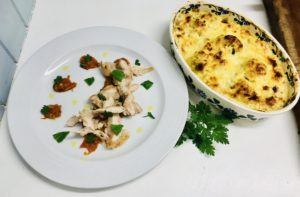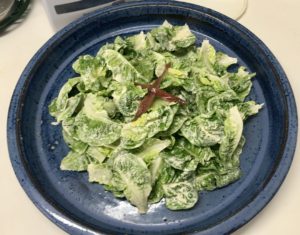 Once again, we ate for lunch all of the dishes that the class cooked, which was followed by an afternoon demo by Rory.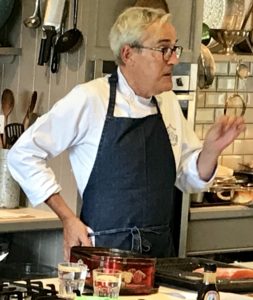 Here are some of the dishes which Rory demoed, which included: Ballymaloe Brown Yeast Bread; Ballymaloe shrimps [sic] with homemade mayonnaise; whole Balymaloe prawns in the shell with homemade dill mayonnaise and watercress; cucumber pickle; Moules Provençale; Thai beef curry with peanut sauce; jasmine rice; penne with tomatoes, spicy sausage and cream; feta, watermelon, mint and green bean salad; hot smoked salmon; crème caramel with caramel shards; lemon drizzle squares; and coffee and pecan squares.
Desserts: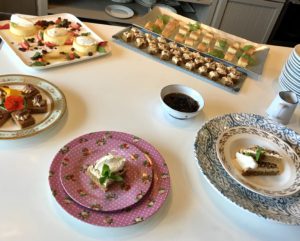 Hot smoked salmon, cooked in a biscuit tin on the stove top (you need a good vent fan to do this):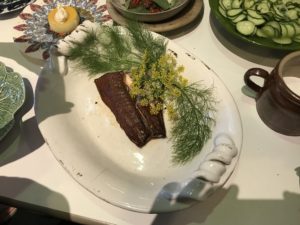 Brown Yeast Bread: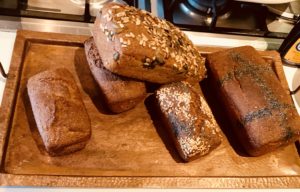 Moules Provençale: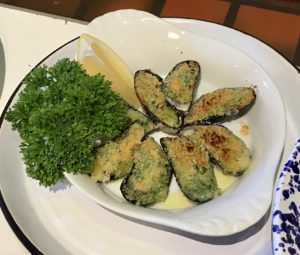 On Wednesday night I took a short hike on the cliff walk in the nearby fishing village of Ballycotton.  To my delight, I was treated to an aerial display by a trio of Peregrine Falcon fledglings.  Was able to capture these photos of two of them in flight: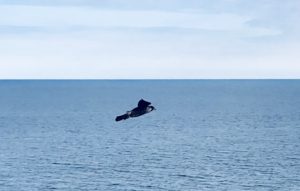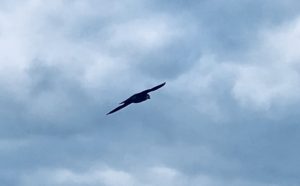 Day 4
At the Thursday morning practical, I chose to make the Ballymaloe Brown Yeast Bread and the Moules Provenćale.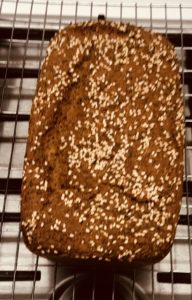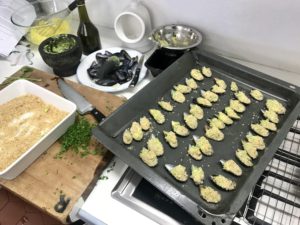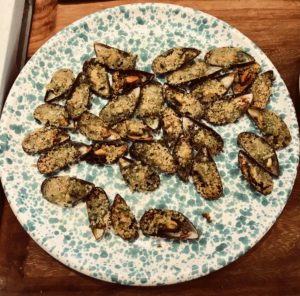 Again, we ate for lunch what we all made in the morning, and then Rachel did the afternoon demo.  Some of the dishes are pictured below, which included: chilled ruby beetroot soup with chives; tagine of lamb with preserved lemon and toasted almonds; couscous with fresh herbs; chickpeas with fresh spices; buttered spinach or chard; mini tortillas (Spanish potato omelettes) with aioli; green salad with verjuice dressing; Ballymaloe praline ice cream with praline brittle; and fresh raspberry and fresh strawberry popsicles.
Beetroot soup: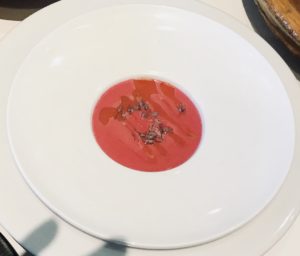 Lamb tagine: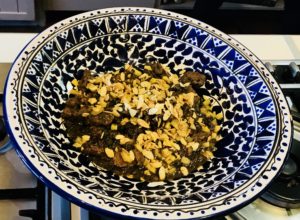 Couscous: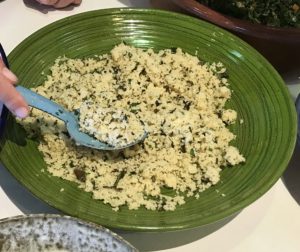 Chickpea Stew: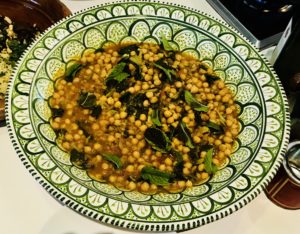 Praline ice cream: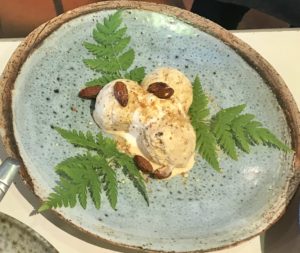 Fresh raspberry and fresh straberry popsicles: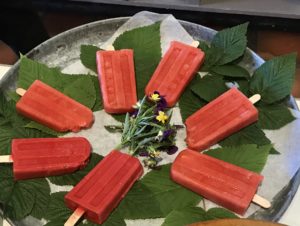 Thursday night I had a five-course meal at Ballymaloe House, which included a chilled cucumber soup with dill and mint, pan-seared mackerel, lamb with salsa verde and sautéed spinach, a sampling of farmhouse cheeses, and peach ice cream.  It was awesome.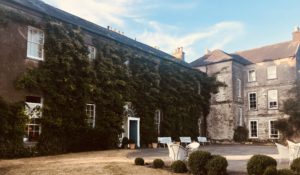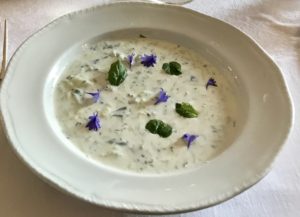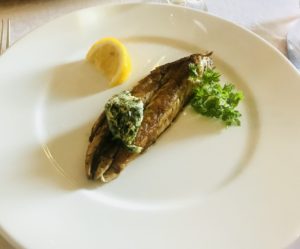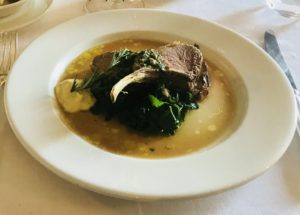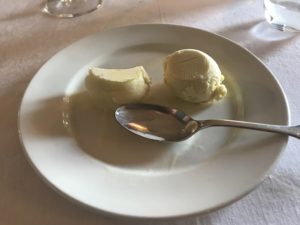 Day 5
In the morning practical, I made the lamb tagine and the praline ice cream. Because I finished early, I made a mayonnaise by hand that others used to make an aioli for the mini tortillas.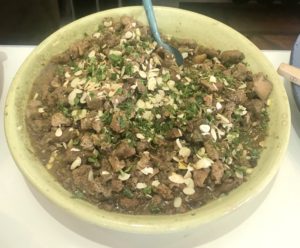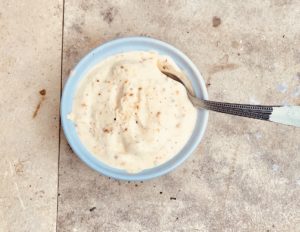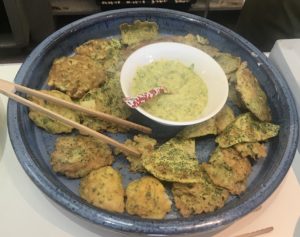 We had what we made for lunch and then Rory did the final demo.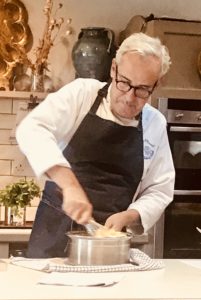 Some of the dishes are pictured below, which included: Irish cheddar cheese croquettes; tomato and chili jam; quesadillas with tomato salsa and guacamole; chicken tacos; frittata with oven roasted tomatoes and summer herbs; traditional roast stuffed chicken; roast potatoes; how to make yogurt and labne; labne with poached apricots with sweet geranium leaves; chocolate spelt brownies; and chocolate mousse with PX raisins.
Cheese croquette with tomato chilli jam: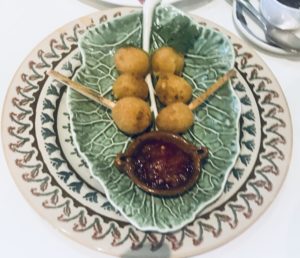 Guacamole: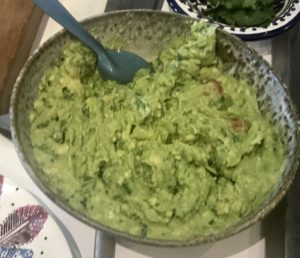 Chicken tacos: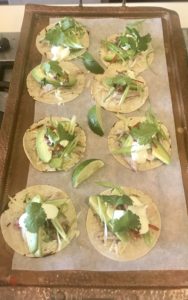 Quesadillas: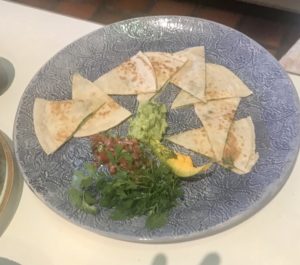 Fritatta: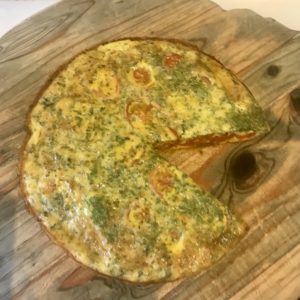 Roast chicken with stuffing: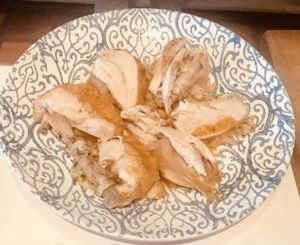 Roast potatoes: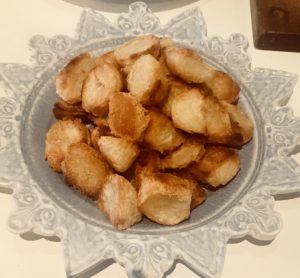 Brownies and chocolate mousse: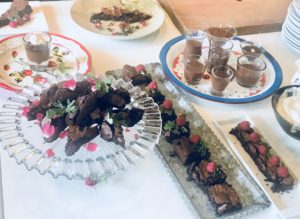 Labne with poached apricots and sweet geranium leaves: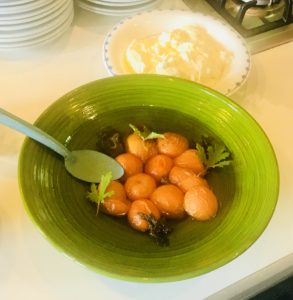 Two Walks in West Cork
Before the class, I hiked the remote, rocky peninsulas of West Cork, including walks on Sheep's Head and Dursey Island. Sheep's Head sits between the Mizen and Beara Peninsulas. Dursey Island is reached by cable car at the end of the Beara Peninsula.  After the Sheep's Head hike I had Halibut with mussel Pernod sauce at the Crookhaven Inn.  After the Dursey Island hike, I had Bantry Bay mussels at the Park Bistro in Glengariff.
Sheep's Head: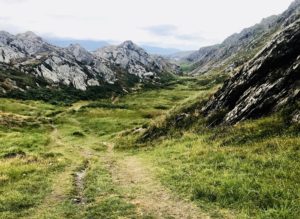 Halibut with mussel Pernod sauce: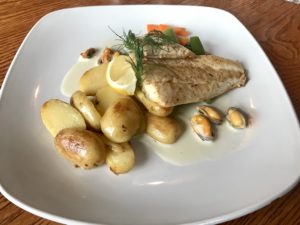 The lower road near the end of Dursey Island…presumably the speed limit sign is a joke: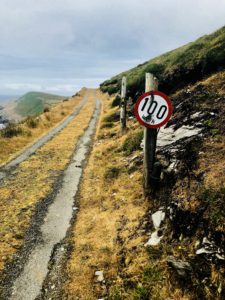 Bantry Mussels, the best I've ever had: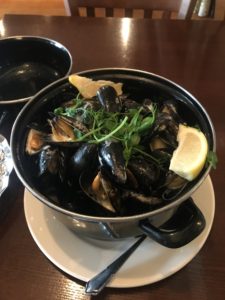 Two Walks in Kerry
After the class, I hiked around Derrynane at the end of the Iveragh Penninsula. Derrynane was the home of Daniel O'Connor, the Liberator, sort of the George Washington of Ireland. Then I hiked some of The Dingle Way, near Eagle Mountain at the end of the Dingle Peninsula.  After the Derrynane hike I had a paella with local seafood at Sol y Sombre in Killorglin.  When I was hiking some of The Dingle Way, I had ice cream at Murphy's in Dingle.
Derrynane: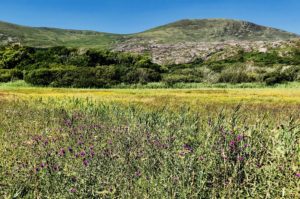 A paella of local mussels, monkfish and shrimp: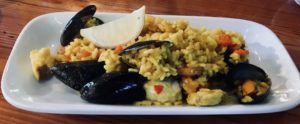 Along The Dingle Way: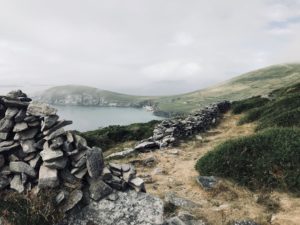 Murphy's ice cream in Dingle, where I chose a combo of Dingle Sea Salt and Caramelized Brown Bread flavors: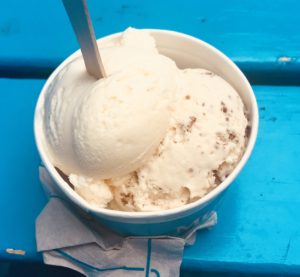 Inish Méan
Then I hiked around Inish Méan, the wildest and least visited of the Aran Islands in County Clare. On the way back, I stopped at the Cliffs of Moher, probably the most visited spot in Ireland.  Then had salmon in a beurre blanc sauce at The Blue Door in Adare.
Inish Méan: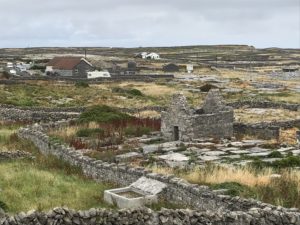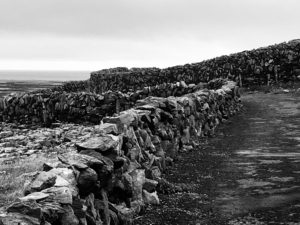 Cliffs of Moher: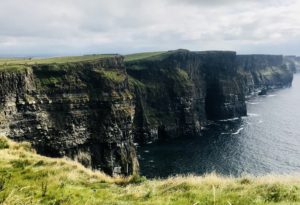 Salmon in Beurre Blanc sauce: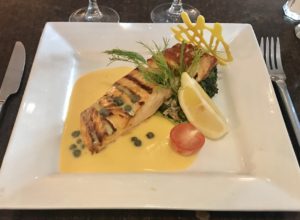 Dublin
Before I flew back, I spent an evening walking around the center of Dublin, and had some Galway oysters and broiled lobster at Klaw.
Dublin from a bridge over the River Liffey: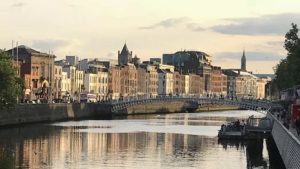 Klaw: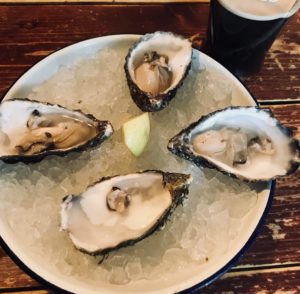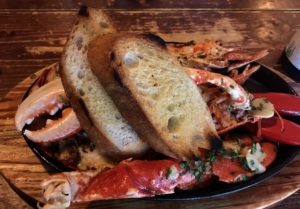 A Final Note
The website for Ballymaloe is cookingisfun.ie. I think that says it all.  There is a joyfulness about ingredients, cooking and life that Darina, Rory, Rachel, Tim and the rest of the extended Allen family bring to the school.  It is infectious.  Heaven on earth.