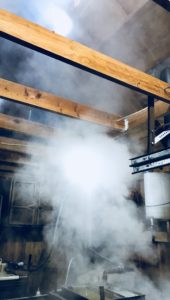 Early spring in New England has a distinct smell. Part of it, the smell of smoke from a wood fire, has been around since those first crisp days of fall. The other part is something new and unique to this moment, something you have to go to a sugarhouse to experience: the sweet, slightly maple-y smell of the steam as maple sap is boiled into syrup by a wood-fired evaporator.
Maple sap starts running up maple trees when there is a combination of a cold night followed by a warm day. This depends on the weather, but in Connecticut it can start as early as mid-February and run through most of March. This, not the vernal equinox on March 21st, is when spring really starts in Connecticut.
My first experience of the smell of early spring this year was at the Anderson Sugarhouse in East Haddam on Sunday, February 26th. Saturday was a relatively warm day and the sap was running, so Sunday was a day of sugaring for Erik Anderson.  Maple sap is a perishable product that can quickly spoil if you let it sit and the weather suddenly turns warm, as happened to Erik when we had a freaky 70F day earlier in February.  Best to boil it the day after it comes out of the tap.
So to honor this perishable harbinger of spring I am doing Mapleloosa, a series of blogs of foods made using maple syrup and maple sugar.  In this blog: pictures of my Sunday afternoon visit to the Anderson Sugarhouse, followed by four maple-inspired recipes.
Here is the Anderson Sugarhouse, which is the place where maple sap is boiled into syrup: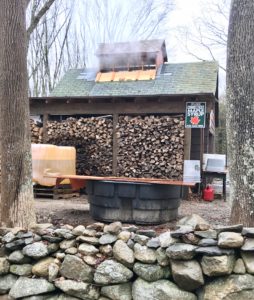 The maple sap boiling in the wood-fired evaporator: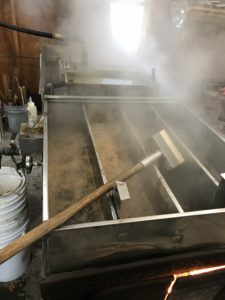 The wood fire that heats the evaporator: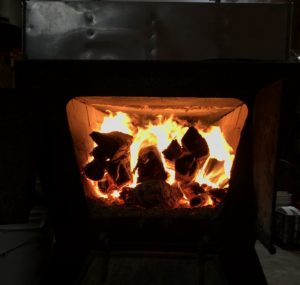 Steam from the boiling sap rising to the vent in the top of the sugarhouse: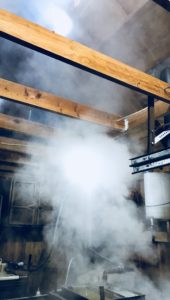 The final product: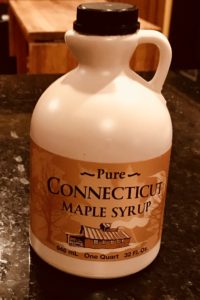 Four Maple Recipes
A Salad
Toss 1/2 cup of pecans with 1 T maple syrup, 1 tsp olive oil, 1/2 tsp salt and 1/4 tsp cayenne pepper, scatter on a parchment paper-lined baking sheet,  and bake at 375F for 12 minutes: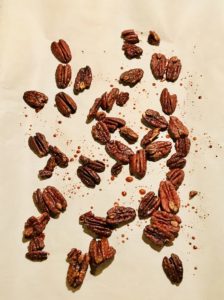 Add pecans and 1/4 cup of dried currants to greens dressed with 3 T olive oil, 1 T balsamic vinegar, 1 tsp maple syrup, salt and pepper: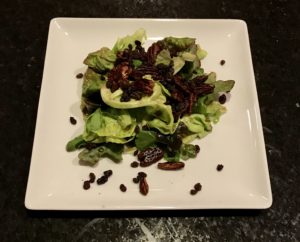 A Side Dish
Bake 2 sweet potatoes for 1-1.5 hours at 350F or till soft.  Cut in half and fluff flesh with fork, or chop, skin-on, into small pieces. 
Separate 1 lb of chard leaves from stems and cut both into 2 inch lengths.  Add stems to large pot of boiling water and boil for 2 minutes.  Add leaves and boil one minute longer.  Drain, rinse under cold water and squeeze dry.  Add 1/4 cup of pine nuts to 2 T butter and 1 T olive oil and sauté till golden brown.  Remove to separate plate with slotted spoon.  Add 2 cloves thinly-sliced garlic to pan and sauté for 2 minutes.  Add 1/4 cup chicken stock and 1 T maple syrup to pan and sauté for 1 minute to reduce.  Add chard and sauté till warmed through.
Make sauce of 4 T tahini, 5 T Greek yogurt, 2 T fresh lemon juice, 1 T maple syrup and 2 T water.
Arrange some of the chard over each potato half.  Pour over some of the sauce and top with some of the nuts;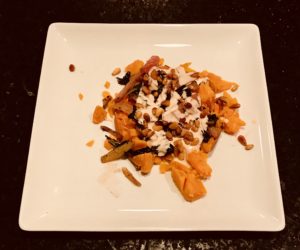 A Dessert
Core a Granny Smith Apple and stuff with walnuts, cinnamon and bits of cold butter.  Wrap in pie crust, baste with melted butter and bake at 350F for 1 hour.  Pour over warm maple syrup and fresh whipped cream: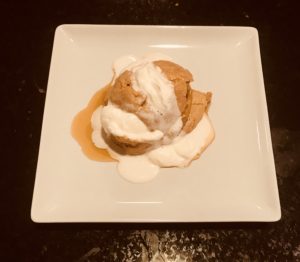 A Cocktail
In a glass, mull 1 T of maple sugar and 1 lime cut into eighths: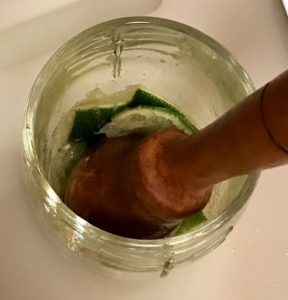 Add ice and 2 oz of Calvados and stir to combine: