Pumpkins and Macoun apples are the quintessential tastes of fall in Connecticut.  Like pumpkins, Macouns do not store well so have to be enjoyed in early October as they are harvested.  The Macoun is a cross between a Macintosh and a Black Twig.  It is a favorite of Nutmeggers, both eaters and growers.  In my view, it is the best eating apple there is, both crisp and sweet with a hint of tartness.  You don't cook with it as it would just dissolve, but here that works to add flavor and texture to my basic pumpkin soup, with pureed Macouns in the soup and chopped uncooked ones as a garnish with some toasted pumpkin seeds if served hot, or with walnuts and raisins if served cold.
INGREDIENTS
My basic pumpkin soup (see recipe in previous blog)
2 Macoun apples, peeled, chopped and sauteed in 1 T butter for 5 min, then covered in chiken stock and simmered for 5 min or till soft enough to mash into a sauce
1/2 Macoun apple peeled and chopped to garnish
Seeds from fresh pumpkin, cleaned, toasted and salted, to garnish
Raisins, walnuts and a dollop of creme fraiche as alternative garnish
DIRECTIONS
For hot soup, add pureed apples to finished soup and reheat, taking care not to let it curdle.  Put some chopped Macouns on the top of each soup bowl, along with some toasted pumpkin seeds and a grind of nutmeg.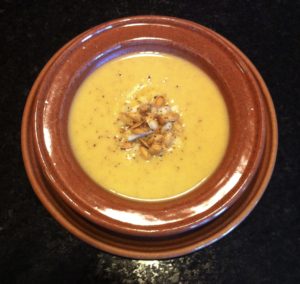 For cold soup, add cooled, pureed apples to cold soup.  Garnish each bowl with some chopped Macouns, raisins, walnuts, creme fraiche and a grind of nutmeg.