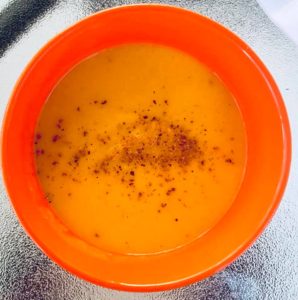 Is there any place in the world as lovely as Connecticut in the fall?  There is a thick amber light at sunset that sets glass windows aflame.  The leaves slowly change to their peak of color.  The first smell of wood fires as the air gets crisper.  And pumpkins!  Lots of pumpkins.  Sugar pumpkins.  Carving pumpkins.  Both can be used for this pumpkin soup, a tribute to The Nutmeg State, my home.
You must use a fresh pumpkin, and fresh nutmeg.  The sugar pumpkins, which are the ones used to make pies, will make a sweeter, mellower soup.  The carving-type pumpkin will make a tangier, more assertive soup.  Both are good.  Make two batches using one of each and see which you like best.  You can never have too much pumpkin soup.
Pumpkin Soup
Serves Six
INGREDIENTS
3 lbs of seeded, peeled pumpkin
2 diced potatoes
4 T butter
1 1/2 tsp freshly grated nutmeg
1/2 tsp ground white pepper
1/2 tsp salt
6 1/2 cups chicken broth
2 egg yolks
1/2 cup sour cream
DIRECTIONS
Use a carving fork to make pricks in a whole pumpkin and place on a baking sheet in a 350F oven for one hour.  Once it has cooled a bit, cut it in half and scoop out the seeds and their nest of fiber.  Peel off the skin and cut away the stem and the hard part of the base.  Now weigh the pumpkin.  If it is more or less than 3 lbs, adjust the other ingredients accordingly.
Saute the diced potatoes in the butter for five minutes.  Cut up the pumpkin into chunks, add to the potato, cover and simmer for five to 10 minutes to marry the pumpkin and potato flavors.  Add the chicken broth, the freshly grated nutmeg, white pepper and salt, bring to boil, then simmer for 10 to 15 minutes.  Blend to a smooth puree in batches in a food processor, or in the pot with an immersion blender.
Mix the egg yolks, sour cream and 1/2 cup of the soup to temper the eggs and cream, then whisk into the soup.  Reheat the soup as necessary to assure that it is piping hot, but be careful not to let it curdle.
Garnish each bowl of soup with a pinch of freshly grated nutmeg.
Note on grating nutmeg:  I use the same hand crank grater that I use to grate Parmesan cheese.