This has been such a long journey, it's almost sad to see it come to an end.  But, I think I have done it, achieved my Holy Grail of pumpkin soups, a faithful reprise of the bowl of Curried Pumpkin Mussel Soup at a little bistro on the backside of Montmartre years ago on a trip to Paris with Marilyn.  This one has the right flavor and texture, and the right color: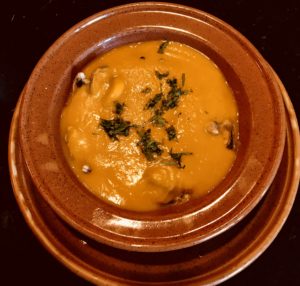 Thanks to George Mathanool for suggesting the addition of turmeric, and to Mark Baldwin for suggesting I add a sweet potato.
I had made Curried Pumpkin Mussel Soup when Mark and his friend Carol were here on Wednesday.  I used quite a bit more curry powder in that batch, plus cumin and turmeric, which I bloomed in the the pan in which I was cooking the onion.  "Blooming" is cooking the spices for 30 sec directly on the bottom of the pan to intensify their flavor and color.  Those were good changes, but the soup was still not quite the orange color that I remembered and wanted to reprise.  I had some of that batch of the soup left over, without the mussels.  So today, I bought a pound of mussels, steamed them for 3 min in in white wine, olive oil, chopped onion, garlic, thyme and pepper, then strained the steaming broth into a bowl to add to the leftover soup: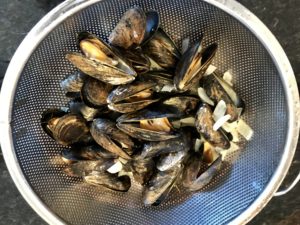 Once they had cooled a bit, I shelled the mussels right into the soup bowl to minimize the handling: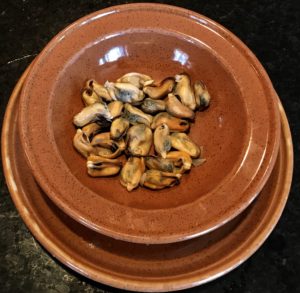 Meanwhile, I was sauteing in butter for 2 min, then steaming for 20 min, a sweet potato chopped into 1/2 inch dice.  I then added the mussel steaming broth to the sweet potato and simmered for another 2 min, then added the leftover soup and simmered for a few minutes more.  Then I pureed it in the food processor, and poured it over the mussels.
Once of the elements that makes this soup is tarragon: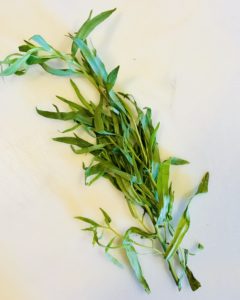 Which is chopped and sprinkled on top of soup when it is served.
Here is the final result again: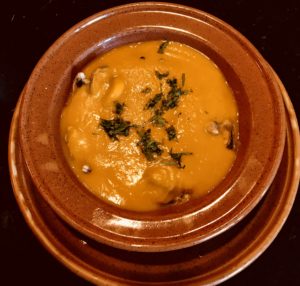 A scrumptious thing of beauty!  Grail achieved: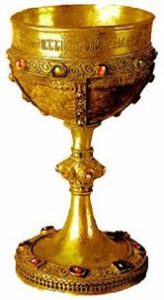 Now on to other quests.
Curried Pumpkin Mussel Soup III
Serves Six
INGREDIENTS
To bake the pumpkin:
3 pounds pumpkin, baked, peeled and cut into chunks…to get this much usable pulp you need to start with a 5 pound raw pumpkin, depending on the amount of seeds and threads, and how much of the peel you remove.
To steam the mussels:
1/2 cup olive oil
2 medium Spanish onions, peeled and cut into medium dice
10 cloves garlic, peeled and smashed
8 sprigs thyme
1/4 tsp freshly ground black pepper
4 pounds mussels, washed and beards trimmed, handled gently
1 bottle white wine
To make the soup:
1 medium Spanish onion, peeled and diced
1 medium sweet potato, peeled and diced
1 T olive oil
2 tsp curry powder
2 tsp cumin
2 tsp turmeric
Sea salt to taste
Juice of 1 lemon
Chopped fresh tarragon to garnish
DIRECTIONS
Preheat oven to 350F.
Cut the pumpkin in half and scoop out the seeds and threads.  PLace cut side up on a baking sheet and bake for 1 hour until the pumpkin is tender.  Allow to cool, then peel and cut into chunks.  Weigh the pumpkin at this point, and adjust the amount of broth as necessary with the ratio of 3 pounds of cooked pumpkin to 4 cups of wine.
To steam the mussels:
Heat the oil over high heat in an 8-quart stock pot.  Add the 2 onions, garlic, thyme, and wine.  Bring to boil, add mussels and cover.  Cook the mussels until they just begin to open.  Check at 3 minutes, and then every minute.  Be careful not to overcook, as the mussels will shrivel up.  Pour the mussels out into a strainer over a large bowl to catch the steaming liquid. Reserve the steaming liquid, as this will be the heart of the soup. Allow the mussels to cool in the strainer, then pull them from their shells, trying not to break them, and place in soup bowls. Discard any mussels that haven't opened (and find another fish store if you do).
To make the soup:
Saute 1 onion in olive oil in a 4 to 6 quart pot for 5 minutes.  Push the onions to the side of the pot and put the spices in the center and cook stirring for 30 sec.  Add the sweet potato and saute with the onion and spices for 2 minutes, then reduce heat, cover and and simmer for 20 min.  Add pumpkin, cover and cook over low heat for 5 minutes more.  Add liquid used to steam mussels, cover and simmer for five minutes more.  Puree with an immersion blender (or puree in batches in a food processor).  If you minded the proportions of pumpkin to broth above you should end up with a soup that is just right, neither too thick or too thin.  If you're not sure, add about 3/4's of the broth and puree it, and check consistency.   Then add the rest if you need to.  If it's too thick, add some fish stock (hope you don't need to do this as this will dilute the intensity of the broth, which is the key to the soup).  ,Reheat as necessary so soup is piping hot.  Taste.  Adjust seasoning (it will probably need salt), and finish with the lemon juice.  Ladle soup into bowls over the mussels.  Garnish each bowl with some of the tarragon.