I am making the Thanksgiving dinner this year at my son's house in Greenwich.  The total feast will include eight dishes, not including the pie:  the turkey (dry brined and rubbed with butter and herbs), gibblet gravy, in-bird sage and sausage stuffing, fluffy mashed potatoes, roasted brussel sprouts with pancetta, roasted butternut squash and red onions with tahini & za'atar, a green salad, and cranberry sauce.  I made the cranberry sauce today to get a jump on the meal.  Just seven more dishes to go!
What could be more quintessentially fall in New England than the cranberry harvest: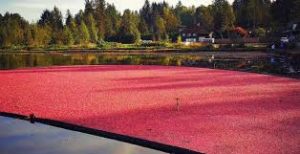 Courtesy of Ocean Spray:  "The cranberry bog is flooded with up to 18 inches of water the night before the berries are to be harvested. The growers then use water reels, nicknamed "eggbeaters," to churn the water and loosen the cranberries from the vine. Each berry has a tiny pocket of air that allows it to float to the surface of the water."
Love it!  Here are my cranberries, ready to go: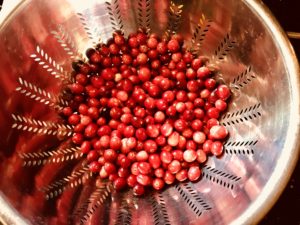 To make my sauce, I followed The Food Lab recipe for a simple sauce, but substituted orange juice for the water and added 2 tsp of orange zest.  He actually suggested this option, though he prefers it with just cranberry and cinnamon.  I like the combination of orange and cranberry flavors.
You put 4 cups of cranberries, 1/2 cup orange juice, 2 tsp orange zest, 1/4 tsp cinnamon, 1/4 tsp kosher salt and 1 cup sugar into a medium sauce pan and bring to a boil over medium high heat.  Once the berries start to pop, you keep cooking while stirring and mashing the berries against the side of the pan until they are all broken up and become the consistency of jam: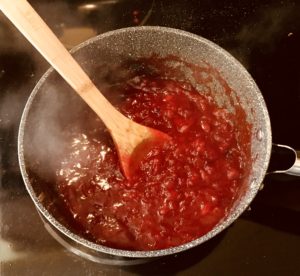 Then you let that cool for 30 min, then add water 1 T at a time until you get your preferred consistency.  Here is the finished sauce, in bowls ready for T Day: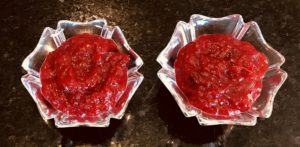 Since this is probably more than we will need on Thursday, I thought I could take a risk with one of the bowls and add about a teaspoon of Makers Mark, in which I have been soaking the vanilla pods that I scraped this summer for the desserts I made from the two classes that I took at the Fig Cooking School, essentially vanilla extract.  This was a good idea.  So now I have one bowl of sauce that is cranberry/orange/cinnamon, and one bowl that is cranberry/orange/cinnamon/vanilla.  Both are good.  I licked the sauce pan.