I did the cooking this Thanksgiving for my son and his family at their house in Greenwich.  As I purchased most of the food in OS and did some of the prep ahead of time at my house, and not knowing what my son had in the way of utensils at his house, this was kind of like a catering gig.  I discovered that you have to be very organized to pull this off, particularly for a traditional T-Day meal, which has a whole lot of dishes all coming together at one time.
As the ultimate food geeky thing, I half-jokingly thought of doing a Gannt chart for the meal, but settled for this game plan instead:
T-Day Game Plan
NOTE: made cranberry sauce on Sunday, squash and stuffing on Wednesday
Thursday AM
Soak, spin, and crisp greens; make salad dressing
Load cooler: salad greens, salad dressing, butter, milk, cranberry sauce, parsley, brussels sprouts, pancetta, carrots, celery
Load food In box: squash platter, stuffing casserole, tahini sauce, pine nuts, kosher salt, thyme, sage, rosemary, garlic, pepper grinder (fill), sunflower oil, onion, chicken stock, bay leaves, marmite, soy sauce, za'atar, potatoes, olive oil, balsamic vinegar, flour
Load utensils: pizza steel, roasting pan, v rack, chef knife, vegetable peeler, spoon measures, cup measures, cutting boards, instant read thermometer, large spoon, basting brush, carving knife and fork, cleaver, potato ricer, sauce pan (for potatoes), rubber spatula, baking sheet (for sprouts), salad bowl and tossers, Chacho's burner and pot*
On Way to Greenwich: buy peppercorns, chicken stock, parsley, butter (I realized I needed more of these at the last minute)
Thursday PM
Heat pizza steel and roasting pan
Baste turkey
Cook turkey
While turkey rests:
Make sprouts
Make potatoes
Heat stuffing
Make gravy
At end:
Put out cranberry sauce
Garnish and put out squash
Toss and put out salad
Put out sprouts
Put out potatoes
Put out stuffing
Put out gravy
Carve and put out turkey
*My son wanted to deep fry a turkey in addition to the one I would be roasting in the oven, so I needed to bring back his burner and pot from his aborted attempt at this last Thanksgiving at my house.
The eight dishes I made were from a mix of sources: the turkey, stuffing, mashed potatoes, gravy and cranberry sauce from the Food Lab cookbook, the Brussels Sprouts with Pancetta and Balsamic Vinegar from The Barefoot Contessa website, the Roasted Butternut Squash with Tahini and Za'atar from the Jerusalem cookbook, and the Simple Salad using my basic recipe.  I have already blogged separately about the cranberry sauce and the simple salad.  I break down the other dishes below with summary recipe and cooking notes.
The Turkey
I heated a pizza steel and a large roasting pan at 500F on the bottom rack in the oven for 1 hour (the pizza steel enables the dark and white meat to cook evenly together).  Just before this was done, I basted a 10 lb bird with a mix of butter and chopped parsley, sage, rosemary and thyme, and salt and pepper.  I rubbed this both under and over the skin, then put the bird on a v rack.  I took the roasting pan from the oven, put the v rack with the bird in the roasting pan and put the pan back on top of the pizza steel with the legs facing the rear of the oven, and turned the temp down to 300F.  Cooked for 3 hours, spooning the butter in the bottom of the roasting pan over the bird twice during cooking and again when I took it out and put the v rack on a rimmed baking sheet and tented the bird with aluminum foil to rest for 30 min, while I made the gravy, finished the potatoes and Brussels Sprouts, reheated the stuffing that I had made the day before, and garnished the squash I made the day before and which I served at room temp.  I carved the turkey using the method suggested in Food Lab, which is to first remove the leg and thighs from the back, then separate each leg and thigh, then turn the thighs skin side down and cut the meat way from the bone and then slice it, then remove the wings and separate each into the two parts, then cut each half of the breast as a whole piece away from the rib cage, and finally slice each breast half crosswise on a strong bias.  This is what that looks like as plated: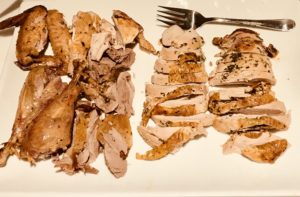 Gravy
I made a stock by chopping up the neck bones and browning them with chunks of carrot, celery and onion in a little sunflower oil.  Once browned, I added 6 cups of chicken stock, scrapping up the brown bits, added some soy and Marmite (two of the Food Lab standard umami enhancers), brought to boil and then simmered for an hour to reduce to 4 cups.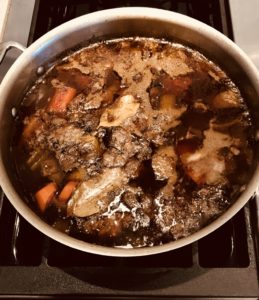 Strained the finished stock into a bowl, and once the turkey was out of the oven, deglazed the pan with the stock and strained again into a bowl.  Made a golden roux with 4 T of butter and 1/4 cup of flour, added the stock in a slow stream while whisking briskly, and then simmered to reduce to 3 cups.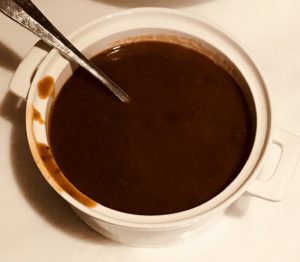 Stuffing
I made this the day before and reheated as the turkey was resting.  The Food Lab recipe calls for 2 pounds of high-quality white bread, which you cut into 1 in cubes and dry in a 250F oven for 50 minutes, stirring the bread cubes several times, until the bread is completely dried: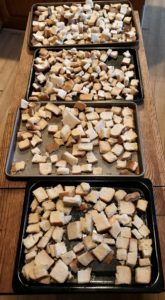 Then you fry in 8 T of melted, unsalted butter 1 1/2 pounds of sage sausage, removed from casings, mashing the sausage into fine pieces and cooking till only a few bits of pink remain, about 8 minutes.  Walt's in OS makes their own excellent sage sausage and sells it loose, so that's what I used.  Add 1 large finely chopped onion, 3 stalks finely-chopped celery, 2 medium minced garlic cloves, and 1/4 cup minced fresh sage and cook for 10 min. Then remove from heat and add 2 cups of chicken stock.  Whisk another 2 cups of chicken stock into 3 large eggs and 3 T of minced fresh parsley, then pour into the sausage mixture.  Then add the bread cubes and fold gently till evenly mixed. Bake at 350F in a 9 inch by 13 inch casserole dish tightly covered with aluminum foil for 45 minutes, then remove foil and cook till golden brown and crisp on top.  This was the hit of the meal: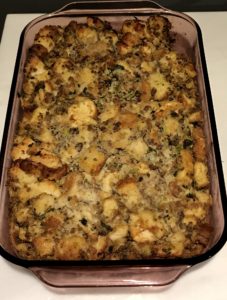 Butternut Squash and Red Onion with Tahini and Za'atar
This is from the Jerusalem cookbook.  Cut a large butternut squash and a large red onion into wedges and toss in olive oil.  In a 475F oven, roast for 30 to 40 min till they have taken on some color and are cooked through.  The squash is cooked skin-on and skin side down.  The skin of a butternut squash is actually very thin and when cooked this way can be eaten along with the flesh, adding a lot of flavor.  I roasted the squash and onion on Wednesday night: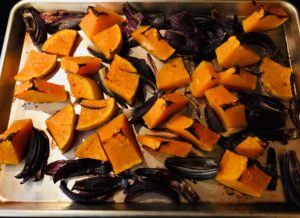 On Wednesday night I also made a sauce for the squash of tahini, lemon juice, water, garlic and salt, and sauteed 3 1/2 T of pine nuts in 1 1/2 tsp of olive oil, and chopped 1 T of parsley. These would be added as garnishes on Thursday along with 1 T of Za'atar (a Mideastern spice mix based on wild thyme).  I refrigerated the squash and the garnishes overnight and then allowed them to come to room temp when I got to my son's house.  I garnished the squash while the turkey was resting.  Here is how it looked as plated: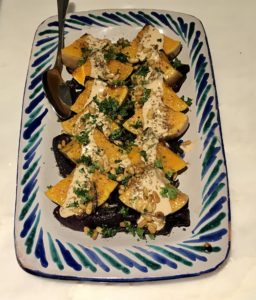 Brussels Sprouts with Pancetta and Balsamic Vinegar
I was trying out this dish, as my daughter Liz and I plan to cook it for a New Year's Eve party at her house in London.
In a 400F oven, you roast for 20 to 30 min 1 1/2 lb of halved brussels sprouts and 1/4 lb of diced pancetta tossed in olive oil with salt and pepper.  Once the sprouts are tender and crisp and the pancetta is cooked, you drizzle with 1 T of syrupy balsamic vinegar.  I forgot to cut the sprouts in half, but they were still great.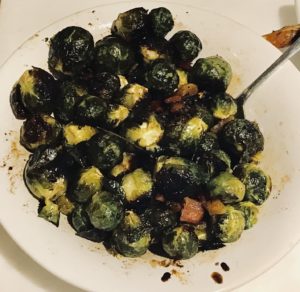 Plated
This is how it all came together on the plate.  In addition to the above, the plate also includes mashed potatoes (made with some German Butterballs from Maine that my friend Mark gave me), cranberry sauce and a simple salad of fresh greens from my CSA at the Trifecta Ecosystems hydroponic greenhouse.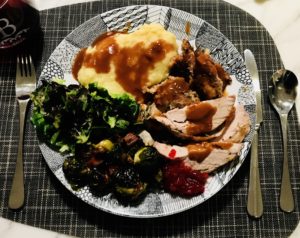 Leftovers
I confess that I snuck the squash dish in as something I really like and took the leftover squash and garnishes home, along with the turkey carcass, the cranberry sauce, some of the gravy, and some of the turkey meat.  I used the turkey carcass today (Friday) to make a stock with some browned carrot, celery and onion, and some soy sauce and Marmite: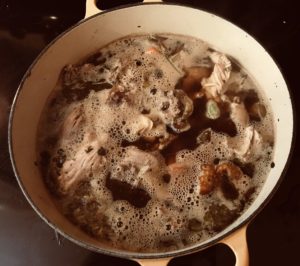 I then strained the stock into a bowl, sauteed the leftover squash and onion in the pot for a few minutes, then added the stock, brought to a boil, simmered for 30 min, and then pureed with an immersion blender.  I poured some in a soup bowl and garnished with chopped parsley, pine nuts, Za'atar and a drizzle of the tahini sauce.  This was pretty and scrumptious: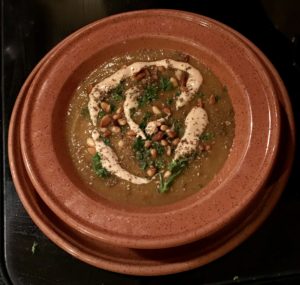 I am one of those who thinks that the purpose of the Thanksgiving meal from a culinary perspective is to produce leftover turkey for sandwiches.  Here with sourdough, turkey, mayo, cranberry sauce and lots of salt and pepper.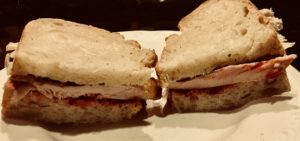 And here in a Montecristo with ham and swiss cheese, dipped in an egg/milk/vanilla/cinnamon mix, toasted till the cheese melts on the panini grill and served with hot maple syrup: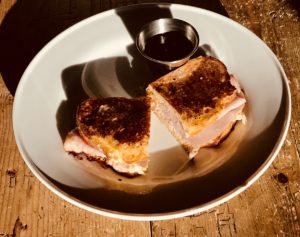 Had some of the leftover cranberry sauce on vanilla ice cream: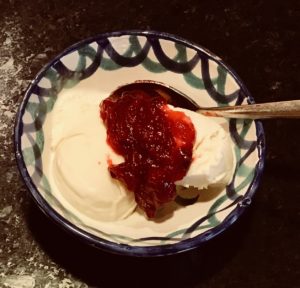 And at the suggestion of Marilyn's cousin Fide, some warm gravy over butter pecan ice cream, a symphony of sweet and savory: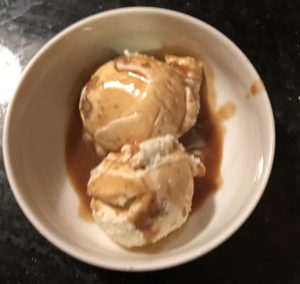 And finally, I used the rest of the leftover cranberry sauce and some leftover fresh cranberries (needed 1 1/2 bags for the sauce) to make a cranberry pie with a walnut/oat streusel top: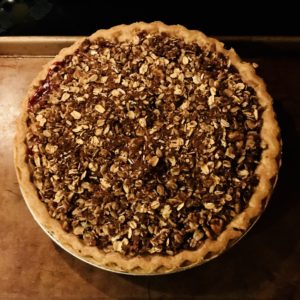 Was good with a scoop of vanilla ice cream: