Q:  How do you cook and entertain at the same time?
A:  Have your guests cook with you!
My friend Robert Orr suggested that I come over to cook something together with him and his wife Carol.  As Robert put it, I "hijacked" this idea by suggesting instead that he and Carol come over to my house for a sunset paddle out my creek to North Cove with my friends Ron and Lois McCuthcheon, and then cook a Turkish feast together from The Tree of Life: Turkish Home Cooking, by Joy Stocke and Angie Brenner, a friend of my brother and sister-in-law, Peter and Vicki Bergstrom.  He said OK, so I planned a multi-course feast and assigned the various courses to the two couples and myself, some to made in advance, and some to be made after the paddle.  This ended up being a five-hour affair, as we put in the two canoes and the kayak at 5:00 to catch a combined sunset/high tide in North Cove at 6:00, and they left around 10:00.  A great time.  Good food.  Good drink.  Good friends, including new ones, as Bob and Carol and Ron and Lois didn't know each other before Friday.
Here was the original menu:
Red Lentil Soup with Bulgur, Mint and Aleppo Pepper
Feta Cheese Warmed in Olive Oil and Raki, with Turkish Flat Bread
Classic Lamb Kofte
Aegean Tuna Steak with Thyme and Oregano
Arugula and Fennel Tulip Salad with Orange and Radish
Traditional Turkish Green Beans
Stuffed Apricots
I failed at making the Turkish flat bread, so bought some fresh pita instead at a Lebanese bakery in Norwich.  Lois couldn't get apricots, so used peaches instead.  Robert added an amazing aperitif of Champagne with Aperol, plus some awesome fig jam with cheese on rye crisp for an additional starter.  He says it was eight courses.  I would say three courses and eight dishes, but who's counting?
These are the canoes and the kayak waiting for us to go out my creek to watch the sunset in North Cove: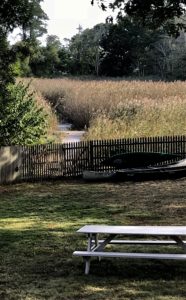 I had made the soup in advance, knowing we would be hungry when we came back form the paddle.  We ended up eating the soup from bowls standing up as we were making the other starters.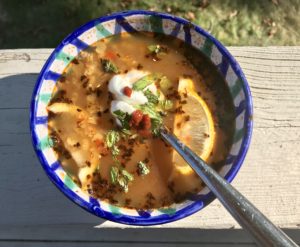 Meanwhile, Robert was making his Champagne and Aperol aperitif: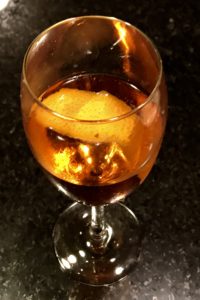 We started making the Classic Lamb Kofte, and lit the charcoal while they were resting in the fridge for 30 minutes, after which we put them on skewers.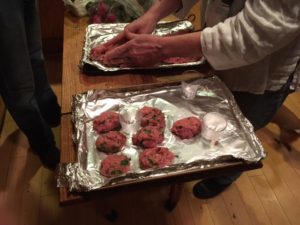 Meanwhile we made the Feta Warmed in Olive Oil and Raki (using Ouzo as a substitute for Raki):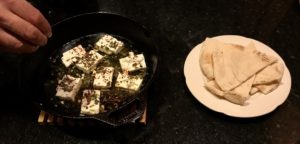 By then, the charcoal was ready, so we grilled the Lamb Kofte.  Most fell off the skewers, but as these are like lamb sliders, they cooked fine directly on the grill.  Here they are finished: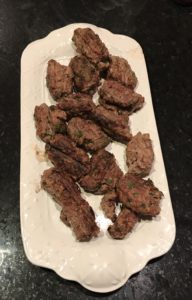 We were now at least an hour or so into the cooking and eating, and starting to need to pace ourselves.  I made the Arugula and Fennel Tulip Salad with Orange and Radish and seared the Aegean Tuna Steak with Thyme and Oregano.  Lois had made the Traditional Turkish Green Beans in advance.  Here are the salad, the tuna and the three parts of the main meal plated: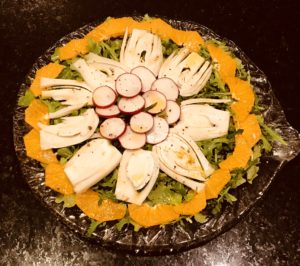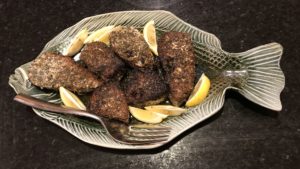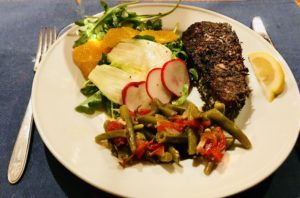 Lois couldn't find apricots, so made stuffed peaches for dessert instead: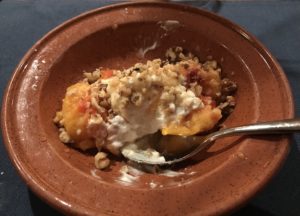 It was an awesome feast and a lot of fun.  Go buy The Tree of Life.  You can get it on Amazon.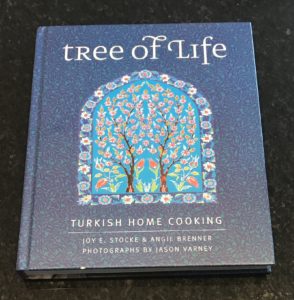 Here are the recipes we used from it:
Red Lentil Soup with Bulgur, Mint and Aleppo Pepper
INGREDIENTS:
1 cup dried red lentils
2 cups water
1 T butter
1 tsp vegetable oil
1 tsp all purpose flour
1 T dried mint
1 tsp Aleppo pepper (there really is no substitute for this…you can find it in specialty spice shops…it is a Syrian chile, that is dried and coarsely ground, pulp and seeds…it has a medium heat level with a fruity flavor and cumin-like undertones)
1 T tomato paste
1 T Turkish red pepper sauce, or Harissa
6 cups chicken broth
1/4 cup coarse bulgur wheat
2 to 4 tsp kosher salt
small lemon wedges to garnish
plain Greek yogurt to garnish
chopped fresh mint to garnish
DIRECTIONS:
Put the lentils in a colander, rinse well and transfer to a 1 1/2 quart pot.  Add the water and set over medium heat, uncovered, and bring to a boil.  Reduce the heat to low and simmer uncovered for 15 to 20 minutes, until the lentils begin to afll apart.  They will change color from orange to yellow.  Skim any foam from the surface during cooking.  Add additional water if necessary to keep the lentils submerged.
To make the soup, melt the butter with the vegetable oil in a large soup pot over medium-low heat. Add the flour, stirring quickly to make a roux, and then stir in the dried mint and the Aleppo pepper.  Add the tomato paste and red pepper paste to the roux and stir vigorously for 3 to 4 minutes to incorporate the flavors.  Slowly whisk the broth into the roux.  Add the lentils.  Increase the heat to medium, stirring occasionally until the soup starts to boil.  Add the bulgur and reduce heat to low.  Simmer for five minutes, stirring occasionally to keep the soup from sticking to the bottom of the pot.  Add salt to taste.  Be generous, as lentils need a lot of salt to bring out their flavor.  Garnish each bowl with 2 small lemon wedges, a tsp of yogurt and some fresh chopped mint.  The lemon and mint will float, but the yogurt will sink, so put it on the soup spoon and put the spoon in the dish for a great presentation.
Feta Cheese Warmed in Olive Oil and Raki, with Turkish Flat Bread
Serves 4 to 6
INGREDIENTS;
1/2 pound Greek feta cheese
1/4 cup olive oil
2 T Turkish raki (or Greek Ouzo)
1 tsp dried oregano
juice of 1/2 lemon
1 tsp Aleppo pepper
Turkish flat bread, or pita
DIRECTIONS:
Slice the feta into equal pieces not more than 1 inch thick.  In a small cast iron skillet over medium-low heat, warm the olive oil until it ripples.  Lay the feta slices in a single layer in the oil.  Increase the heat to medium-high and fry the cheese for 1 minute.  Add the raki and oregano and fry for an additional 3 to 4 minutes until some of the alcohol burns off, the cheese becomes soft in the middle and the edges ooze into the olive oil.  Do not turn the cheese.  It may brown slightly at the edges, giving it a nice crust.  Remove the pan from the heat.  Squeeze the lemon juice over the cheese.  Dust with the Aleppo pepper.  Serve warm from the pan with wedges of Turkish flat bread or pita.
WILL BE ADDING THE OTHER RECIPES, SO CHECK BACK.  AND BUY THE BOOK!