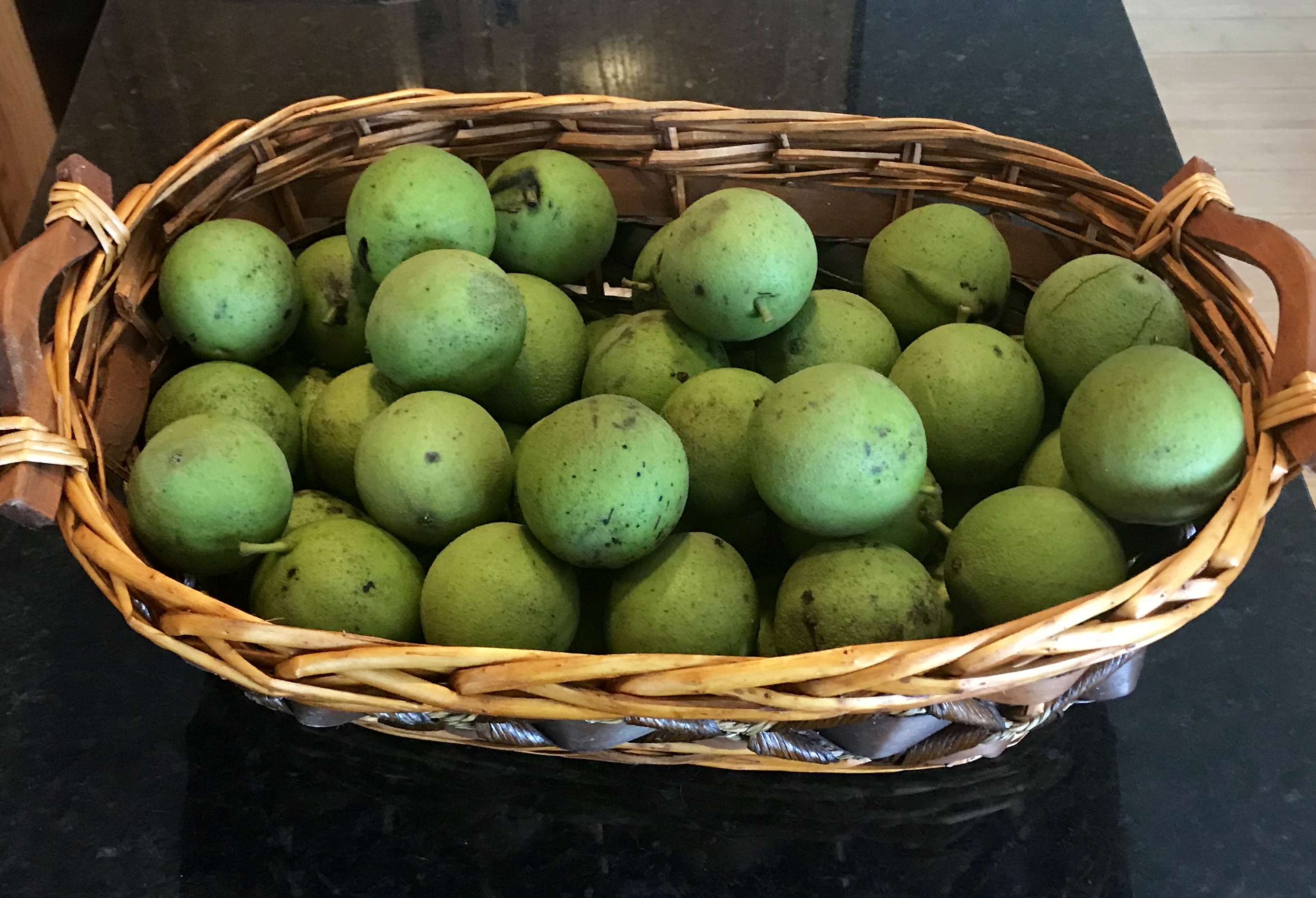 This all started with the idea of gathering Black Walnuts from some trees next to a church in Guilford and using them to cook a Black Bass Walnut Tarator or an Iranian Walnut and Pomegranate Chicken.  But going down the Black Walnut rabbit hole led me instead to the country of Georgia, specifically to Chicken Satsivi, a Georgian cold chicken dish in a walnut and garlic sauce, and to Pkhali, a Georgian spinach and walnut pesto.  I got there at the recommendation of my friend Bill Salisbury, who works for the State Department, and had spent some time in Georgia with its walnut-infused cuisine.
But to back up a bit, my just-gathered Black Walnuts are pictured above.  Some folks remove the husks when they are green by driving over them with a tractor.  I kid you not.  I let the husks turn black, at which point they were soft enough to pull off.  It is important to do this with gloves.  I found that out the hard way.  The black of Black Walnuts makes a very good wood stain or ink, and the stains on my finger nails would not come off, even with Ajax and bleach.  Just had to let them grow out.  Here are the husked and washed shells: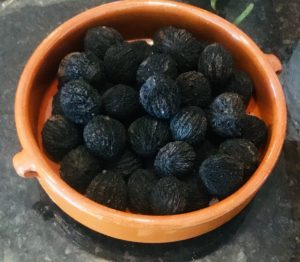 I let these dry in a colander for a month or so.  You can apparently get more of the black stain off of the shell if you wash them for awhile in a cement mixer.  Again, I kid you not.  You don't have to cure them for as long as I did.  My problem is that I wanted to make Chicken Satsivi and the recipe I found in The Georgian Feast calls for ground marigold petals, which the Georgians use the same way other cultures use saffron.  It took me awhile to source them.  Here they are: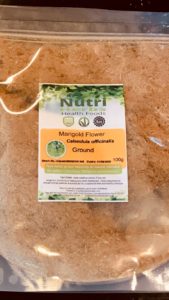 Thus armed with the ground marigold petals, I thought I'd crack some of the Black Walnuts to make the Chicken Satsivi.  I got out a regular walnut cracker, which I also use for lobster.  No luck.  The only way I could open the shell was to smash it with a hammer, which resulted in walnut shrapnel all over the kitchen.  I am thinking now that smashing the nut inside a towel would contain the shrapnel, but at the time, I just decided to use the really good English Walnuts (aka Persian Walnuts) that I happened to have in my cupboard.  I thought there might have been something I did wrong in the cleaning and curing of my Black Walnuts, but I know now that Black Walnuts cannot be opened with a standard nutcracker, and that the amount of meat inside is small in comparison to the English Walnut, and much stronger flavored, perhaps too strong flavored for the dishes I was trying to make.  Oh well.
Chicken Satsivi
Here is the Mise en Place for the Chicken Satsivi: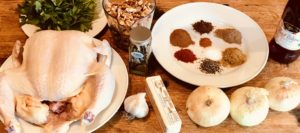 From left to right: a 7 lb roasting chicken, 4 sprigs parsley, 2 bay leaves, (six cups of water), 2 heaping cups walnuts, 6 garlic cloves, 4 T butter, 3 onions, a spice mix (from 9:00, 1 1/2 tsp ground cinnamon, 1/2 tsp ground cloves, 1 1/2 tsp ground coriander seed, 1 1/2 tsp ground marigold, 1 1/4 tsp ground black pepper, 1/2 tsp paprika, and in center, 1/4 tsp cayenne and 3/4 tsp salt), and 1/4 cup red wine vinegar.
Step by Step
You first place the chicken in a stock pot with the parsley, bay leaves and water,  Bring to boil, cover, then simmer for 45 minutes.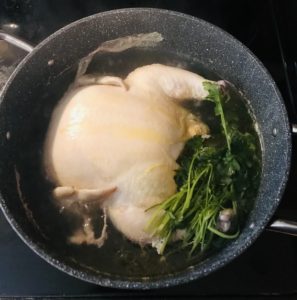 Preheat oven to 350F.
Remove chicken to a roasting pan, reserving the stock.  Roast for 45 minutes, basting occasionally with the pan juices, until golden.
Cut into small pieces and place in a serving dish.
While the chicken is roasting, measure the reserved stock.  Cook, uncovered, over medium heat to reduce to 4 cups.  Set aside.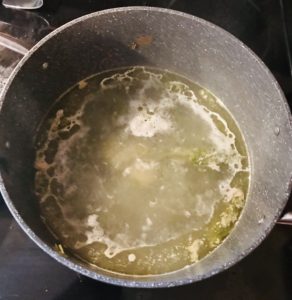 Next, prepare the sauce.   Melt the butter in a heavy skillet.  Peel and chop the onions and sauté till translucent.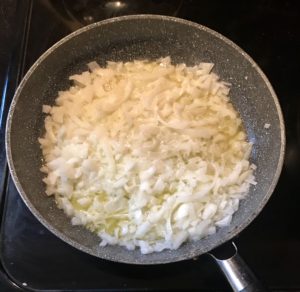 Grind the walnuts together with 6 peeled garlic cloves in a food processor.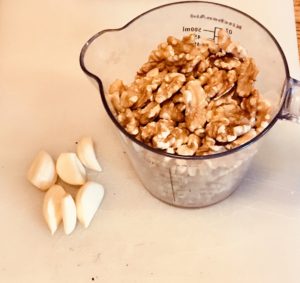 Then add to the onions, stirring well. Return this mixture to the food processor and grind again to make a paste.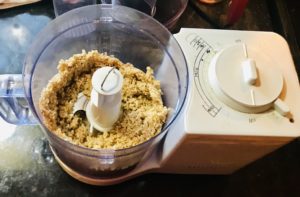 Place the paste in a skillet and stir in the spices. Continue to cook over low heat, stirring, for a few minutes. Gradually pour in the 4 cups of reserved stock. Cook over low heat, stirring occasionally, for 20 minutes, then stir in the 1/4 cup red wine vinegar. (The sauce will not be very thick at this point.)
Pour the sauce over the chicken and allow the Satsivi to cool.  Serve at room temperature.  This cooling process thickens the sauce.  It also gives the dish its name, as Satsivi derives from the word tsivi, which means cold.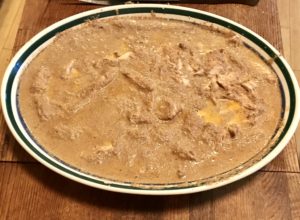 I've made Chicken Satsivi twice now.  The version above was my second batch, which I boned to make it easier to eat at a buffet.  For my first batch, I kept it on the bone, as plated below with some dressed Trifecta Tropicana lettuce. Scrumptious both ways.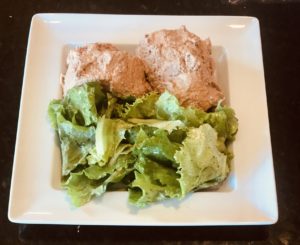 Pkhali
Having mastered the Chicken Satsivi, I was ready for Pkhali, a Georgian pesto of spinach and walnuts. The recipe I found on line calls for 2 lbs of spinach.  I decided instead to use the mix of spinach, kale and chard in my Trifecta Weekly Harvest, which weighed in at only 1/2 lb, so I quartered the recipe.
Here is the Mise en Place: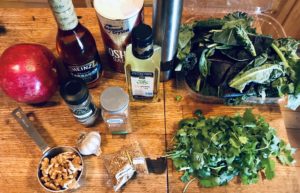 From left to right and bottom to top:  walnuts, pomegranate, garlic, ground coriander seed, tarragon vinegar, fenugreek, cayenne, walnut oil, salt, pepper, cilantro, and my mix of Trifecta greens.
For 1/4 recipe, I used: 1/2 lb of a mix of spinach, kale and chard; a heaping 1/3 cup walnuts, 1 medium clove garlic; 1/4 cup packed fresh cilantro; 1 1/2 T walnut oil; 1 T tarragon vinegar; 1/4 tsp ground coriander; 1/4 tsp kosher salt; pinch ground fenugreek; a grind of black pepper; a small pinch of cayenne pepper; and 2 T pomegranate seeds for garnish.
Wilt greens in boiling water for 3 minutes, then drain and squeeze dry.  Grind greens, walnuts, garlic, cilantro and spices in a food processor.  Garnish with pomegranate seeds.  Serve with crostini or pita.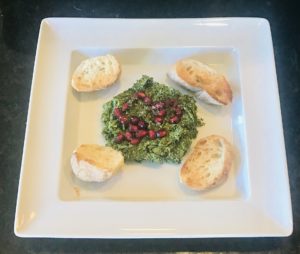 I used some leftover Pkhali to make a Pkhali Potato Salad with some boiled small potatoes from Trifecta.  Needed to add some extra tarragon vinegar, walnut oil and salt.