This blog includes three items:
1. The Hartford Maple Syrup Club Community Breakfast: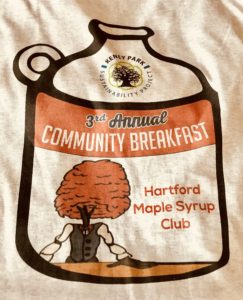 2. Curried Squash-Apple Soup: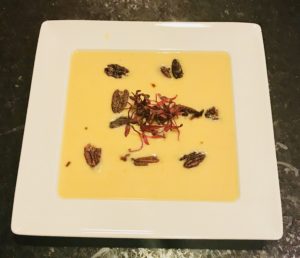 3. Ginger Steak Salad: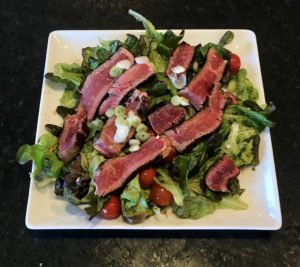 The Hard Life of a Food Judge
When you start down a road of discovery, you never know where it's going to take you.  Jeff Devereux, who owns Breakfast, Lunch and Dinner and organizes the Know Good Food Market in the Parkville neighborhood of Hartford, is a subscriber to my blog.  After reading Mapleloosa 1, he asked me if I would help judge the pancakes and waffles at the 3rd Annual Community Breakfast of the Hartford Maple Syrup Club, which I did this morning at the Pond House at Keney Park.  The winner for best pancake was a batter that incorporated fried chicken with a mix of wheat and rye flour and corn meal.  The winner for best waffle was a batter that incorporated chocolate chips and coconut milk, topped with a coconut cream/chocolate/maple syrup mix, and garnished with a raw coconut flake.  There were 10 contestants in this BYOB (Bring Your Own Batter) event.  I had to sample all ten.  Wallowing a bit now.
The Hartford Maple Syrup Club has an arrangement with the City of Hartford forester that allows them to tap about 250 sugar maples in Hartford, both street trees and trees in the city parks.  They have a wood-fired evaporator on a trailer that functions as a mobile sugarhouse.
A couple of interesting finds this morning: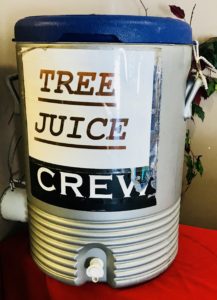 Along with coffee, they were serving cold "Tree Juice"…this is the unboiled maple sap, just the way it comes out of the tree.  It is only slightly sweet and very vaguely maple-y, if at all.  The closest thing I can think of is the taste of the juice you drink right out of a raw whole coconut.  Very refreshing.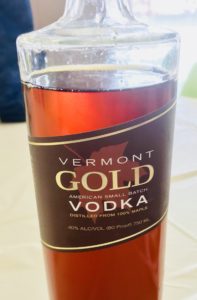 This was the recycled bottle at my table filled with the club's syrup.  Its original use was for Vermont Gold Vodka, which is distilled from maple syrup. Who knew you could do that?
The club was selling their syrup in recycled Grolsch beer bottles, so I bought one: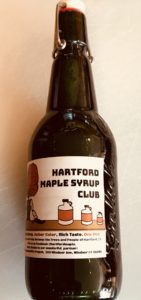 Two More Maple Dishes
Meanwhile, I made two dishes that incorporate maple syrup this week: a Curried Squash-Apple Soup, and a Ginger Steak Salad.
The soup is based on a recipe in a book that Erik Anderson showed me when I visited his sugarhouse two weeks ago.  I baked an acorn squash for 1 hour at 350F, then scooped out the seeds and scraped the flesh from skin. Sautéed a chopped sweet onion, 2 crushed garlic cloves and 1 chopped Granny Smith apple in 4T butter for 5 minutes. Added 2 cups of squash flesh, 2 cups of chicken stock, 1 cup apple cider, 1 tsp curry powder, 1/2 tsp salt, 1/4 tsp ground coriander and 1/4 tsp Aleppo Pepper and simmered for 20 minutes.  Puréed with an immersion blender.  Added 1 cup of half-and-half and 1/4 cup maple syrup and heated through. Ladled into soup bowls and garnished with Trifecta beet micro greens and maple-glazed pecans (toss 1/2 cup of pecans with 1 T maple syrup, 1 tsp olive oil, 1/2 tsp salt and 1/4 tsp cayenne pepper, scatter on a parchment paper-lined baking sheet,  and bake at 375F for 12 minutes).  Here it is as plated: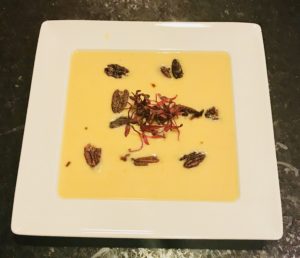 When Trifecta Ecosystems sent out their weekly notice for the CSA pick up on Monday, they included a link to some recipes. I tried the one for Ginger Steak Salad, substituting maple sugar and maple syrup for the brown sugar and white sugar in the recipe so I could include it in my Mapleloosa adventure. This recipe hits a trifecta: easy, delicious and healthy (just lean protein and veggies with a little dressing). Here's the step by step:
Marinaded a rib eye steak in a ziplock bag for 2 hours in a mix of 3 T soy sauce, 1 T sherry, 2 tsp maple sugar, and 2 cloves minced garlic: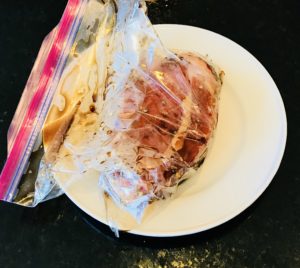 Then grilled the steak medium rare on my panini grill and sliced thin: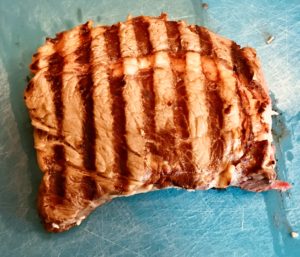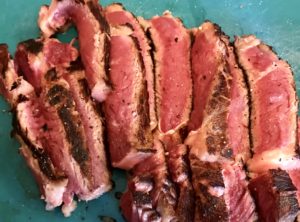 Soaked 8 oz Trifecta greens in water, salt and white vinegar for 10 minutes, rinsed and spun dry.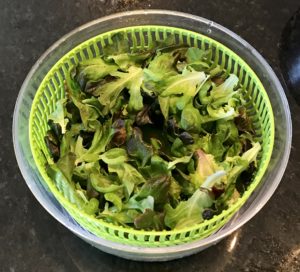 Tossed greens, 1 cup cherry tomatoes and 2 sliced green onions (reserving some for garnish) in a dressing of 2 T olive oil, 2 T soy sauce, 1 T minced fresh ginger, 1 T lime juice, 1 T maple syrup, 2 cloves minced garlic, and 1/2 diced, seeded jalapeño pepper: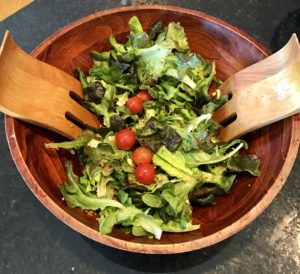 The Ginger Steak Salad as plated: