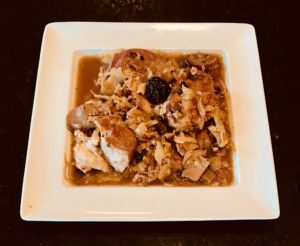 Bigos is a Polish "hunter's stew" of pork and sausage, and both cabbage and sauerkraut.  To make it, you first brown bacon, onion, spare ribs and ham.  Add these to a mix of sauerkraut, shredded cabbage, shredded carrot, reconstituted dried Polish mushrooms, marjoram, allspice, bay leaves, salt and pepper.  Layer this mix with kielbasa, top with cabbage leaves, slow cook for 10 hours, then refrigerate overnight and reheat, throwing in a handful of prunes.  Put a whole prune in the center of each bowl, and serve with a good rye bread and butter, and some Zywiec, Poland's most popular beer.  It is a perfect winter dish.  My wife Marilyn, who was Polish, introduced me to it, and I think I love it even more than she did.
Here are the ingredients assembled to make a batch of Bigos: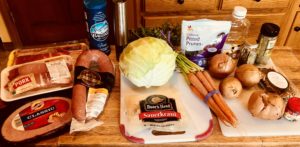 These include, from left to right: bacon, pork spare ribs, ham and kielbasa; cabbage and sauerkraut; carrots, prunes, onions and dried mushrooms; plus salt and pepper, sunflower oil, marjoram, bay leaves and allspice.
Bigos
Serves 6
INGREDIENTS
1 lb package sauerkraut, rinsed and drained

1 small head cabbage

6 slices center cut bacon, chopped

2 large yellow onions, chopped (2 cups total)

1 tablespoon oil

1 package dried Polish cepes mushrooms (or other dried mushrooms--I used some from S & S called A Forest Mix)

1 pound kielbasa

2 chunky pork spare ribs (I used boneless, but you could use bone-in for more flavor)

2/3 cup chopped ham

10 ounces shredded carrot

1 tablespoon dried marjoram

Black pepper and salt to taste

10 whole allspice

2 bay leaves

A handful of whole pitted prunes (enough to have one for each bowl)
DIRECTIONS
Pour 2 cups boiling water over the dried mushrooms, then simmer for 20 minutes.
Chop bacon and fry until cooked but not crisp.  Add onions and cook over low heat until nicely browned, about 10 minutes.
Move browned onions and bacon to a large bowl; add spare ribs to pan with bacon drippings.  Add some sunflower oil if necessary.  Brown on all sides. Remove spare ribs to bowl with onion.  Lightly brown the ham and add to bowl with onion and spare ribs.
Rinse sauerkraut well and discard juice.
Rinse and slice cabbage, saving 5-6 outer leaves whole.
Slice kielbasa diagonally into 1/4 inch slices.
Add cabbage and sauerkraut to bowl with bacon/onion, ribs and ham and mix well.  Add marjoram, allspice and bay leaves.  Sprinkle liberally with black pepper and lightly with salt.  Mix again.
Remove mushrooms from their broth, saving the broth.  Chop mushrooms and add them, their broth and shredded carrots to the kraut/cabbage/meat mixture and mix well again.
Spread half of this mixture on the bottom of a stockpot (slow cooker). Top this layer with 1/2 the sliced kielbasa.  Add the remainder of the kraut mixture and top with remaining kielbasa. Use large cabbage leaves to cover the top to hold in the steam and braising liquid.
Put top on the slow cooker and cook on high for 3 hours, and then on low for 7 hours.  Allow to cool, then refrigerate over night.
Reheat in the stockpot on high, or in a large pot over moderate heat on the stove top, discarding the cabbage leaves on top.  Put some prunes in the Bigos during this reheat (don't put them in earlier or they will disintegrate...you want the prunes whole for better prsentation). Once reheated, break up the spare ribs, which should be fork tender, into bite-sized pieces (discarding bones if you used bone-in ribs).  Serve Bigos with a prune in center of each bowl with good rye bread and butter.  And a very cold Zywiec.
Here's the step by step:
Chop the bacon, onions, cabbage and ham: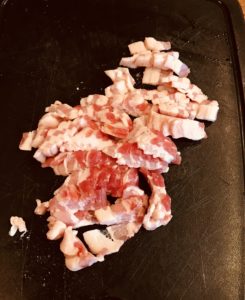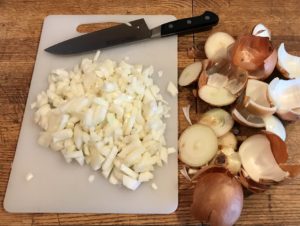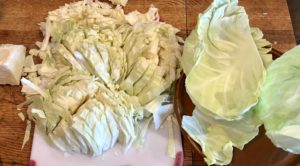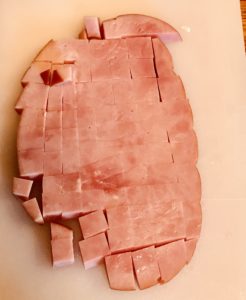 Brown the bacon, onions, spare ribs and ham: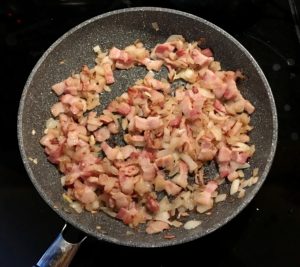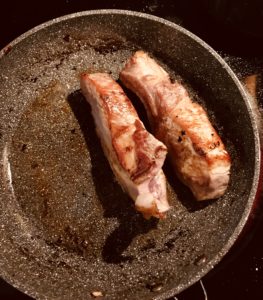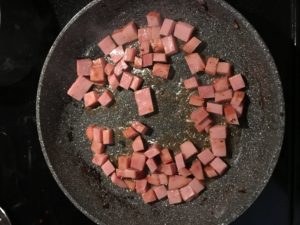 Rinse the sauerkraut: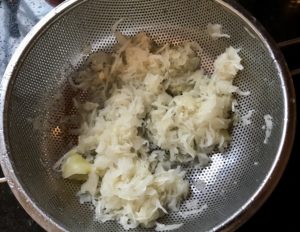 Peel and shred the carrot: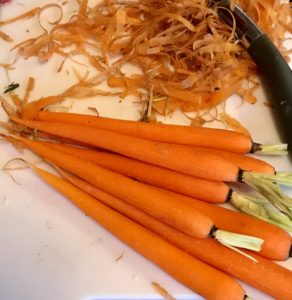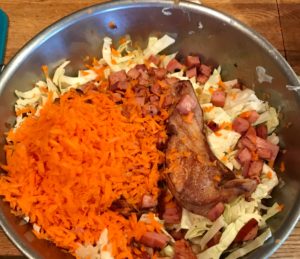 Mix the bacon/onion, spare ribs, ham, cabbage, sauerkraut and carrot with spices, chopped mushrooms and mushroom liquid: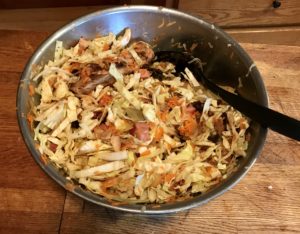 Layer with kielbasa and top with cabbage leaves: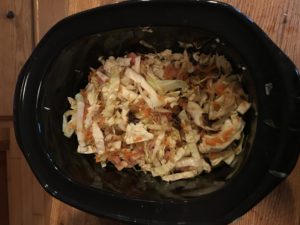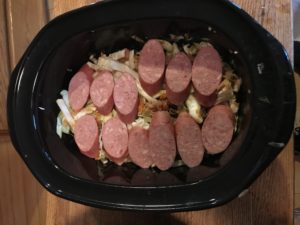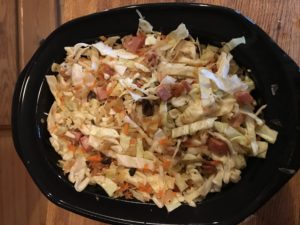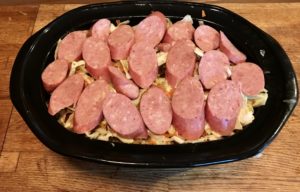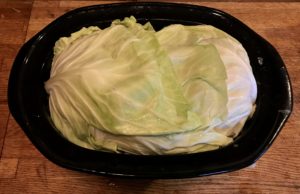 Slow cook on high for 3 hours: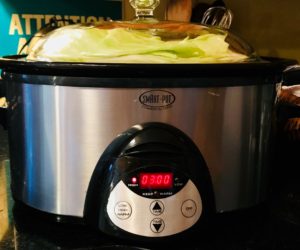 Then on low for 7 hours: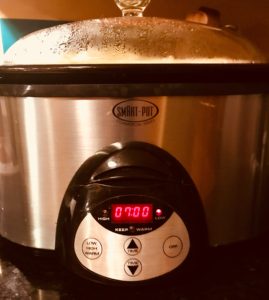 The finished Bigos as plated, after reheating with some prunes: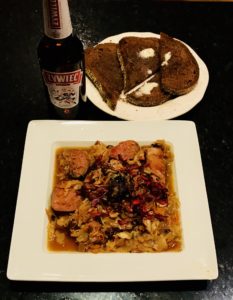 Garnished with a prune at the center of each plate and some beet micro greens from my Trifecta Ecosystems CSA around the prune, and served with buttered pumpernickel and an ice cold Zywiec beer (they specify 6C, which is 43F). The faint beet flavor of the greens goes particularly well with this dish.
Smacznego!