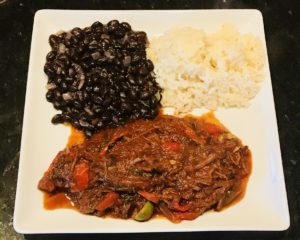 I will be joining my brother Peter and my sister-in-law Vicki on a 10 day trip to Cuba at the end of the month.  To get in the mood, I decided to make Ropa Vieja, the national dish of Cuba. Its literal translation is Old Clothes, as the finished dish of long-braised and shredded beef and sliced peppers looks like a tangle of old clothes.  It's a fabulous dish, which I order whenever I go to a Cuban restaurant.  I had my first and best at a Cuban restaurant in San Juan, Puerto Rico several decades ago.  The one I made today came very close to that memory. I used the online recipe from the Daring Gourmet, which you can find at this link:
https://www.daringgourmet.com/best-ropa-vieja-the-national-dish-of-cuba/
The Daring Gourmet recommends using chuck instead of the usual flank, as chuck has more flavor and is better suited than flank to a long braise.  The Daring Gourmet also recommended asking your butcher to cut a chuck roast that was longer than wide, with the long side going with the grain of the meat, such that when you shred it after a long braise, you end up with long strands.  I took this advice, and lucky for me, Mike was working at Walt's Market yesterday. He used to have his own butcher shop, and now works part time at Walt's. He is about my age, so has been cutting meat for a long time.  I showed Mike the picture of what I wanted from the Daring Gourmet site and he knew exactly what to do. I told him I needed to end up with a 2 pound roast. He then takes a larger chunk of chuck and carves out a piece just like in the picture, and plops it on the scale. 2.0 pounds exactly! Friggin' awesome.
I didn't take pictures of all of the process steps because you can see those in over-the-top detail on the Daring Gourmet.  You first brown the 2 pound chuck roast in a Dutch Oven in 1 T of sunflower oil.  This was the maiden voyage of my new Vesuvio Dutch Oven from DaTerra Cucina, which makes ceramic-coated, nonstick cookware that is PTFE/PFOA-free.  It was just as awesome as my Vesuvio skillet and sauté pan. Can't recommend these pans highly enough. They cook and clean up better than any of my other pans. I now do not cook with anything else, except occasionally a cast iron skillet when I want a really, really hot sear.  The Vesuvio Dutch Oven worked fine for browning the chuck roast today, as well as for the long stovetop braise. It can also go in the oven (up to 450F).
Once the chuck roast is nicely browned on all sides, you remove it from the pan to a plate, then turn down the heat to medium and sauté till caramelized: 1 thinly sliced yellow onion, 1 thinly sliced green bell pepper, 1 thinly sliced red bell pepper and 1 thinly sliced yellow bell pepper. Caramelizing the veggies takes about 15 minutes.
You then add 4 cloves of minced of garlic and a mix of dry spices (2 T oregano, 2 T cumin, 2 T sweet paprika, 1 T smoked paprika, 1/8 tsp ground allspice, 1/8 tsp ground clove, 2 tsp sea salt* and ½ tsp fresh ground pepper) and sauté for 1 minute.  Then add ½ cup of white wine, raise heat and deglaze the pan. Then add 1 cup of chicken stock, 16 oz crushed tomatoes, 6 oz of tomato paste, and 2 bay leaves and simmer for 5 minutes.  Put the chuck roast back in the pan along with 1 large peeled carrot cut in half and 1 large stalk of celery cut in half.  Reduce heat to low, cover and simmer for 3 hours until the meat is tender and falls apart easily.  Remove the carrot, celery and bay leaves. Here's what it looks like at this point, kind of a Cuban pot roast: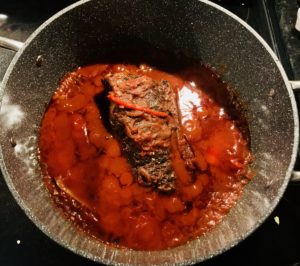 You then remove the meat and shred it with two forks: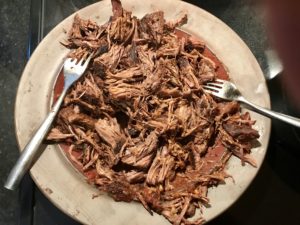 You then add the meat back to the sauce along with 1 cup sliced green olives, ½ cup thinly-sliced, drained roasted red peppers, ½ cup rinsed and drained pimento and ¼ cup rinsed and drained capers.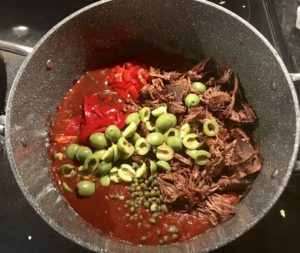 Stir and then simmer uncovered for 30 minutes, then add 1/3 cup chopped fresh Italian parsley. Here is the final product, ready to serve: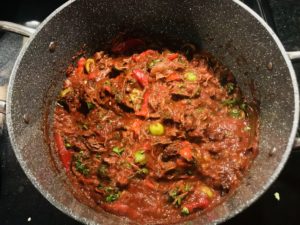 And again as plated, with white rice and black beans.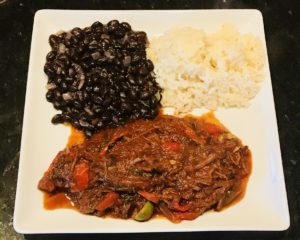 While the Ropa Vieja was in its final 30-minute simmer, I made some white rice, using the Valldejuli recipe from Puerto Rican Cookery that I have been using for 40 years.  In my view, Puerto Ricans make the best rice in the world.  You need to use a medium grain rice.  I use Goya.  The proportions are 2 cups of rice to 3 cups of water.  You bring the water, 4 T olive oil and 2 tsp of sea salt to a boil.  While this is happening, you put the rice in a strainer and rinse thoroughly with running cold water.  Drain well and add to the boiling water.  Boil it till the water disappears from view down little holes in the rice, like this: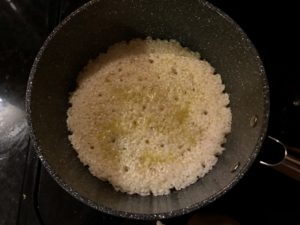 Then you turn it once with a fork from bottom to top, cover, cook on low heat for 10 min, turn again once from bottom to top, cover, and cook on low heat for another 10 min.
While the rice and Ropa Vieja were simmering, I jazzed up a can of black beans by sautéing ½ chopped yellow onion in 1 T of bacon fat till soft (about 10 minutes), then adding 2 T of Goya Recaito Culantro Cooking Base and a 15.5 oz can of Goya black beans with their liquid, and simmered till the Ropa Vieja and the rice were done.
Here is my stovetop at the end with all three of my Vesuvio pans in play: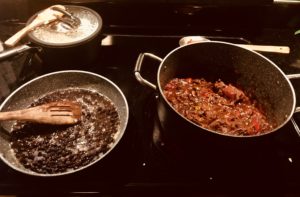 *In the past, I have used kosher salt for cooking and sea salt for salads and other cold dishes.  My daughter Liz has convinced me to use sea salt for cooking as well, as she claims that kosher salt is bleached.