Just when I thought all was lost, when my store of local produce from the OS Farmers Market had dwindled down to a pumpkin, a couple squash and a string of garlic, when I was suffering acute famers market withdrawal…there is hope!  Today I did my first pick up my Trifecta Ecosystems Fresh CSA.  Here is what they said about it:
In this week's share!
This week's share will include a mixture of fresh greens.
Red and Green Butter Leaf Lettuce

Red and Green Oak Leaf Lettuce

Cherokee Crisp Red Lettuce

Nevada Crisp Green Leaf Lettuce

Dwarf Siberian Kale
In addition to our farm's harvest, we will also be including Bell Peppers and Squash from Urth Farms in New Britain. Urth Farms is a 3.5 acre organic farm right in downtown New Britain. It is owned by the same owners of the Plan B restaurant so you may have already tried some of their produce without knowing! They grow year-round in 7 greenhouses and we will be featuring some of their winter harvests throughout the season. To learn more about Urth farms, check out their website here.
This is what it looked like: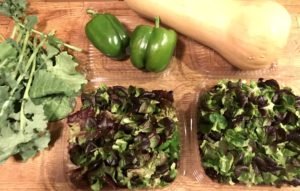 And this is what the Trifecta Ecosystems aquaponic greenhouse in Meriden looks like: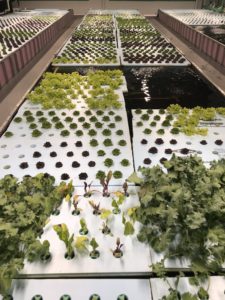 I'm psyched to serve some of the greens along side my final attempt of the season on Curried Pumpkin Mussel Soup on Wednesday.  That humongous butternut squash will find it's way to the T-Day table.  Some of the green pepper will be in an omelette tomorrow morning.  Not sure yet what I'll do with the kale.