I might have titled this blog Chard with Grilled Lamb Chops because it was the chard that started it, and the chard was the star of this show.
Here's where this story starts:  I had thought that the adventure of cooking from great ingredients that happen to be available, rather than deciding first what to cook and sourcing the ingredients, had died for six months with the last OS farmers market at the end of October. Luckily, that was not to be, as I continued to be inspired by the contents of my weekly CSA from Trifecta Ecosystems hydroponic greenhouse in Meriden. For example, there was some beautiful rainbow chard in this week's CSA, which I picked up in Meriden yesterday: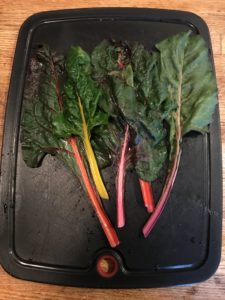 This inspired me to finally make a recipe from the Jerusalem cookbook that I have been thinking about for a long time:  Swiss Chard with Tahini, Yogurt & Buttered Pine Nuts.  This dish is phenomenal.  It involves first making a sauce of 3.5 T tahini, 4.5 T yogurt, 1 clove crushed garlic, 2 T lemon juice and 2 T water: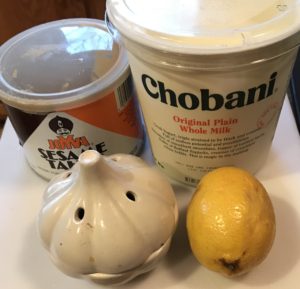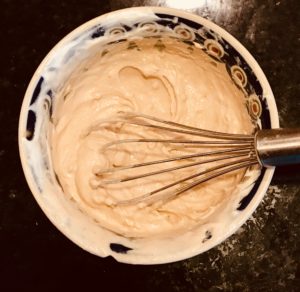 Then cut the chard leaves away from the stems and chop each into 3/4 inch pieces: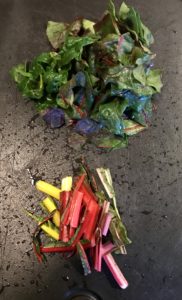 Blanch the stems for 2 minutes in boiling salted water, then add the leaves and blanch with the stems for another minute.  Drain, rinse under cold running water, drain again, and squeeze dry with your hands.  
Meanwhile, sauté 5 T pine nuts in 1 T butter and 2 T olive oil for 2 minutes or less (till golden brown...be careful not to burn them), remove to a bowl, sauté thinly sliced garlic in the same pan for 1 minute, add 1/4 cup wine, reduce for 1 minute or less to one-third, then add the chard and 1 T butter and sauté till warmed through, 2 minutes or less: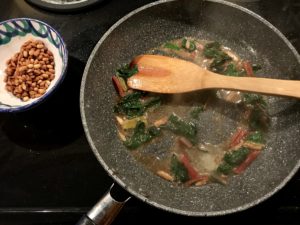 So, earlier in the day when I was thinking about making this, I wondered what might go well with it.  Jerusalem suggests lamb.  I had some fresh rosemary from last week's Trifecta CSA that I had been thinking about using with lamb, so I went over to Walt's and got one of the younger butchers there to cut me two thick lamb loin chops, which I marinated for a couple of hours in a mix of 3 coarsely chopped sprigs of rosemary, 2 minced cloves of garlic garlic, 2 T olive oil, 1 tsp salt and 1/4 tsp fresh ground black pepper: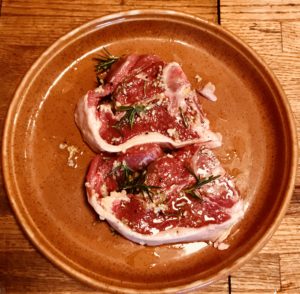 Then I grilled the chops  for 5 minutes on the sear setting of my panini grill, using the grill sides of both the top and bottom to grill both sides at one time.  If you are grilling one side at a time, such as with a grill pan or a charcoal grill, it would be for 5 minutes a side.  I did this while I was making the chard: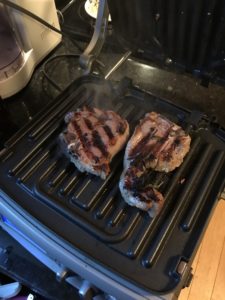 I then plated the grilled chops with the chard, spooning some of the sauce, some pine nuts and a little paprika over the chard: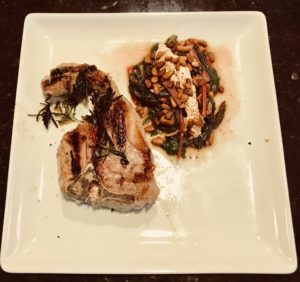 The lamb was scrumptious, nicely rare with well-married lamb, rosemary and garlic flavors.  It complemented the perfumed sharpness of the chard, as did the tahini/yogurt sauce and the buttered pine nuts.  I had made enough sauce to dress the 2.5 lbs of chard that the recipe called for, and since I was starting with only about 2 oz of chard, I had plenty left over.  The chard was so good, I forgot to eat much of the lamb till I finished it all.  I tried some of the tahini/yogurt sauce and pine nuts with the lamb.  Awesome!  I confess I even ate some of the sauce by itself in a bowl with some pine nuts.  Wonderful!  Who needs dessert?  Thank you, Trifecta!  None of this would have happened without the inspiration from the two CSA's.