October went out with a bang.  Sunday night, October 30th, we had high winds and heavy rain, knocking many leaves off the trees just as they were reaching a peak of color on the CT shore.  The last farmers market was on Saturday, and with it, a realization that the foods of summer are over.  But the heavy stews and thick soups of winter aren't quite right either.  I haven't even taken out the air conditioners yet (only used them a couple of times this summer), and haven't turned on the heat or cranked up the wood stove.  It's a between time that calls for Bacalao a la Vizcaina, the Puerto Rican take on a salt cod casserole.  Not summer.  Not winter.  Just right for fall.
I had the inspiration to make it when I saw some really good looking salt cod in the Latino market in New London when I was buying what I needed for my second assault on the Food Lab chili Everest.  Let's be honest, fresh cod is pretty bland.  But salting cod transforms it into one of my favorite fish.  I love this dish.  It is one of the comfort foods from Marilyn's and my shared kitchen.  Marilyn spent the eight years of her first marriage to Ramon Bauza in the city of Ponce, Puerto Rico, where Liz and Chacho were born.  She learned a repertoire of Puerto Rican food which was our daily fare in the early years of our marriage in Hartford.  I learned from her how to cook Puerto Rican rice, the best in the world.  How to make tasty gandules, or pigeon peas.  How to make tostones, double fried green plantains.  And Pernil, a roast pork loin, deeply seasoned with garlic, oregano, salt, pepper and olive oil.  It's actually more than comfort food.  Eating these foods together literally puts me in a state of spiritual bliss.  I will blog about them another time, when I won't feel guilty eating them when the people of Puerto Rico are starving.  So, for now, Bacalao a la Viscaina, a simple casserole rather than a heavy feast.  I am working from a recipe by Carmen Aboy Valldejuli in Puerto Rican Cookery that I have been using for 40 years.
I could have cooked one of the supposed 365 versions of Bacalhao, as the Portuguese call it, who claim to have a version for every day of the year.  I am a little skeptical of this claim, as Bacalao, or Bacalhao, is made from just five essential ingredients:  salt cod (which can be flaked into a casserole or broiled whole), potatoes (which can be sliced/chopped in a casserole, mashed on top like a Shepherd's Pie, or French fried), onion (slice or chopped), egg (fried, scrambled or boiled) and olive oil.  I dare you to do every permutation of those five ingredients in their various forms and get to 365.  How you might get there is based on what other stuff you add.  In the Valldejuli Bacalao a la Vizcaina recipe, the added ingredients are tomato sauce, pimiento-stuffed olives, chopped pimiento (pimiento is roasted, skinned, stemmed and seeded red bell pepper), capers, garlic and raisins.  There is probably a Portuguese version of it that is one of the 365.
As a side note, the real name of Bucky, the oldest of my five Portuguese Podengos, is Bacalhao de Viamonte, named by his breeder Miguel Sabino in honor of this most classic of Portuguese dishes.  Here is a picture of him in his younger days: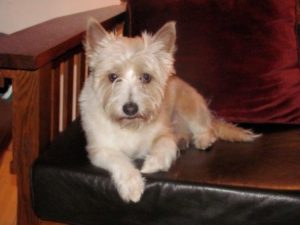 I remember that when Marilyn and I picked up Bucky from Miguel, he took us to a great restaurant in his town of Leiria where I had their version of Bacalhao.  It was awesome!  An elegant expression of no more than the five essential ingredients, but with just egg whites vs whole eggs.  At the bottom, a layer of caramelized onion.  Next a layer of flaked cod.  On top a potato souffle. which I have never figured out how to reprise.  Maybe that will be my next Grail.  But for tonight, it's Bacalao a la Vizcaina.
You make it by soaking a pound of salt cod in water for at least 4 hours.  I soaked it overnight, changed the water this morning, and soaked it all day, vs just the 4-hour, 1-rinse soak that the Valldejuli recipe suggests, which would result in a dish that would be way too salty.  Here it is soaking: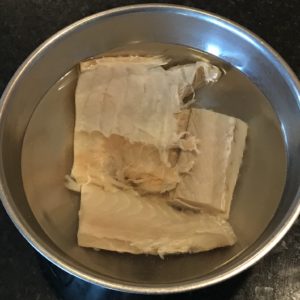 You then drain it, and then boil it rapidly for 15 minutes in two quarts of water: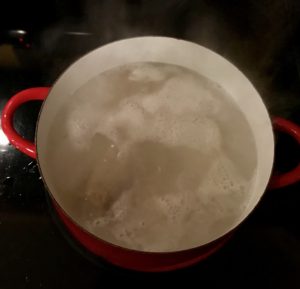 Then drain it, and once it's cool enough to handle, flake it while removing any skin and bones (there shouldn't be any bones, but you need to make sure):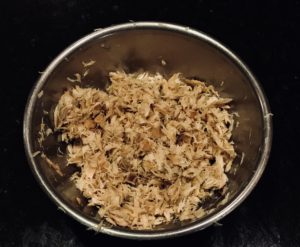 Meanwhile, you thinly slice two yellow onions and a pound of potatoes (I used Yukon Gold, unpeeled, but you could also use peeled white potatoes, which is what the Valldejuli recipe calls for):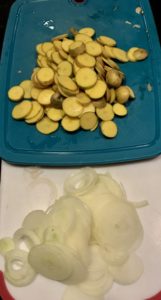 And make a sauce of 1/2 cup tomato sauce, 1/2 cup water, 1/2 olive oil, 1/4 cup seedless raisins, 1/4 cup pimento stuffed manzanilla olives, two chopped canned/jarred (or fresh made) pimentos, 1 T capers, 2 cloves garlic peeled and pressed, and 1 bay leaf: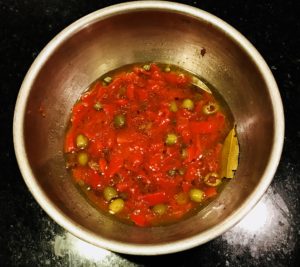 You then layer the ingredients in a large skillet*:  fish, then potatoes, then onions, and then the sauce.  Here it is layered up and ready to go: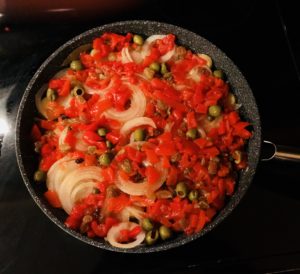 You then bring it to a boil, turn down the heat to low, and cook covered for 30 minutes or until the potatoes are tender: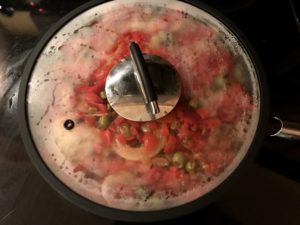 Here it is plated, garnished with sliced hard-boiled egg: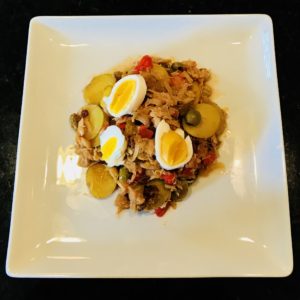 I added some hot sauce and fresh ground pepper.  It was great!
The only things I can think of to improve upon the Valldejuli recipe, besides the increased soaking time and extra rinse, are to make the pimientos (aka roasted red bell peppers) from scratch vs buying the canned/jarred ones, and to salt my own cod.  The latter would require starting a couple of weeks in advance, as you have to salt the fresh cod for a couple of days and then dry it in the fridge for a couple of weeks.  The advantage is that I would know with certainty the source and quality of the cod, as I can get excellent fresh cod at Saybrook Fish.
*The skillet I used to make this is Vesuvio from DaTerra Cucina, which makes ceramic-coated, nonstick cookware that is PTFE/PFOA-free.  I was given it to test.  It was awesome for this dish.  I plan a separate blog about the skillet once I've had a chance to use it for several dishes to take it through its paces.