A Madcap Hunt for Preserved Lemons
Sometimes, you just need to have a quest.  The first time Marilyn and I had a tagine, which is North African stew, it was at a Tunisian restaurant on the Place Bastille in Paris.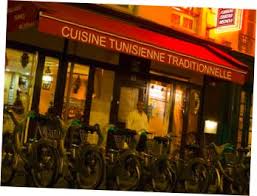 It was a chicken tagine with dried apricots and preserved lemon.  The latter was an amazing new taste sensation for us.  We had to find some to bring back with us.  So began our hunt for preserved lemons, which would take us to ethic open air markets all over the city, only to find them finally in a North African open market that was just a few blocks east of the restaurant where we started.  No complaints, as that quest took us into nooks and crannies of Paris that we would have never discovered otherwise.  Sometimes you just need something, anything to look for so that you can discover something else.  It was a great trip, a deep immersion into the ethnic street markets of a great city.
So when I saw that the Fig School was having a class called Spice Market Morocco, where the entree would be Moroccan Chicken Tagine and Couscous with Herbs and Preserved Lemon, I had to sign up.  Turns out the tagine included dried apricots, like the first one we had in Paris, but the preserved lemon was in the couscous, where it shined.  The class also included a Pomegranate-Watermelon Salad with Mint and Rosewater.  And instruction on how to make our own preserved lemons!  It was so ridiculously easy, it makes me laugh that we went looking all over Paris for a jar of them, and that I have been buying them ever since.
The Fig School
I have blogged before about the Fig School and its chef/instructor Heidi Lang (see especially, Fig School I).  The fact that this is my third class should say it all.  This one was as good as the first two, and I will be back for more.  Heidi is a great teacher, who provides everyone in the class with opportunities for hands-on learning.  She also teaches some cooking basics along the way, like how best to hold a chef's knife for fine chopping, or when to use olive oil for cooking (low to moderate heat) versus sunflower oil (high heat), and when to use kosher salt (cooking), sea salt (after cooking) or iodized salt (never).  All the while creating with us a delicious meal, every element of which I have been able to replicate later on my own, using the experience in the class and the very clear recipes which she provides.  Plus, Heidi is a funny, fun and loving person.
The Dishes as We Cooked Them at the Class
Here are the tagine and couscous in process and plated at the class: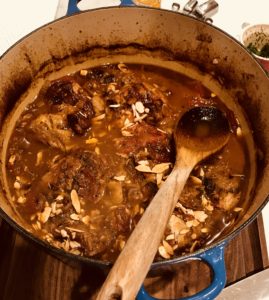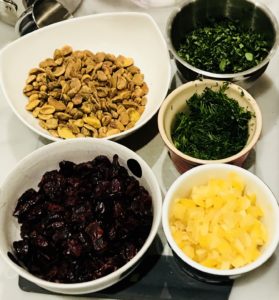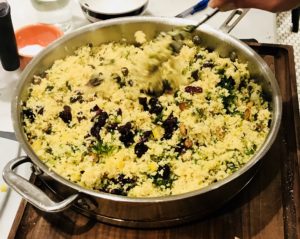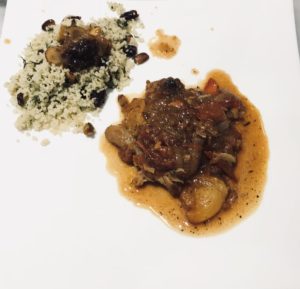 And here is the finished salad, in the prep bowl and plated: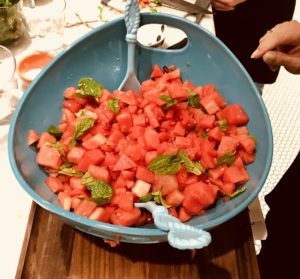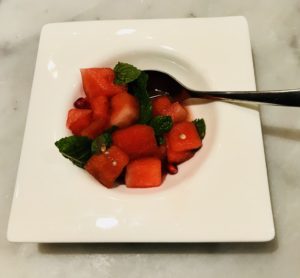 My Reprise
So today, I bought the ingredients I would need to reprise these dishes on my own, and made them for dinner.  I decided to make a half recipe of the tagine (and the couscous) because I wanted to make it in my Tunisian conical cooking pot, also called a tagine, rather than in a Dutch oven as we did in the class.  My tagine is not big enough to fit the whole recipe.
The Fig School recipe for chicken tagine uses chicken thighs, as they are flavorful and are more likely to stay moist.  You start by thoroughly seasoning them with kosher salt and pepper on the skin side: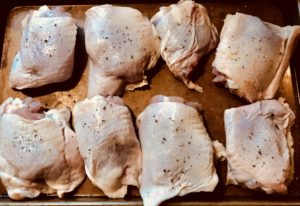 You then brown them, skin side down first, seasoning the other side while they are browning.  This needs higher heat than I was comfortable using with the tagine, so I browned the chicken for about 6 minutes a side in sunflower oil in a large cast iron skillet, as we did in class: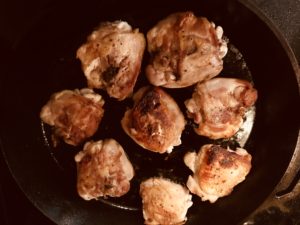 I only used five of these thighs, as that is what would fit in the tagine.  I needed six for a half recipe, but they come four to a pack.  I am going to use the extras for a gumbo I'm making.
You then saute a thinly sliced red onion, which I did in olive oil in the tagine over moderate heat, for about 10 minutes till soft, but not browned.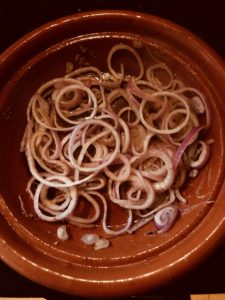 You then "bloom" the spices, which is cooking them right in the pan without liquid for about 30 seconds to intensify their flavor: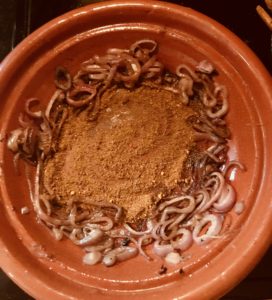 The spices are 1 tsp of cumin and 2 tsp of a made-from-scratch Ras el Haout, the Moroccan spice mix used for tagines.  I used a bit more of the spices than this; the 1 tsp of cumin and a 2 tsp of the spice mix is what a half recipe would call for.  I wanted to crank up the tagine a bit from the class version, so used almost double that.  The spice mix includes sweet paprika, cinnamon, turmeric, ground ginger, ground cardamom, garlic powder, chile pepper flakes (I used Aleppo pepper), ground coriander and ground cloves.  I give the proportions at the bottom of the blog, which makes more Ras el Hanout that you need for even the full recipe, so there will be leftover.  No problem there for me.  Means I probably won't be using the jar of prepared Ras el Hanout I have in my cupboard.
Once the spices have bloomed, you add the chicken, 5 dried apricots, 5 prunes, 3 medium tomatoes cut into eighths, and thyme sprigs: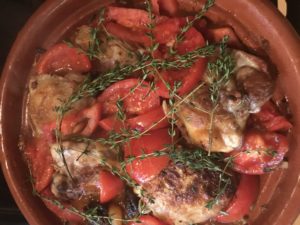 This is then put in a 350F oven (covered with the conical top) for 1 1/2 hours.  In the Fig School recipe with the Dutch oven, you need to add 1 cup of water or chicken stock.  I skipped that because the conical top is so efficient at capturing the steam as the food cooks and recycling it back into the stew.  I had to put a baking sheet under the tagine to capture the bit of juice that escaped over the rim of the bottom of the tagine.  If I had added any other liquid, it would have really over flowed.  The Fig School recipe calls for a 375F oven, which is more heat than the tagine needed, or than I wanted to expose it to.  The chicken was fork tender at 350F after 1 1/2 hours.  Ovens vary, so check it at an hour and fifteen minutes,
While the tagine was cooking, I made the couscous in my new favorite skillet, a Vesuvio from DaTerra Cucina, which is ceramic-coated, nonstick and PTFE/PFOA-free: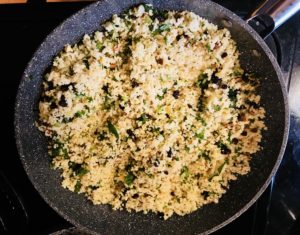 You make the couscous by sauteing 3 large scallions (I used a whole bunch of skinny scallions) in butter and olive oil about 2 minutes till just softened.  You then add 1 1/2 cups of chicken stock, salt and pepper, and bring to a boil. Then turn off the heat, add a generous 3/4 cup of couscous (the small kind), stir very briefly, cover and put to the side for 15 minutes.  Once the couscous has absorbed the stock, while fluffing the couscous, you add 1/4 cup dried currants, 1/6 cup chopped, roasted pistachios, 1 T chopped fresh mint, 1 T finely chopped dill, and 2 T chopped, rinsed preserved lemon rind (scrape off the pulp).  Then top with some chopped mint and chopped cilantro.
Once the tagine is finished cooking, you add 1/8 cup honey and top with 1/4 cup toasted sliced almonds and some chopped cilantro.
Here are the tagine and couscous as served, the tagine in its tagine, and the couscous in another tagine: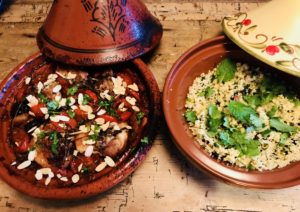 And here they are as plated: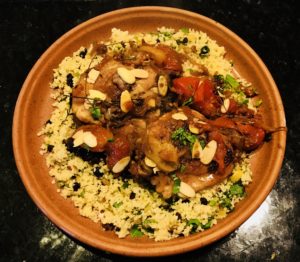 I put the tagine on a bed of couscous, rather than separating them as in the class.  This allows the couscous to soak up some of the juices from the tagine.  The end result: awesome!  My couscous was essentially exactly the same as in the class, but I think my tagine was better, still juicy, but less saucy, more intensely flavored and spicier, because I cooked it in a tagine rather a Dutch oven and amped up the spices.  I might try it next with a ratio in the dried fruit of 2/3 apricots and 1/3 prunes, rather than half and half, as the prune flavor can overwhelm a bit.
So then on to the Watermelon-Pomegranate salad.  This is simply chunks of watermelon, pomgranate seeds, rose water and honey.  Hard to mess that up.  Once the four elements are mixed, you chill it for an hour, stirring it every 20 minutes.  Then garnish with mint leaves.  In the class, they used those pomegranate seeds that are sold in little trays.  I find this silly as it is easy to get pomegranate seeds out of a whole pomegranate.  I told the class I could do it in 10 seconds.  There was some skepticism about this, so here is the proof:
First, cut the pomegranate in half across its equator: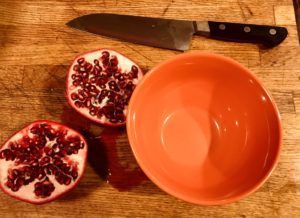 You then turn the cut side of the pomegranate so it is facing the bowl, squeezing it with your hand: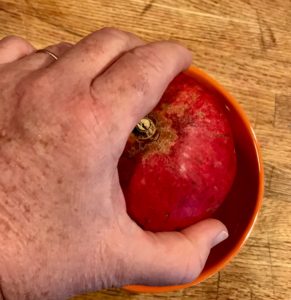 The seeds all pop out with none of the pulp: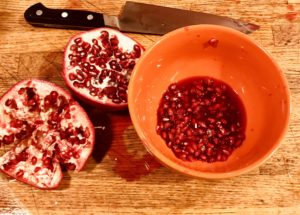 And here is my finished salad in the mixing/serving bowl and as plated: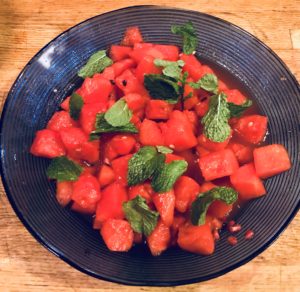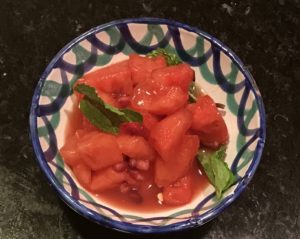 This was super refreshing, just like in the class.  A fabulous, healthy, well-balanced meal.
Making Preserved Lemons
Preserved lemons need a month to cure, so we used preserved lemons that were made by a previous class for the meal that night, but made another batch for future use.  You need to use organic lemons as you will be eating the rind rather than the pulp inside once they are cured.  Start by washing the lemons and sterilizing your jars in boiling water.  I used two pint-sized Mason canning jars.
The first step is to top and tail the lemons like this: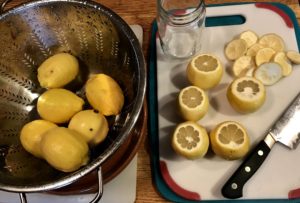 Then you quarter them, leaving them connected at the bottom, open up the wedges and pour in some kosher salt, like this: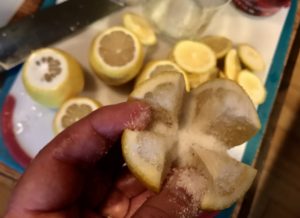 Cram the lemons into the jar, making sure as you go not to leave any voids.  This will squeeze out some juice, with the result that the lemons should be immersed in lemon juice by the time you get to the top.  Squeeze some lemon juice to top off if necessary.  Then put the lid on and contemplate the simple beauty of what you just did: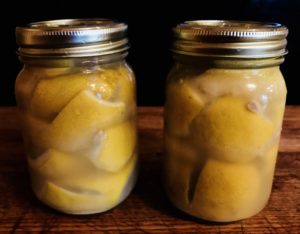 The Fig School recipe calls for putting 1 T of salt in the bottom of the jar, 1 tsp salt into each lemon, and 1 T on top when you're finished.  You could do it that way.  I just poured a lot of salt into each lemon without putting any in the top or bottom, as the cramming process really distributes the salt into the juice well.
Store the lemons in a cool place for at least a month, and shake the jars daily to evenly distribute the salt and juice.  When ready for use, rinse the lemons as needed.  Preserved lemons will keep for at least a year and do not absolutely require refrigeration, but it is a good idea to refrigerate after they are first opened as a precautionary measure.
Making Ras el Hanout
Here are the proportions for a batch of the Fig School Ras el Hanout.  This will make more than you need.  Just put what you don't use in a baggie for use in your next tagine.
1 1/4 tsp sweet paprika
1 tsp cinnamon
1 tsp turmeric
1 tsp ground ginger
3/4 tsp ground cardemom
1/2 tsp garlic powder
1/2 tsp red pepper flakes (I used Aleppo pepper)
1/2 tsp ground corriander
1/4 tsp ground cloves