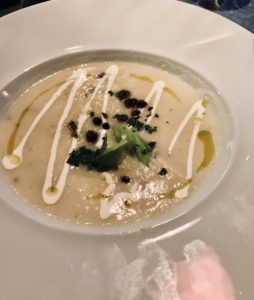 I had thawed some of the frozen vegetable stock* that I made for the Curried Cauliflower Soup that I blogged about on January 10th, thinking I would make another batch of that soup this week.  But then I saw that Liv's Oyster Bar, the inspiration for the Curried Cauliflower Soup, had changed its menu, substituting Celery Root Soup for the Curried Cauliflower.  So I ate at Liv's to sample the Celery Root Soup, pictured above.  I had it along with a half-dozen oysters ($1 a piece during Happy Hour) and a Liv's Martini (Tito's vodka, vermouth, and olives stuffed with gorgonzola).  The Celery Root Soup was lighter than the Cauliflower Soup, and had no curry, so the taste of the celery root and the vegetable stock was the main element, along with the intense saltiness of the fried capers, which were also a key element in the Cauliflower Soup.  Light and subtle, but very good.  And pretty.  And such a good idea to fry capers and use as a garnish.
This is my attempt to reprise it, starting with just these six simple ingredients (quatities shown will make 6 cups or so of soup, enough to serve four):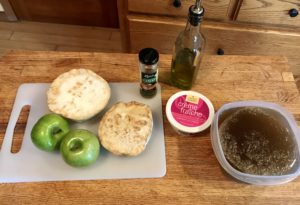 These are (from left to right): 2 Granny Smith apples (got this tip from my friend Kristin, the bartender at Liv's...it's very much a background flavor, but thickens and sweetens the soup), a whole celery root (two halves pictured above), 1 T capers, 1 tsp olive oil plus some to drizzle, 1 T crème fraiche and 4 cups vegetable stock.  Also needs some salt and pepper at the end.
Peel and roughly chop the apples and celery root: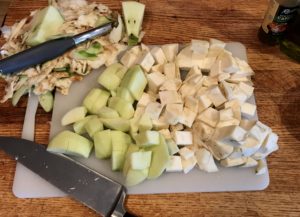 Cover with the vegetable stock and simmer, uncovered for 30 minutes: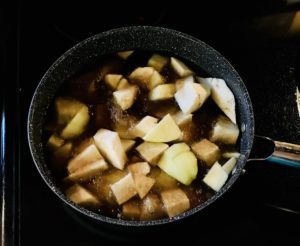 Purée the soup with an immersion blender.  Adjust seasoning.  Fry 1 T of capers (drained on a paper towel) in 1 tsp of olive oil till darkened and crisp, then dry on paper towel.  Garnish each bowl with some of the capers, a drizzle of crème fraiche in a zigzag across the bowl (I used a squeeze bottle to do this), a drizzle of olive oil around the edge of the bowl, and a few snips of chives and some micro greens (I used pea shoots):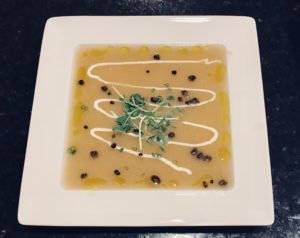 This was true to the Liv's original.  Tasty, but light and subtle.  I think the pea shoots were a good addition, both for taste and color, better than the little green that Liv's used.  This soup is so pretty, it's like eating a painting.
Second bowl: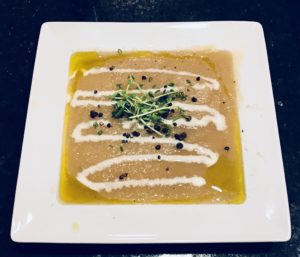 Having fun with the squeeze bottle of crème fraiche: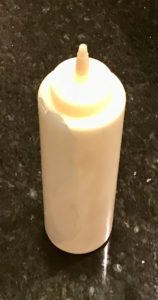 *I used the vegetable stock recipe in Food Lab, which calls for simmering in water and gelatin:  carrots, celery, Granny Smith apples, mushrooms, parsley, fennel seed, coriander seed, black peppercorns and salt.