I started The Perishable Cook one year ago.  Here's a look back at some of the high points.
October: Pumpkins, Chili and a Turkish Feast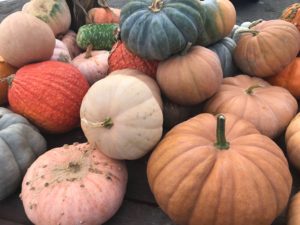 For me, October is the month of the fresh pumpkin, as pumpkins do not store well.  I began this blog with my standby savory Pumpkin Soup, a simple mix of roasted fresh pumpkin, potato, chicken stock, nutmeg, egg and sourcream.  See: Pumpkin Soup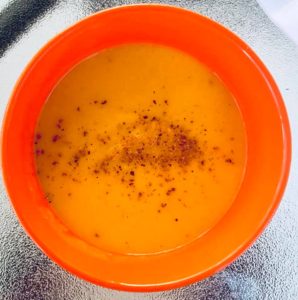 I also made a cold version of it with Macoun Apples (also very perishable), nuts and raisins.  See: Pumpkin Soup with Macouns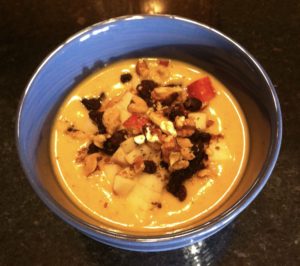 Then I set off on a much more ambitious quest to reprise a Curried Pumpkin Mussel Soup that Marilyn and I had years ago at a little bistro on the backside of Montmartre in Paris. See: The Grail Achieved: Curried Pumpkin Mussel Soup III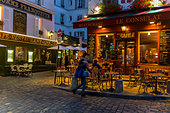 Here is the final result: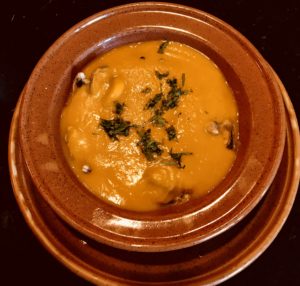 I made this again this October.  Here is this month's version, with some homemade Irish Brown Bread and a dollop of crème fraiche. I think I ave gotten a bit better at plating: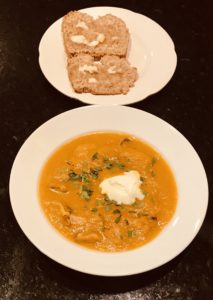 October was also when I mastered the Food Lab recipe for Best Short Rib Chili.  I served it over Savory Jalapeño Corn Bread, a perfect marriage.  See: Chili Over Savory Jalapeno Cornbread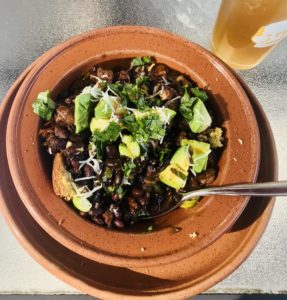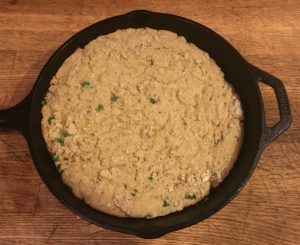 I also discovered this new cookbook by Angie Brenner, a friend of my brother and sister-in-law: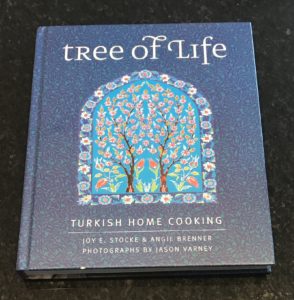 I used it to make a Turkish Feast with friends, including this salad of fennel tulips and oranges.  See: A Turkish Feast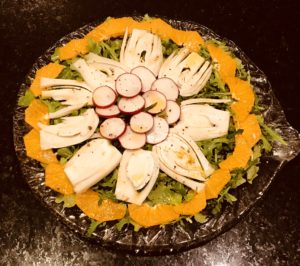 November:  Stews, Salad and Stuffing
As the weather started to turn colder, my tastes shifted with the season to dishes that were too heavy for summer, but not yet winter hearty, like this Bacalao a la Vizcaina. See:  Bacalao a la Vizcaina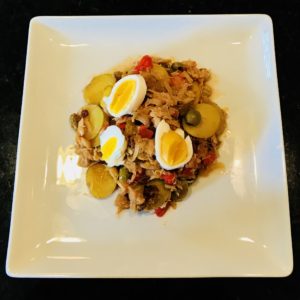 I also chased another food memory, a Chicken Tagine with Preserved Lemons that I had with Marilyn at a Tunisian restaurant on the Place Bastille in Paris.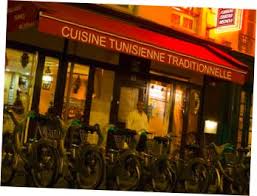 I took a class at the Fig School which featured this dish.  Here is my reprise of it. See: Fig School III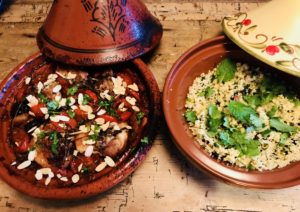 I also made this again on Valentine's Day in a version that was closer to the original.  See:  Chicken Tagine with Preserved Lemon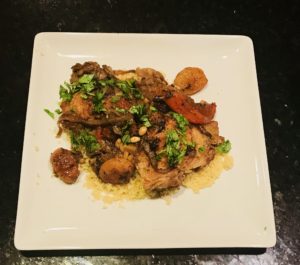 November is also when I got my first Weekly Harvest from Trifecta Ecosystems aquaponic greenhouse in Meriden, CT: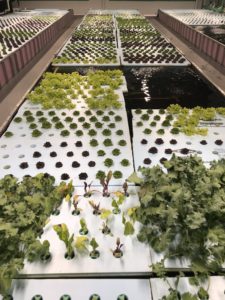 Their greens took me down another memory lane to the 13 French families I visited by bicycle in the summer of 1973, after my junior year at UCSC.  Most of them had kitchen gardens like this: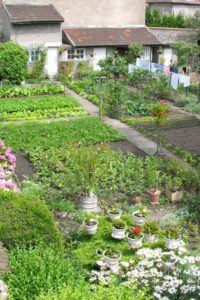 They would pick some lettuce for dinner, soak it for 10 minutes in lots of cold water, spin it dry, crisp it in towels in the fridge, then toss it with a simple dressing of olive oil, lemon, mustard and garlic.  I have been making salad that way ever since.  Here is one I made with my first Trifecta greens. See: A Simple Salad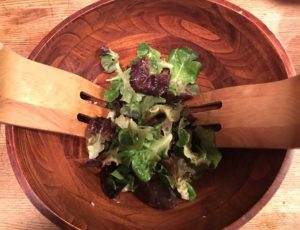 Then I took charge of the Thanksgiving dinner at my son's house. See: https://theperishablecook.com/a-t-day-catering-gig/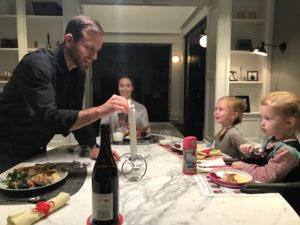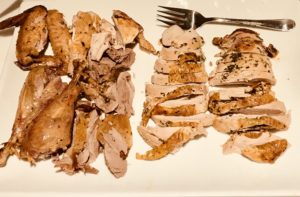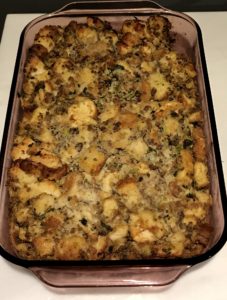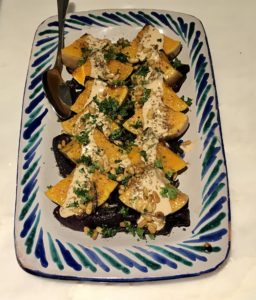 December:  Heavy and Hearty
With the first snow, I was ready for some hearty dishes, and decided to attempt Cassoulet, the world's ultimate bean dish.  See:  Snow Time is Cassoulet Time!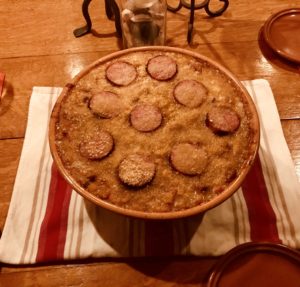 I also reprised Chicken Marchand de Vin, a dish I first made in a fry pan in my grad school dorm at Harvard.  See: Chicken Marchand de Vin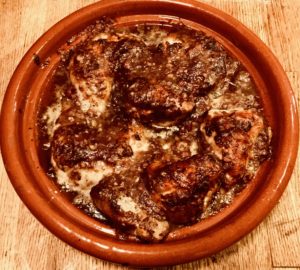 January: Going Latin
The kale in the Weekly Harvest from Trifecta Ecosystems got me making a lot of Caldo Verde, which I first had in the beautiful walled village of Obidos, Portugal: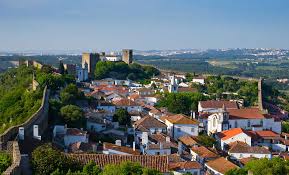 Here is a bowl of it that I made last January.  See:  Caldo Verde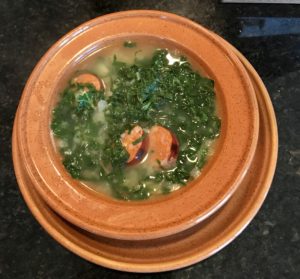 I made a particularly good version of this soup last week, that used skin-on new potatoes, sweet onions and a mix of Trifecta kale and super greens: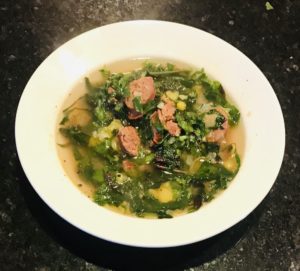 I went on a trip to Cuba with my brother and sister-in-law last February, so to get in the mood, I made Ropa Vieja, a famous Cuban dish. Here it is as I served it with black beans, white rice, guacamole and tostones (fried plantains).  See: Ropa Vieja: Cuba Here I Come!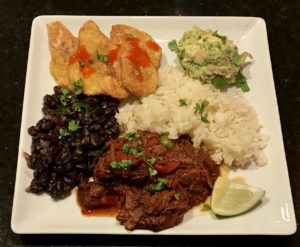 I also made a classic Puerto Rican meal of Pernil (roast pork), Arroz con Gandules (rice with pigeon peas) and Tostones.  This meal always puts me into a state of spiritual bliss.  Really.  See: A Recipe for Spiritual Bliss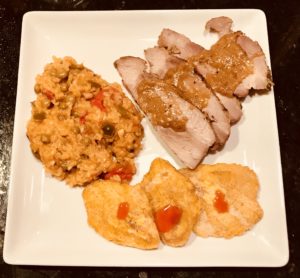 I made this in part so that I would have left over Chicharrones (pork skin) with which to make Mofongo, my favorite Puerto Rican dish.  I served it with a salad of dressed Trifecta micro greens. See: Mofongo: Food of the Gods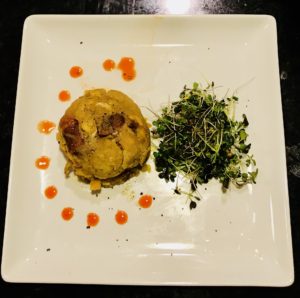 February: Mapleloosa, Ajiaco, Gravlax, Split Pea Soup and Caesar Salad
February is the beginning of the Maple sugaring season in Connecticut, and the beginning of a series of blogs called Mapleloosa. Here is Anderson's Sugar House in East Haddam, where I had my first smell of spring, the slightly maple-y scent of the steam rising from the evaporator in a sugar house: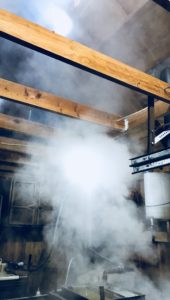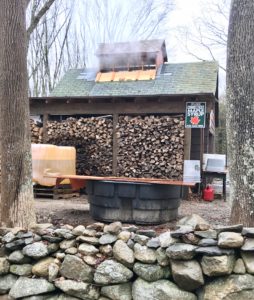 Here are my first four Maple syrup-inspired dishes: Trifecta mixed greens with Maple-glazed pecans; a maple-infused side dish of butternut squash with tahini and pine nuts; baked apple with Maple syrup and cream, and a Mapleloosa cocktail with Maple sugar, lime juice and Calvados.  See Mapleloosa 1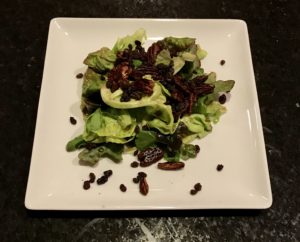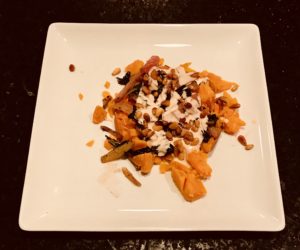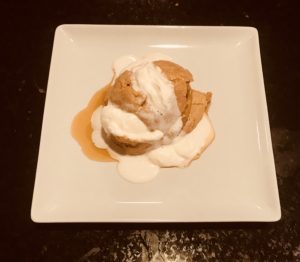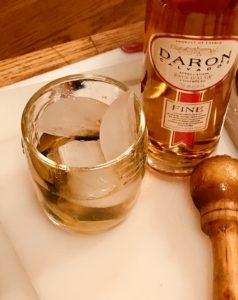 Continuing with Mapleloosa, I made Rhode Island Johnny Cakes and a Squash Maple Soup.  See:  Mapleloosa 2: Rhode Island Johnny Cakes and Mapleloosa 3: The Adventure Continues!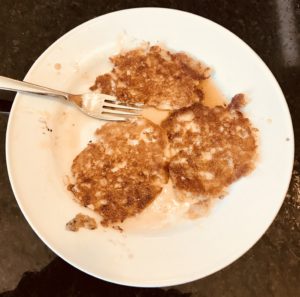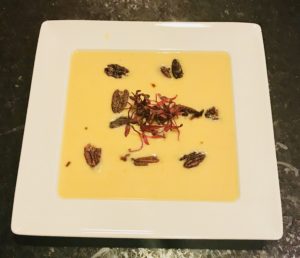 When I was in Cuba, I was taught how to make Ajiaco, the national dish of Cuba, by the owner of a restaurant of the same name.  It's a stew of peppers (Ajiaco is a type of pepper), pork and root veggies.  Here is the Ajiaco I made when I got back from Cuba.  See: Ajiaco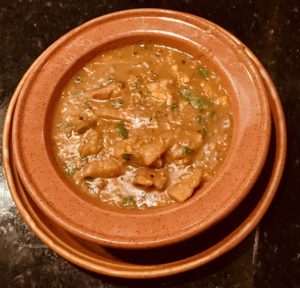 I also decided in February to put up my recipe for Gravlax, which I make year-round.  See:  Gravlax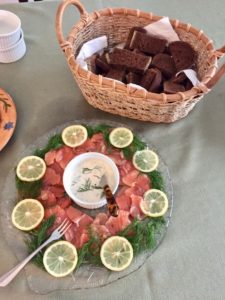 Thus being in a Swedish frame of mind, I made my mother's rib-sticking yellow split pea soup, dressed up a bit in this plating.  See: Swedish Winter Soul Food: Yellow Split Pea Soup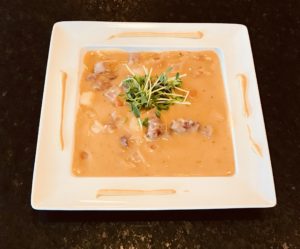 Do you remember the Romaine lettuce scare last year?  When that passed in February, I posted my recipe for Caesar Salad, one of my favorites.  See: The Romance of Caesar Salad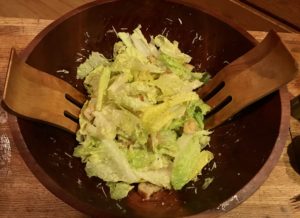 March: Green Pea Soup and Bigos
For St. Patrick's Day, I made this fresh pea soup.  See: Something Really Green for St. Patrick's Day: Potâge St. Germain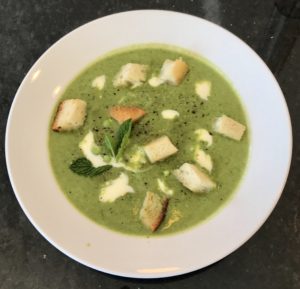 And as a final farewell to winter, I made this Polish hunter's stew called Bigos.  See:  Polish Winter Soul Food: Bigos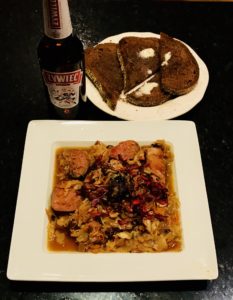 April: Green Gumbo
Trifecta Ecosystems posted a recipe for Gumbo Z'Herbes (Green Gumbo) which uses a huge amount of their greens, a great recipe to have when you haven't used all of the last week's greens before the new ones arrive.  I have now made this several times and it is simply awesome.  See: The Trifecta Green Gumbo Challenge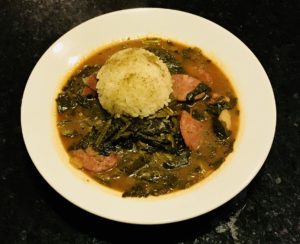 May: Shad and Ramps
Mid April to late May is when the American Shad run up the Connecticut River and when Ramps (wild leaks) pop up in the Connecticut woods.  I ate pounds of each, both together and apart.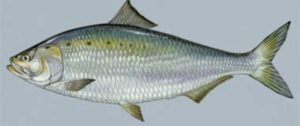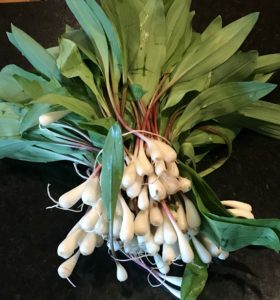 Here are three of the Shad dishes I made: sautéed with butter, white wine, lemon and capers, with Trifecta Bull's Blood micro greens; coated in egg yolk and buttermilk, then pressed into a mix of bread crumbs, Parmesan, Romano and parsley, and sautéed over moderate heat in Kreta Reserve EVOO; and a timbale of Gravlax stuffed with a smoked Shad mousse.  See: The Taste of Spring: CT River Shad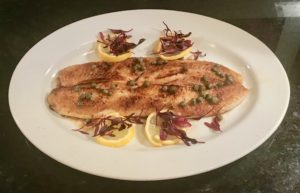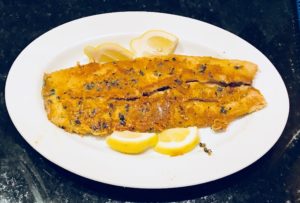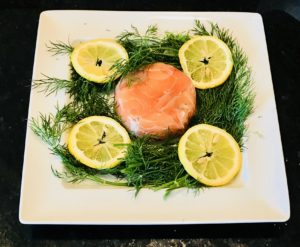 When ramps came in later in the month, I started using them with Shad.  Here is Shad with Ramps and Romesco Sauce.  See: Ramps!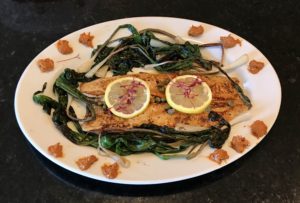 Then I made Fish Tacos with homemade tortillas, Shad and pickled ramps.  See: Shad Tacos with Pickled Ramps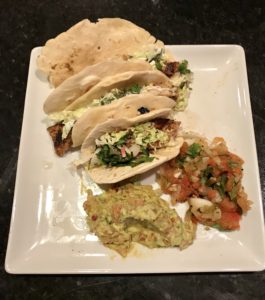 I also discovered the secret of cooking Shad Roe, which is to cook it rare.  Here it is with ramps, bacon and green rice.  See: Shad Roe with Bacon, Ramps and Green Rice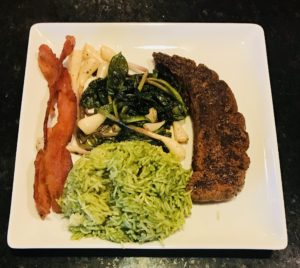 And this is Shad Roe on a hard roll with a fried egg and bacon, the ultimate breakfast sandwich.  See: Shad Roe Breakfast Sandwich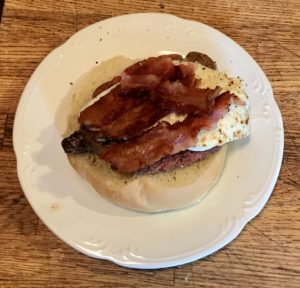 Then I made two other dishes with ramps: a ramp risotto and ramps with linguine.  See: Ramps!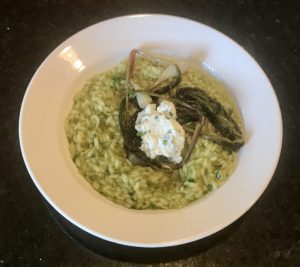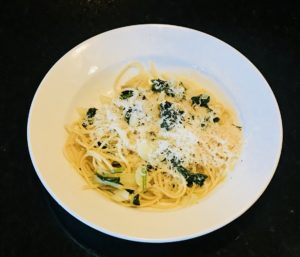 June: Cooking Classes and Curried Lamb
I took a cooking class at Weekend Kitchen with Chef Colt Taylor of the Essex Restaurant, who took us through the fine points of breaking down and cooking fish.  The next day I bought a whole Kampachi from the Essex, broke it down, and over the next few days, made Sautéd Kampachi in a Walnut Tarator, Kampachi with Mushrooms and Humus (using a recipe for humus in the Zahav cookbook), then Kampachi Ceviche, and Kampachi Thai Soup.  See:  The Ultimate Fish Cooking Class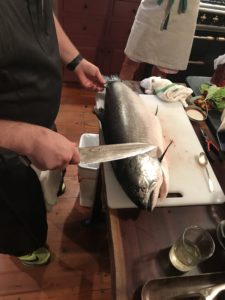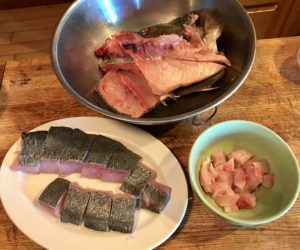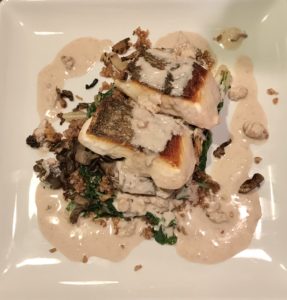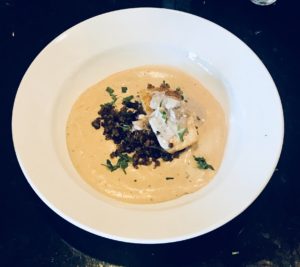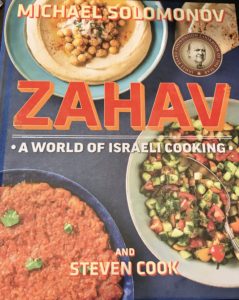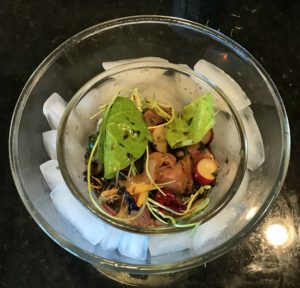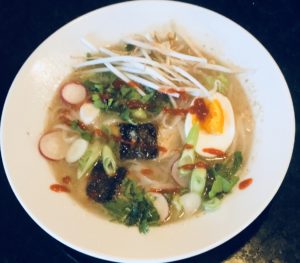 At the Fig School, I learned to make two spectacular Iranian dishes:  Pomegranate Chicken and Jeweled Rice.  See: A Persian Feast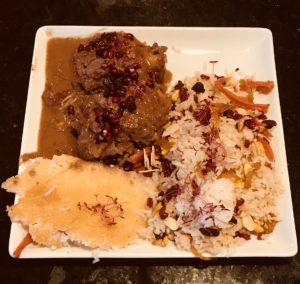 Whenever my mom made roast leg of lamb when I was growing up, she would roast a bigger leg than we needed so that we would have leftover lamb for curried lamb, made from the lamb gravy and some curry powder.  We would then top it with coconut, peanuts, scallions, raisins, chopped hard boiled egg and crumbled bacon.  Over the years, my brother and sister have kept up this tradition, adding a bunch of other toppings along the way.  So I made a leg of lamb, and then I made a Lamb Saag from it using some Trifecta greens, then served it with the complete array of my brother and sister's toppings.  See Roast Leg of Lamb and Lamb Curry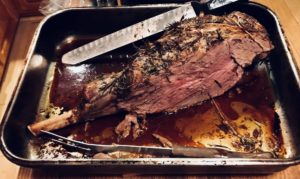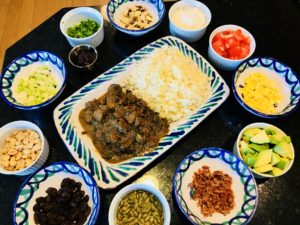 July: The Farmers Market and Ballymaloe
By July, the Old Saybrook Farmers Market had opened and one of the farmers was selling the long shoots called Garlic Scapes that they cut off at the beginning of July to concentrate the energy of the plant in the bulb.  I made a pesto with them, and did a demo at the market of how to use this pesto with fried ripe tomatoes and crusty bread.  See: Cooking Demo I at the Old Saybrook Farmers Market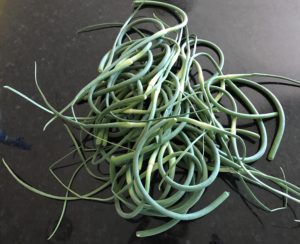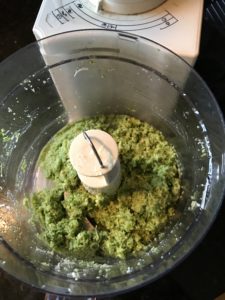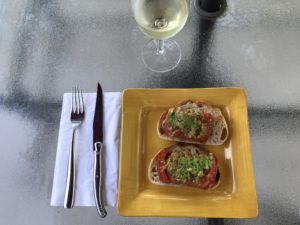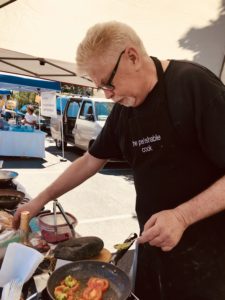 I spent a week in July at the Ballymaloe Cookery School in Shanagarry, County Cork, Ireland.  Ballymaloe means Land of Sweet Honey in Gaelic.  The first picture is of Darina Allen, the founder of the school, receiving the week's comb honey from Naille Coffey, a local beekeeper.  That is followed by some of the dishes I learned to cook, including a bacon and onion tart, Irish brown bread, cauliflower cheese, Moules Provençale, Lamb Tagine, and Praline Ice Cream. The food photos are followed by a couple of photos of some of the places where I hiked before and after the school.  See: Heaven On Earth: A Week at Ballymaloe Cookery School and Brown Soda Bread and Cauliflower Cheese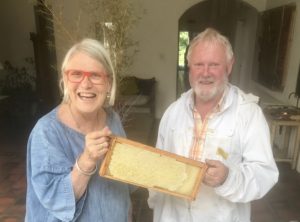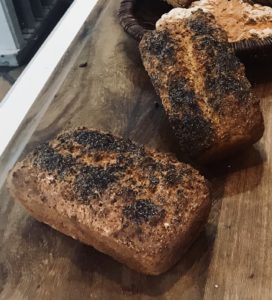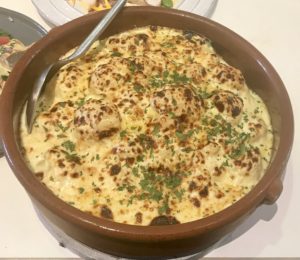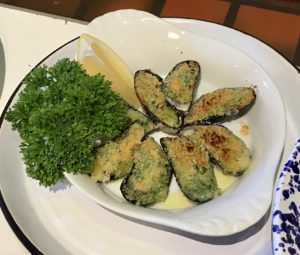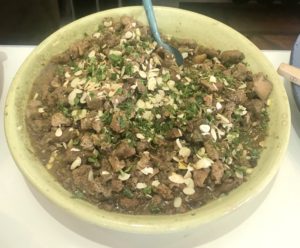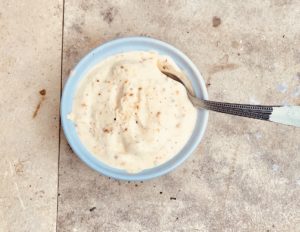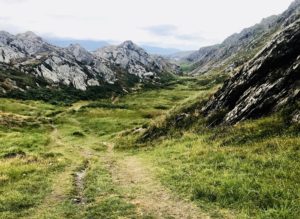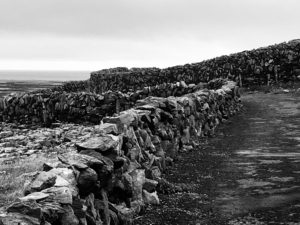 August: More Cooking Demos
Back in Connecticut, I did two more demos at the Old Saybrook Farmers Market, both in the pouring rain.  The stalwarts who showed up appreciated what I made, which included Ballymaloe Beet Soup, Shakshuka, Fattoush, and two watermelon salads, one inspired by Ballymaloe and one by the Essex Restaurant.  See Cooking Demo 2 at the Old Saybrook Farmers Market and Fattoush: the Taste of Summer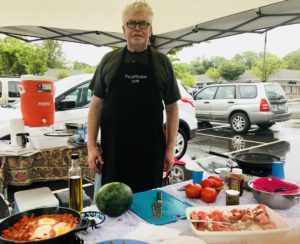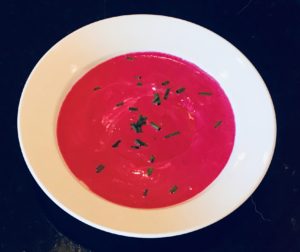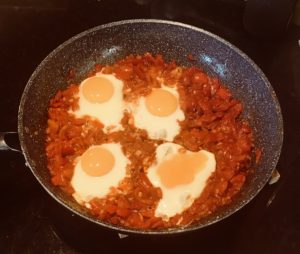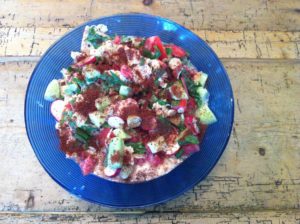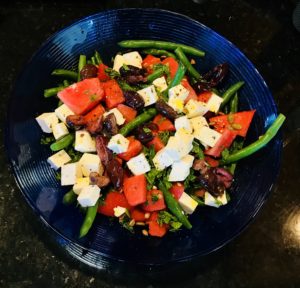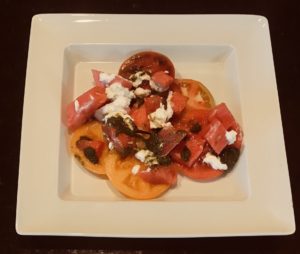 I kept playing with watermelon-tomato salad throughout early fall while fresh local watermelon and tomatoes were still available.  This one involves a slice of red watermelon, topped by a slice of yellow tomato, topped by sliced red cherry tomatoes tossed in a ramp-poblano salsa, topped by a dollop of stracciatella: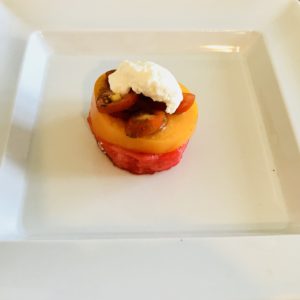 This one uses balls of red watermelon with sliced cherry tomatoes in a ramp-poblano salsa with mozzarella balls and black olives, and a sprinkle of roasted and crushed oil-cured olives: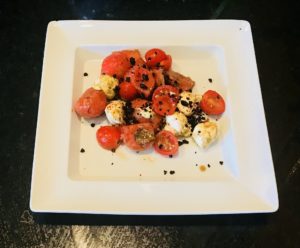 September: Fishing For My Dinner
In September, I went on a week long fishing trip in the Sea of Cortez about midway down the east coast of Baja.  I literally fished for my dinner, as I gave the fish I caught to the cook on the boat to make right then.  From it, he made the best sashimi and ceviche I've ever had, as well as the best fish tacos.  Photos below of me with two yellowtail I caught, as baked, and with fixings for the tacos.  Followed by a couple of photos of Baja.  See Fishing for My Dinner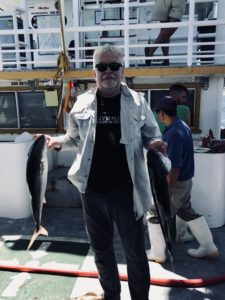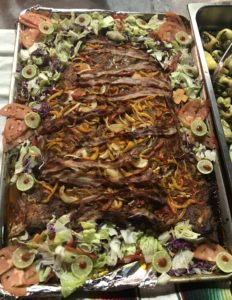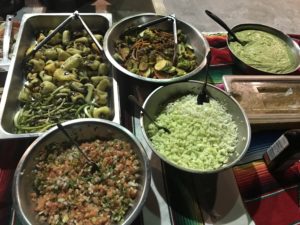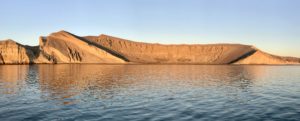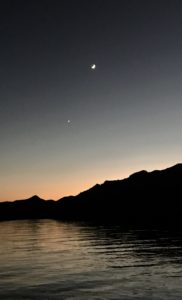 Ten Trifecta Trifectas
My last post of the first year was about ten simple, healthy, delicious meals that I made over the past year with Trifecta greens and a protein, each in 10 minutes or less .  Here are a few of them.  See Ten Trifecta Trifectas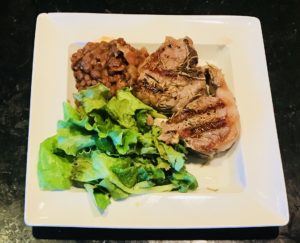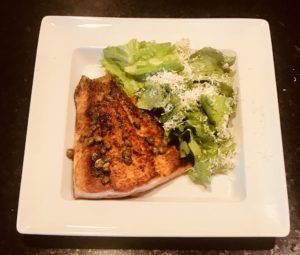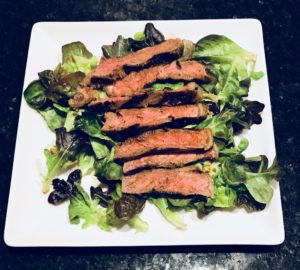 All in all, quite a year.  Writing this is making me hungry.
Coming soon:  A Georgian Garlic Walnut Chicken made with Black Walnuts I gathered last month.